What John Wayne's On-Set Behavior Was Really Like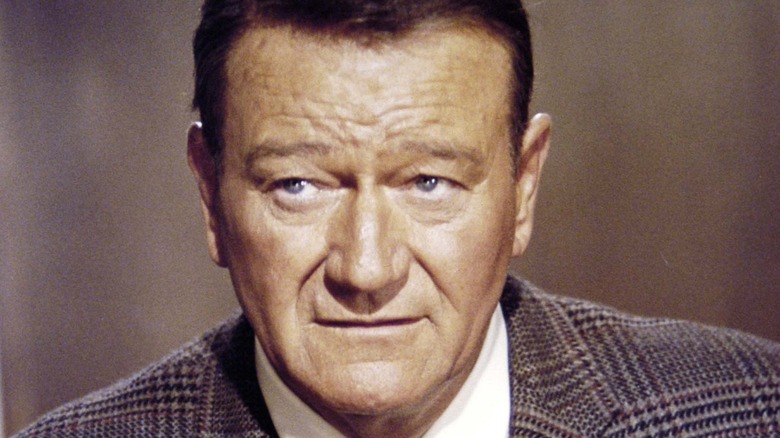 Avalon/Getty Images
In recent years, the reputation of Western star John Wayne — a mainstay of American cinema for nearly fifty years — has become badly tarnished as a result of shocking comments the actor made concerning race in a recently resurfaced 1971 Playboy interview. In that interview, Wayne declared his support for white supremacy and his belief that the colonization of Indigenous American land was justified (per Deadline). Following the revelations, activists successfully campaigned for an exhibition celebrating Wayne to be removed from the campus of the USC School of Cinematic Arts in Los Angeles, while his name was also dropped from Orange County Airport.
Such developments represent an astonishing fall from grace for a star widely considered one of the all-time icons of the silver screen. According to Wayne's biographer, Ronald L. Davis, the actor's appeal during his lifetime ran deep; for Americans  suffering through World War II, Wayne and his onscreen persona represented "patriotic ideals," and Wayne's success despite being an outsider to Hollywood was symbolic of the "work ethic" required to fulfill the American dream (via Google Books).
Of course, audiences loved his vibrant on-screen performances. Wayne's stunt double, Chuck Roberson claimed that Wayne was "one of the greatest action men we have ever had in this business," per the same source, while makeup artist Dave Grayson described Wayne as "the most charismatic actor I've ever known." Shortly after the Playboy interview, insight into Wayne's working practices was provided by one of his longtime collaborators: Kirk Douglas.
What Kirk Douglas thinks of John Wayne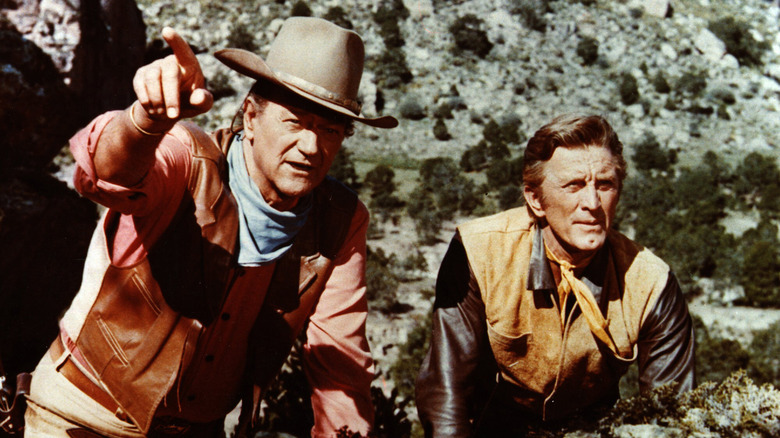 United Archives/Getty Images
There are not many actors who have achieved the stature of John Wayne, but one of the few who did was the Hollywood stalwart, Kirk Douglas, who, in his own filmography of almost 100 movies, shared the screen with John Wayne three times: in "In Harm's Way" (1965), "Cast a Giant Shadow" (1966), and "The War Wagon" (1967). In a 1971 interview with Dick Cavett, Doulas was asked directly what he thought about Wayne's recent interview, and his feelings towards the actor in general, per Outsider.
"I don't want to get involved in a conversation about John Wayne," Douglas states, before going on to explain: "I've made quite a few pictures with John Wayne and, by the way, I've always called him John — everybody calls him Duke."
Douglas claims that he and Wayne "have never seen eye-to-eye on a lot of things," and that they avoid talking politics, having just a single dinner together each time they made a movie. But despite the two men's seemingly different political views, Douglas describes his and Wayne's harmonious working relationship and describes his respect for Wayne as a diligent colleague. "He's the first guy on the set, the hardest worker I've ever worked with, and I think he's quite a character," Douglas tells Cavett, adding that Wayne is "one of the most professional actors I've ever worked with," a statement that elicited applause from the studio audience.