The Real Reason Tupac's Mother Changed His Name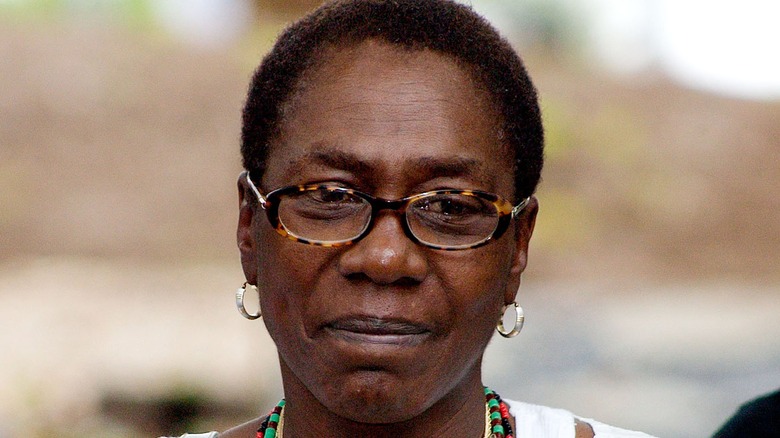 Annette Brown/Getty Images
Tupac was one of the most popular rap artists of the '90s. Though he was mostly raised on the East Coast, he rose to fame when he moved west and began his music career there. He would also become one of the main figures of the infamous East Coast vs. West Coast rap beef (via The Washington Post). Unfortunately, the beef proved to be deadly; many have long speculated that Tupac's death at the age of 25 in September 1996 was related to the musical rivalry. At the time of his death he was at his most successful. But even after, his estate would go on to see more success. To date, there have been seven posthumous Tupac albums, which have brought in millions of dollars, says Forbes.
His story began in New York City on June 16, 1971. He was born Lesane Parish Crooks in Harlem to Afeni Shakur (pictured), whose then-name was Alice Williams, and his biological father, Billy Garland (via Rolling Stone). A lifelong activist and member of the Black Panther Party, his mother made the decision to change her son's name when he was just a baby. Name changing was a very common and normal practice for Black revolutionaries, who wanted to distance themselves from names inherited from ancestral enslavement, to more African and indigenous names (via African American Intellectual History Society).
A new name for Tupac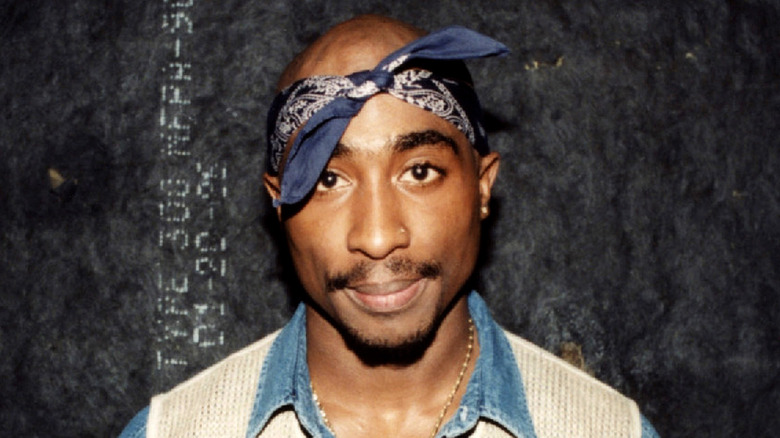 Raymond Boyd/Getty Images
When Tupac was a baby, his mother decided to drop the name she gave him at birth, for a new name: Tupac Amaru, says Britannica. At that point, his mother was no longer Alice Williams and had already changed her name to Afeni Shakur. She took on her new surname after her first husband, Lumumba Shakur, when they married in 1968 (via 2Pac Legacy). The marriage didn't last, apparently because Lumumba learned that he was not the biological father of Tupac.
Afeni Shakur was imprisoned when she learned that she was pregnant with her son (per The Baltimore Sun). For most of her pregnancy, she was being tried in the Panther 21 case for conspiracy charges, but she was acquitted, along with many others (per The New York Times). A month after her acquittal, she gave birth to Tupac. Shortly after naming him, she had another name in mind. A revolutionary herself, she chose the name Tupac Amaru after the Peruvian revolutionary who fought against Spanish colonization. She once said she wanted her son to know that he wasn't a regular kid, and carried a different legacy. "I wanted him to know he was part of a world culture and not just from a neighborhood. I wanted him to have the name of revolutionary, indigenous people in the world," said Shakur (via Jacobin Mag). She died in 2016 at the age of 69 (via Rolling Stone).