Women's Olympic Monobob: Everything You Need To Know Before Watching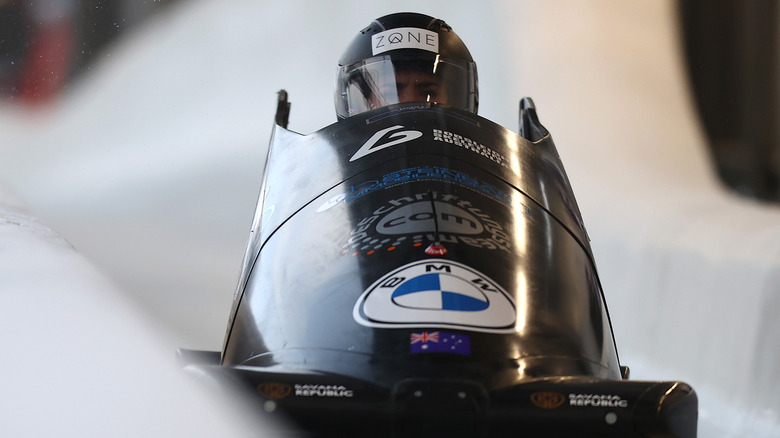 Dean Mouhtaropoulos/Getty Images
What many look forward to in any Olympic year is the opportunity to see new and unusual sports added to the competition. The 2022 Winter Olympics are February 4-20 in Beijing, China. They will be televised on the networks of NBC and NBCUniversal. Something new that was added to these winter games is the women's Olympic monobob. With a few fundamental changes, monobob puts a twist on traditional bobsleigh racing, heightening the competition, per NPR.
Typically, up to four people on a bobsleigh race down a mile-long icy track, sometimes reaching speeds of up to 90 miles per hour, according to The Washington Post. To get started, the bobsled is pushed, sometimes by just two individuals, and sometimes by all four, depending on the event. (As far as the Olympics are concerned, women only compete in the two-person bobsleigh, per the official Olympics website.) Meanwhile, some bobsled teammates steer, while others brake, and after several heats, the team with the fastest time wins. Crucially, bobsled teams race in their own sleigh, built, constructed, and maintained all on their own. Per the rules, all that information can be kept secret by the team. With monobob, a one-person event, that's all changed.
They use the same bobsleigh design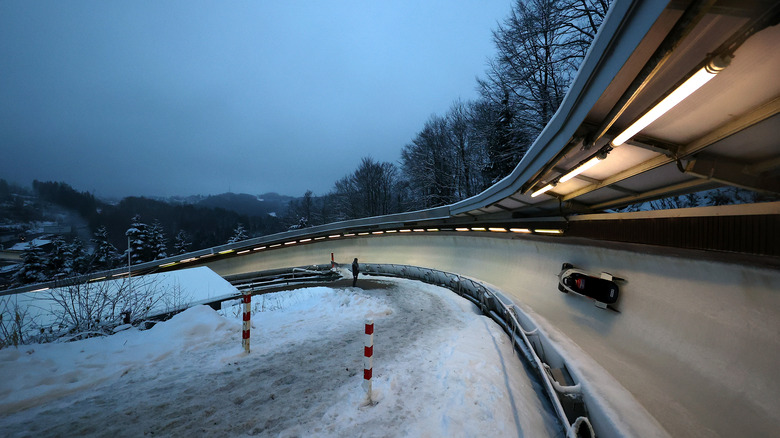 Dean Mouhtaropoulos/Getty Images
The most significant difference between monobob and traditional bobsledding competitions is that monobob teams race in the same sleigh design, minimizing any competitive advantage that might otherwise be given a team based on the quality of their equipment, according to the official Olympics website. This means that the athlete with the fastest time in the first round switches sleighs with the slowest competitor, and so on.
Monobob also takes the power of the pusher out of the equations, putting all the emphasis on quality driving to win the race. Also notable about the inclusion of women's monobob is that female competitors will now have two Olympic events to participate in: two-women bobsleigh, and monobob, catching women up with men who have been competing in two- and four-man bobsleigh Olympic competition since the 1920s. Organizers hope this will allow even more countries to field competitors in the game, and boost interest in bobsleigh among female athletes.