Why Lucille Ball Changed Her Name To Diane Belmont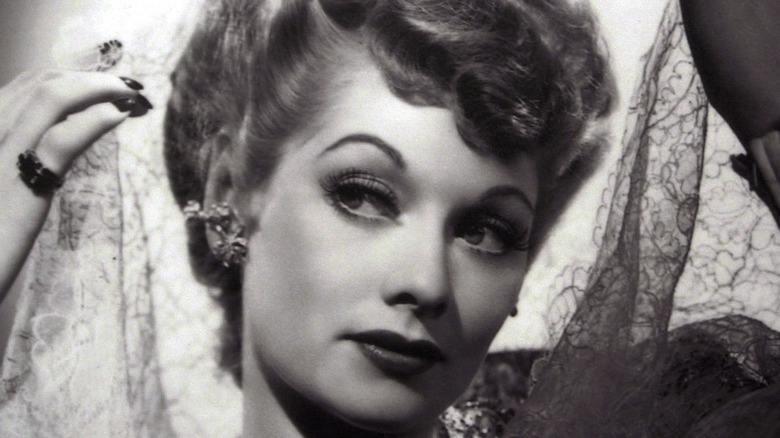 David Mcnew/Getty Images
It is hard to imagine the famous red-headed comedienne Lucille Ball going by any other name. The beloved star was known to her millions of fans for years by the name "Lucy Ricardo," the character that helped make her famous on her revolutionary sitcom, "I Love Lucy." However, Ball wasn't born a successful actress, nor did she always go by her famous moniker during her lengthy career. In fact, when she was first starting out, Ball tried out a few different things, including modeling for a brief time under a stage name that would be likely unrecognizable to "I Love Lucy" fans.
Ball had a love for performing at a young age, and in 1926, at just 15 years old, Ball moved to New York City to pursue her dreams of becoming an actress, according to Showbiz Cheat Sheet. However, she failed to impress her instructors at the New York City drama school in which she had enrolled. They called her "too shy and reticent to put her best foot forward," via Biography. After a short time, she left the school and returned home to her family in Jamestown, New York.
Ball worked as a model under the name Diane Belmont
Hulton Archive/Getty Images
However, Ball wasn't one to give up on her dreams. She returned to New York City in 1927, and decided to try her hand at modeling instead. Along with this shift in career pursuits, she introduced a new performing name as well: Diane Belmont. "I always loved the name Diane and I was driving past the Belmont race track, and the names seemed to fit together," she explained to the Los Angeles Times. So Diane Belmont was born. She worked as a hat and dress model, and even as a "Chesterfield Girl" in Chesterfield cigarette ads.
However, Diane Belmont didn't last long. Ball had picked up a few gigs performing in Broadway chorus lines and in a Ziegfeld Follies road show, and decided to move to Los Angeles in 1933. In Hollywood, she landed a part performing in the chorus of Samuel Goldwyn's "Roman Scandals," using her real name, Lucille Ball. Before long, her career had taken off, and the name Lucille Ball would become immortalized by her fans.