Why The Military Had To Intervene In The 1964 Winter Olympics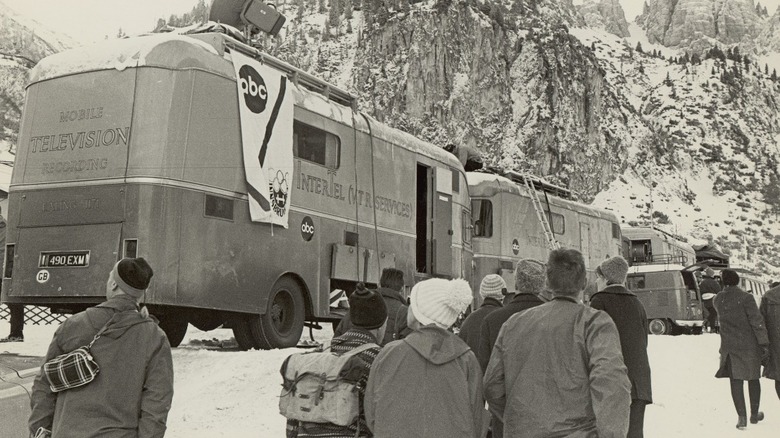 Robert Riger/Getty Images
The city of Innsbruck in Tyrol, Austria, is a breathtaking valley town tucked away in the Austrian Alps. Blue and green mountains with majestic snow-capped peaks are an omnipresent feature of the city's panorama. With its reputation as an international wintertime sports destination (via Britannica and Mental Floss), Innsbruck is no stranger to balaclava-clad strangers flocking to the Alps in hopes of luxury, leisure, or legacy achieved through freezing-weather perseverance. As the host of the 1964 Winter Olympic Games, there was no better destination.
But to the consternation of the teams working to plan the 1964 Winter Olympics in Innsbruck, the city was having its warmest February in nearly 60 years (via Britannica and Olympstats). Not only was this weather aesthetically undesirable, it was downright dangerous for would-be winter athletes. The one thing you need for wintertime sports is, undeniably, winter weather.
In the weeks leading up to the Olympics, two athletes actually died while training on the courses (via Olympedia): Ross Milne, a skiier from Australia, and Kazimierz Kay-Skrzypecki, a British luger. By February 3, it still hadn't snowed, and conditions had grown increasingly hazardous. More athletes expressed their concern about the dangerous conditions along the bobsled course and the downhill skiing site dubbed the "Course of Fear." A warm-weather wind continued to sweep the Austrian valley, and snow was still not in the forecast.
A Rare Military Feat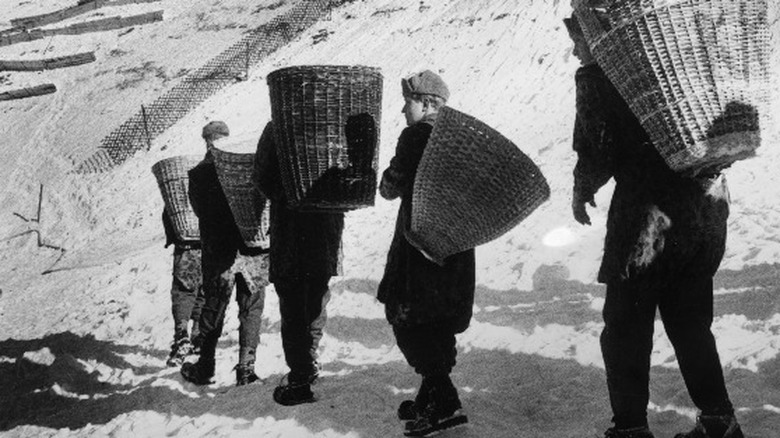 Central Press/Getty Images
Naturally, it was time to call in the army. In February, the Austrian Army arrived in Innsbruck with over 1.4 million cubic feet of snow to save the day (via Olympedia and Mental Floss). The soldiers carved almost 20,000 chunks of ice from the mountainsides, hauled the ice blocks down to the competition sites, and carefully packed the courses with enough snow for skiers, lugers, and bobsledders to safely navigate the competition routes. According to the International Olympic Committee's account, the Austrian Army even brought in 706,000 extra cubic feet "to spare" — just in case.
Despite a somewhat rocky and uncertain start, the 1964 Winter Olympic Games in Innsbruck were a resounding success, drawing a record one million spectators and establishing the standalone appeal of newly-televised Winter Games (via Britannica). The mild weather in Austria carried on, but thanks to the Austrian Army, so did the Olympic Games.