Why Lucille Ball And Desi Arnaz's Marriage Was Groundbreaking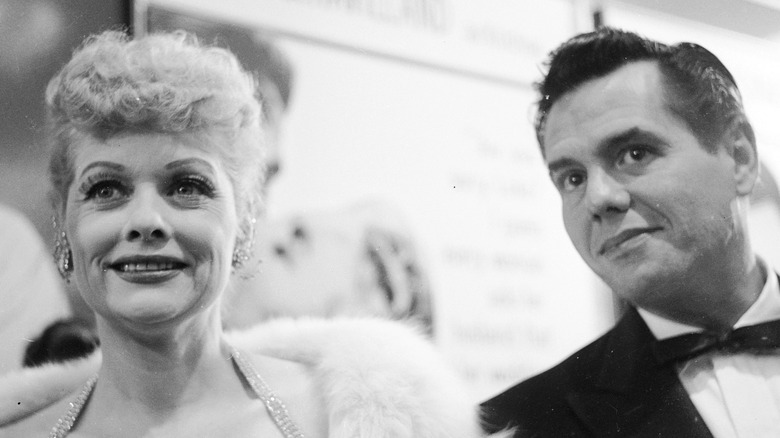 Michael Ochs Archives/Getty Images
Iconic comedienne Lucille Ball and her charming Cuban bandleader husband Desi Arnaz became one of television's most famous couples in the 1950s during the popularity of the "I Love Lucy" show. It's no surprise that their off-screen chemistry was just as obvious after first meeting in 1940, on the set of the movie "Too Many Girls." A co-star on the film, actor Eddie Bracken, said it seemed like love at first sight. "You could tell the sparks were flying with Lucy," Bracken said. "It happened so fast it seemed it wouldn't last. Everybody on the set made bets about how long it would last" (via Biography). The pair eloped later that year, and the marriage did in fact last for the next 20 years. 
While it was a tumultuous relationship almost from the beginning, it was also a groundbreaking marriage on several fronts. Not only was "I Love Lucy" the first TV series to show a pregnant woman played by a pregnant woman, it was also the first to show an interracial couple during a time in American history when interracial marriages were still very much taboo and illegal in many states. Indeed, the "I Love Lucy" show premiered in 1951, 16 years before the landmark U.S. Supreme Court case Loving v. Virginia that struck down state laws banning interracial marriage (via Yahoo! News).
Lucille Ball Divorces Desi Arnaz After 20-Year Marriage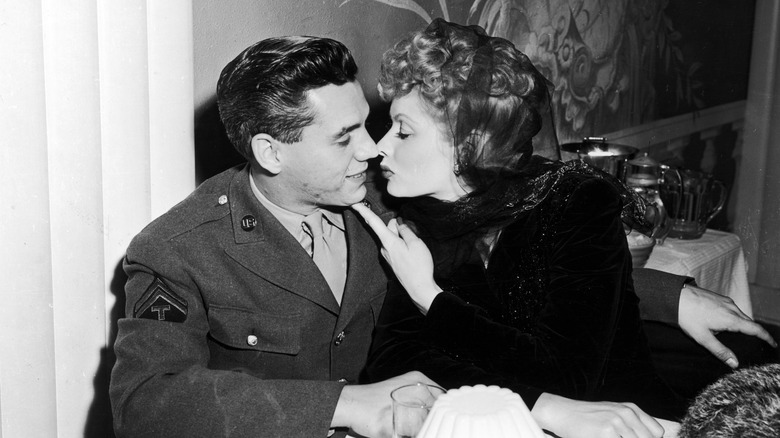 Michael Ochs Archives/Getty Images
Another barrier to their romance in the 1940s was age. Ball, who was 28 years old when she met Arnaz, was six years his senior, and marriage to a younger man in those days was considered inappropriate. Though it might have been socially acceptable and taboo, but it didn't stop Ball and Arnaz. 
They lied on their marriage certificate, both listing their birthdates as 1914 to avoid controversy and prevent the public from discovering their age difference. Ball was actually born in 1911, however, and Arnaz in 1917 (via US Weekly). The couple had two children together, but after a turbulent 20-year marriage and Arnaz's heavy drinking and numerous infidelities, Ball finally filed for divorce in 1960, though the pair remained good friends until the end of their lives. Arnaz passed away at the age of 69 after being diagnosed with lung cancer, and Ball died three years later.