The Heart-Wrenching Death Of Walt Disney's Brother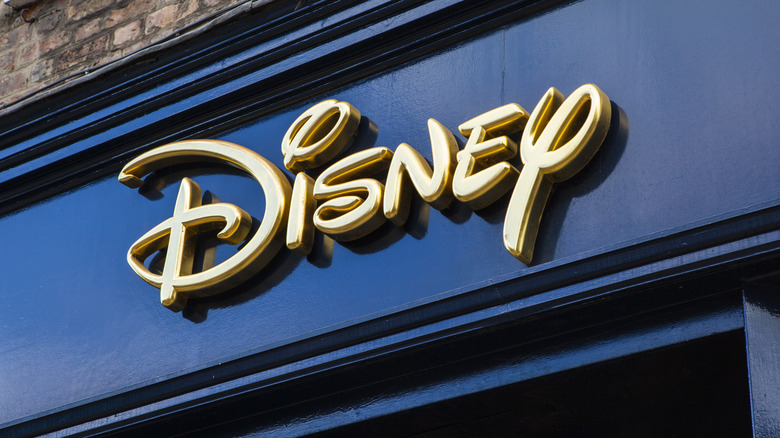 chrisdorney/Shutterstock
The last name "Disney" is probably one of the most well-known, seeing as it also serves as the name of one of the largest and most successful entertainment corporations in the world. That success is often attributed solely to Walt Disney, whose vision and innovation cemented the company's place as a giant in Hollywood.
However, on the business side of the Disney operation was Walt's older brother, Roy O. Disney, and it was his financial acumen that put what started as a small animation studio on the path to becoming a massive media conglomerate.
According to D23, Roy was known for his modest and unassuming ways and preferred to stay in the background, but upon Walt Disney's death in 1966, he was thrust into a public leadership role. He would then work tirelessly until his death in late 1971 to make sure that his brother's dream — what would eventually become known as Walt Disney World — was completed.
How Roy Disney helped create an entertainment empire
According to The Walt Disney Family Museum, it was 1923 when Walt Disney approached Roy about the prospect of starting an animation studio together. Roy had been recovering from tuberculosis at the time and decided to go into business with his brother. They founded the Disney Brothers Cartoon Studio, which eventually became The Walt Disney Studio, Ltd. in 1926 after Roy proposed the idea of him stepping aside as a co-founder (via The Walt Disney Family Museum). By the time 1929 rolled around, Roy was the executive vice-president of the once-again-renamed Walt Disney Productions.
In 1945, Roy took over the role of president of the company, a move that was intended to relieve Walt of administrative duties. Walt was able to focus on his projects while Roy used his financial genius to procure the funds. Roy was also instrumental in a major decision to break away from outside distributors and form Buena Vista Distribution Company in 1953 (via D23). 
Roy's financial wizardry became readily apparent during this time. At one point, Roy bought out the American Broadcasting Company's 34% stake in Disneyland for $7.5 million, 15 times ABC's original investment of $500,000. What seemed like a questionable decision at the time was ultimately a stroke of genius, giving the company autonomy with Disneyland and even allowing them to shop their television show — which had recently been canceled by ABC — to other networks (via The Walt Disney Family Museum).
Roy Disney's efforts to make his brother's dream come true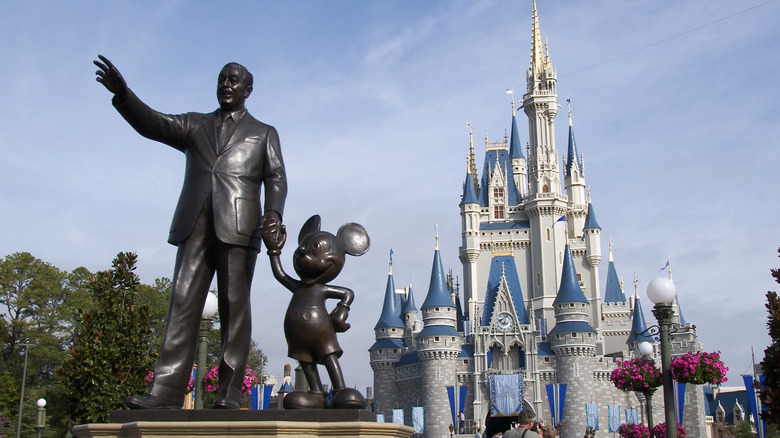 Bloomberg/Getty Images
Walt Disney died on December 15, 1966. It was a major blow to the company as they were working on Walt's biggest passion project at the time, then known as the "Florida Project."
Following the success of Disneyland in 1955, Walt and Roy started buying land in Central Florida, just outside of Orlando, intending to build a new, bigger park on the East Coast. After Walt's death, Roy became the public leader of the company and oversaw the project, which would become Walt Disney World.
Roy delivered on his goal of seeing his younger brother's dream come to fruition. He used his financial abilities to open Walt Disney World on October 1, 1971, for $400 million with no outstanding debt, and was in attendance at the grand opening (via D23).
Sadly, Roy Disney would die just over two months later on December 20, 1971, due to a cerebral hemorrhage (via The New York Times). In 1976, an office building at Walt Disney Studios was named the Roy O. Disney Building in his honor. However, the most fitting memorial is one of the first things guests see upon entering Walt Disney World's Magic Kingdom: a statue of Roy sitting on a bench with Minnie Mouse (via Inside The Magic).