This Volcano In Ethiopia Is One Of The Most Dangerous Places In The World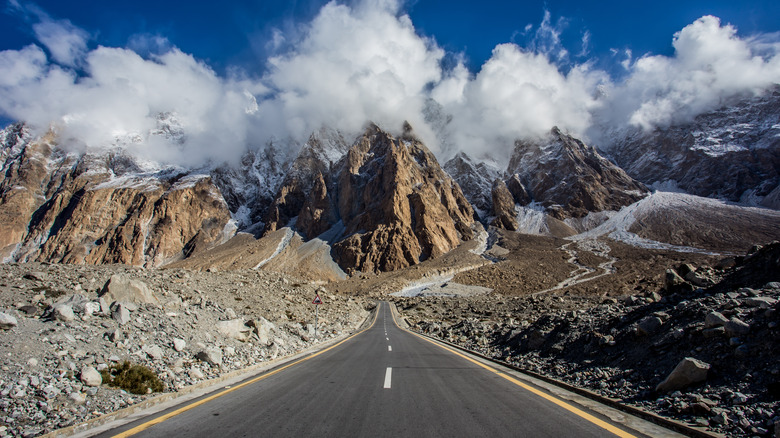 Pawika Tongtavee/Shutterstock
Some 93 million Americans travel abroad each year, with about 800 individuals dying on their trips from things like traffic accidents, violence, drowning, and other mishaps, according to Insider. One-third of these deaths happen on the road, including collisions that involve cars, buses, motorcycles, and pedestrians. International transportation can offer riskier challenges than the United States, according to the Centers for Disease Control and Prevention. The agency cites poorly maintained roads, unsafe vehicles, and speeding and unlicensed drivers as part of the problem. Traveling unfamiliar terrain also exhausts tourists, who can become disoriented and unprepared for animals or people darting unexpectedly onto the road. For those reasons, the CDC recommended that travelers wear seatbelts when in cars, and helmets on bikes and cycles.
You can also choose your destinations wisely. Many roads offer hazardous conditions you can avoid. The 800-mile Karakoram Highway (above) that sprawls between China and Pakistan, for example, may offer stellar views — earning it the informal title as the eighth world wonder — but the path is prone to disasters like landslides, avalanches, and floods. In Bolivia, the North Yungas Road, allegedly the globe's most treacherous highway, sports the nickname "Death Road." Its narrow space, just 12 feet wide, often becomes clouded with rain and fog, a deadly mix that kills 200 to 300 people yearly (From Business Insider).
Another dangerous thoroughfare lies in the Afar Region of northeastern Ethiopia, and forces travelers to tangle with Erta Ale, an active volcano that erupts unrelentingly (per Dangerous Roads).
An arduous journey with spectacular views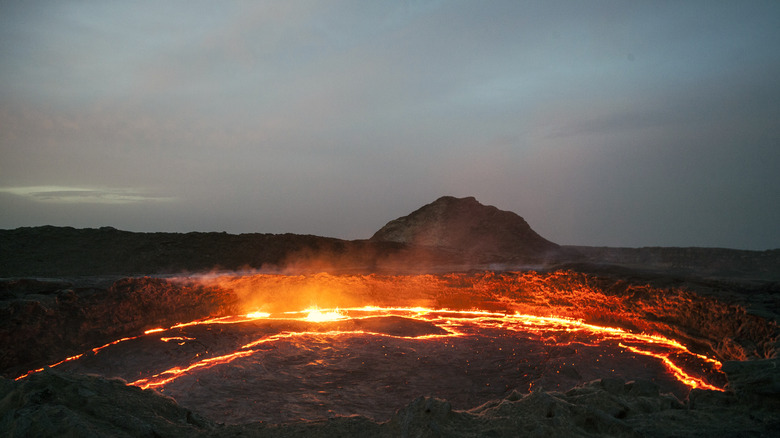 Anastasia Koro/Shutterstock
The Erta Ale volcano started erupting in 1967 and has not stopped since. The area around it involves a treacherous journey that includes possible encounters with landmines, terrorism, bandits, sandstorms, and kidnappers, reported Dangerous Roads. The volcano towers 2,011 feet over the passageway, which is unpaved and often obfuscated with dust. Erta Ale, aptly nicknamed "Smoking Mountain" and "Gateway to Hell," sits in the Danakil depression amid extreme heat (think temperatures around 77 to 118 degrees Fahrenheit). The road begins in Afdera, and can require six hours travel time as your pass through the lava-, rock-, and sand-laden landscape.
Why undergo such an arduous journey? Erta Ale, a basaltic shield volcano, contains a rare persistent lava lake and several pit craters, according to Volcano Discovery. It has become a popular tourist spot despite a 2012 attack that killed several tourists and scientists. In fact, Dangerous Roads recommended anyone undergoing the trip to hire one or two armed guards to accompany them since the area still contains such political instability. Ethiopia Online Visa also advised hiring a tour operator for the visit, since Erta Ale is located in a desert area far from populated areas, and to visit during the winter when the temperatures are lower, like 100 degrees Fahrenheit. Most trips should include transportation to the volcano's base and overnight camping. Sound too taxing? Watch the 2010 movie "Clash of the Titans" instead. Just fast forward to where Perseus visits the underworld and take a look (from The Earth Story).