The Trump Family Tree Explained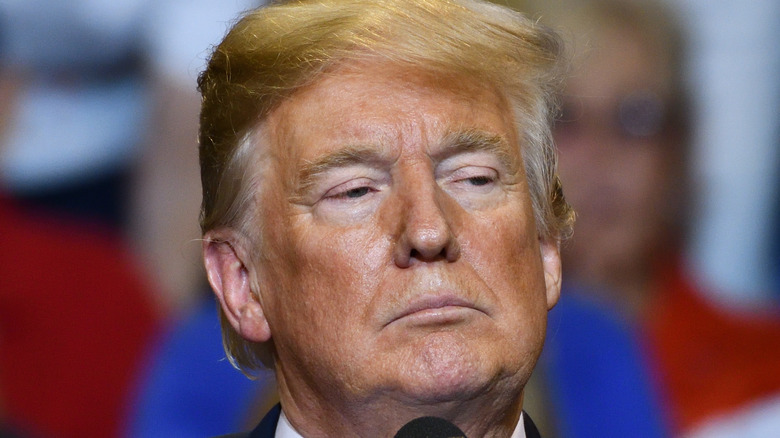 Evan El-Amin/Shutterstock
The family of Donald Trump, as most people around the world might very well assume, comprises the handful of figures who most closely orbited the former reality TV star during his successful run for the presidency in 2016, and the four years he spent at the White House before being replaced by Joe Biden in January 2021. 
Most visible among Trump's family members were, of course, his wife Melania, who served as First Lady during Trump's time in office, his daughter Ivanka, who, along with her husband Jared Kushner, served important roles in the White House as an assistant and senior adviser respectively, according to CBS News. Per CNN, Trump's oldest son, Donald Jr., never had an official role during his father's time in office, but nevertheless emerged as a recognizable public face of his administration, and has grown in stature within his camp since Trump left office. Trump's second son, Eric, who has been Executive Vice President of the Trump Organization since 2006 (via Biography), was also a public supporter of his father, as was Trump's second daughter, Tiffany, while Trump's youngest son, Barron, was regularly seen at White House events accompanied by Trump and the First Lady.
But the nucleus of the Trump family doesn't tell the whole story. Trump wasn't the first of his family to rise to prominence in American business, and apart from the former president's wife and children, there are today numerous other relatives who are still active in public life. Here's what you need to know.
The extended Trump family
Donald Trump was one of five children — three boys and two girls — all born in New York City, to Frederick C. Trump (himself a New Yorker) and Mary A. MacLeod, who was born in Lewis, Scotland, according to CTV News. Of Trump's siblings, his sisters, Elizabeth and Maryanne, are still living. His brother, Frederick Jr., died from complications relating to alcoholism in 1981, aged 43, according to Britannica, while his brother, Robert, died in 2020.
Trump's father, who died in 1999, was a real estate developer like his son, starting his first business at the age of 15 (via Town and Country). His father, Freidrich, was a migrant from Germany, whose ancestors went by the German name "Drumpf." Freidrich made his fortune in America running a Yukon hotel and brothel during the Klondike Gold Rush, according to CBC, having first trained as a barber's apprentice.
Trump's mother, Mary, was raised in poverty in a Gaelic-speaking household, and emigrated to America in 1929, according to The Scotsman. She met Trump's father at a party shortly after and soon married, in what many consider a stereotypical rags-to-riches story. She died in 2000.
Per The Independent, Donald Trump currently has 10 grandchildren from his five children: five through Donald Jr., three through Ivanka, and two through Eric.