How Jimmy Carter Dedicated His Life To Habitat For Humanity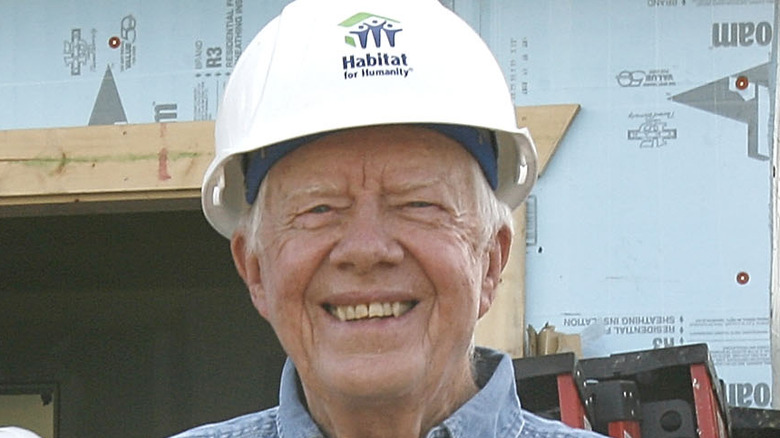 Charley Gallay/Getty Images
Referred to by some outlets like The Nation as the best former president in U.S. history, as of this writing, President Jimmy Carter entered hospice care in February 2023 at the age of 98, CNN reports. Though Carter served only one term in the White House from 1977 through 1981, Carter largely earned his reputation for the work that he did after his time in office. Throughout his long life, the former Georgia governor has been involved in much more than politics, from teaching Sunday school to volunteering for humanitarian service.  One thing Carter's been particularly dedicated to is his work with Habitat for Humanity, the nonprofit housing organization that has built and repaired thousands of homes worldwide for underprivileged populations. 
Carter was an active Habitat for Humanity volunteer for close to four decades (via Reader's Digest). Alongside other celebrities like actor Brad Pitt and musician Garth Brooks, Carter worked on more than 4,000 Habitat for Humanity homes in 14 countries, as the Habitat for Humanity website explains. The work put the former President alongside everyday volunteers and inmates who help with the projects. These weeklong events usually take place in a new location once each year. On the news that Carter had entered hospice care, Habitat for Humanity CEO Jonathan Reckford said in a statement (via Habitat for Humanity), "We pray for his comfort and for their peace, and that the Carter family experiences the joy of their relationships with each other and with God in this time."
Carter once kept building, even after an injury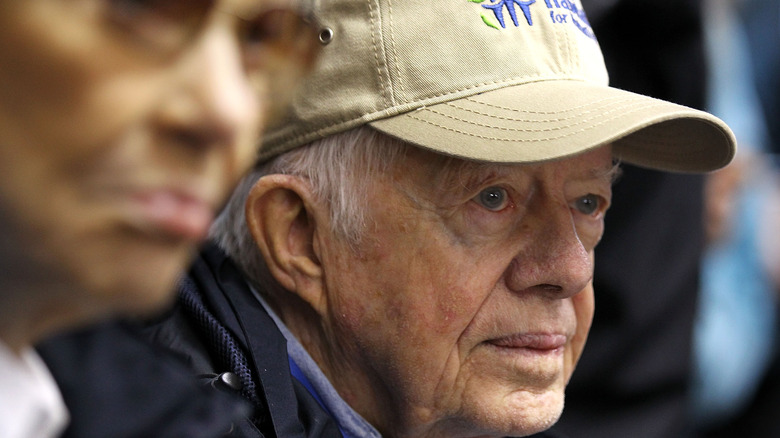 Alex Wong/Getty Images
Jimmy Carter started working with Habitat for Humanity more than 30 years ago. Even in his late 90s, Carter continued volunteering for the organization until the Carter Work Project was suspended on account of the COVID-19 pandemic. The Carter initiative resumed in 2023 after a three-year pause. On the reason he chose to work with Habitat for Humanity, Jimmy Carter said that the organization provides much more than just a home (via Habitat for Humanity). It's also an " ... avenue for people of different backgrounds to come together to achieve those most meaningful things in life," and to help people bond over " ... the building up of walls and the breaking down of barriers," Carter added.
Carter even assisted on a project the day after a fall that resulted in a hospital trip and stitches, according to The Hill. Despite his apparent injuries, including a black eye, more than a dozen stitches, and a bandaged head, Carter said (via CNN), "I had a No. 1 priority and that was to come to Nashville and build houses." Carter's work isn't just confined to the U.S., either. Projects that Jimmy and his wife Rosalynn have worked on span the entire globe, including locations like Haiti, Thailand, and South Africa. He told Reader's Digest that his favorite build was a project in India he worked on in 2006, and where Carter's mother had served in the Peace Corps while in her 70s, proving volunteerism runs in Carter's family.
The Carters do more than build homes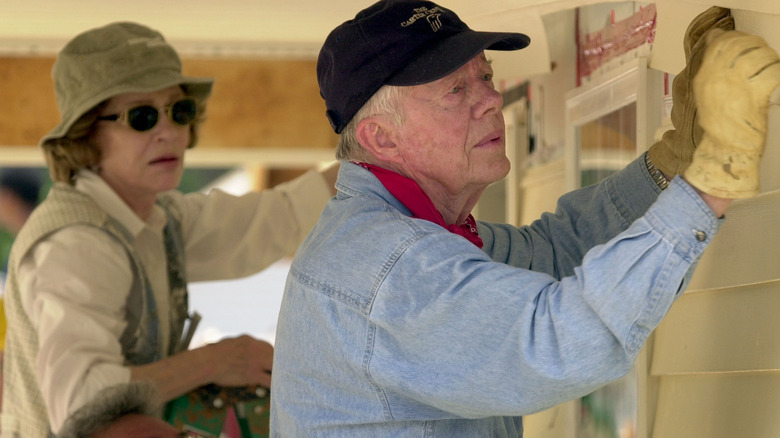 Erik S. Lesser/Getty Images
According to Habitat for Humanity, those Carter Work Project builds aren't the only thing the Carters do to help provide homes for those in need. Jimmy and Rosalynn Carter also assist with fundraisers and advocate for improved housing access. In a Habitat for Humanity video posted on YouTube, a father named Neil, who volunteered on a Carter Work Project build for a home for his own family said, with Carter's help, "My kids are going to have a home that's their home for as long as we want." On his time working with Habitat for Humanity, Carter said on the nonprofit's website, "Like other Habitat volunteers, I have learned that our greatest blessings come when we are able to improve the lives of others, and this is especially true when those others are desperately poor or in need."
 As the Associated Press reports, Carter had a cancerous mass removed from his liver in 2015, and was declared cancer-free at that time thanks to an experimental treatment. Contributing health factors to Carter's February 2023 decision to enter hospice care at home were not confirmed at the time of this writing. In total, Habitat for Humanity lists 35 projects that happened as a direct result of an initiative called the Jimmy & Rosalynn Carter Work Project. In a statement regarding Carter's health, Habitat for Humanity CEO Jonathan Reckford added, "All of us at Habitat for Humanity are lifting up President and Mrs. Carter in prayer as he enters hospice care."