The Heart-Wrenching Death Of Tiffini Hale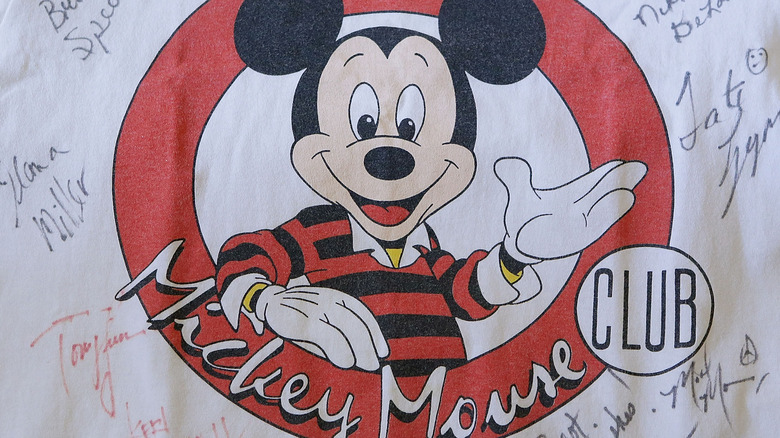 John Lamparski/Getty Images
Tiffini Hale, a former cast member of "The All New Mickey Mouse Club," died at the age of 46 on Christmas Day last year, reported NBC News. Hale was a star of the '90s era reboot of the classic ABC children's series, created by Walt Disney himself. She starred in over 45 episodes, mostly from 1989 to 1991, per IMDb. She also made several other special appearances on the show until 1995. Outside the show, Hale occasionally showed up as herself on the sitcom "Blossom" and the variety dance show, "The Party Machine with Nia Peeples."
Hale was also one-fifth of the very first band that got a record deal with Hollywood Records — Disney's music corporation. Along with fellow Mickey Mouse Club members Albert Fields, Chase Hampton, Deedee Magno Hall, and Damon Pampolina, she was a part of a band called The Party. Together, they released five studio albums before disbanding in 1993, per Discogs. After the mid-90s, Hale pretty much disappeared from the media and the public light. When the group reunited for their 20-year anniversary, they were one member short as Hale decided not to return, reported OK! Magazine.
The death of Tiffini Hale
In September 2021, the band reunited once more for their 30th anniversary, per Pop Wrapped. Again without Hale, the original members performed at The Party's reunion show in Florida. Sadly, just a few months after that reunion, Hale died.
Per the band's Facebook page, Hale had been ill for a while before her tragic death. In early December 2021, she suffered a cardiac arrest. The massive heart injury caused her to go into a coma. Unfortunately, Hale never recovered or came into consciousness, and died on Christmas day. Although she never participated in any of The Party's reunions over the years, she was very loved by her former bandmates. In the band's statement, they thanked fans and remembered Hale for her personality and gift.
"On behalf of Tiffini's family, and her Party and MMC brothers and sisters, we want to thank all of you for the love and well wishes you have expressed for our dear Tiffini. Her beauty, talent, style, and fun loving spirit will forever live in our hearts and memories," read the statement.