The Truth About Jim Henson And George Lucas' Friendship
It's no secret that there's a long history between Jim Henson's Muppets and "Star Wars." But fans might be surprised to learn that the connection goes beyond what's onscreen.
Puppets have provided practical effects throughout the entire "Star Wars" saga. Yoda first appeared nearly 40 years ago, operated by famous Muppet puppeteer Frank Oz (via StarWars.com). But Henson and George Lucas have collaborated on other projects, too. The two worked together on "Labyrinth," a movie that required both practical effects like puppetry and strong storytelling alongside human actors.
The film features large, hairy monsters and fantastical beasts alongside the human lead. Those puppets came to life because of Henson's team and his work as a director. But the story works because of Lucas' work as executive producer. "George clarified the storylines," Henson told the Chicago Tribune. "He cleaned up the structure, so every scene has a function."
Why did they work so well together?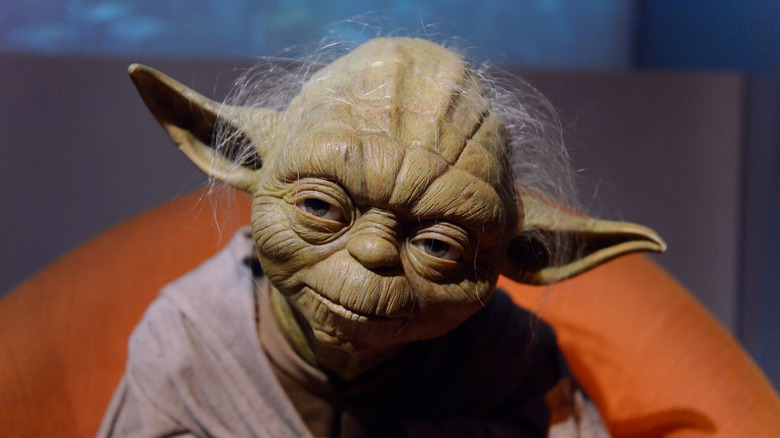 Anton_Ivanov/Shutterstock
The creators working on "Star Wars" today are still honoring the movies' connection to the Muppets. Although it was cut from the film during edits, a scene in "The Rise of Skywalker" included a puppet designed in homage to one of the characters in "Labyrinth" (via Yahoo! Entertainment). "Star Wars" actors and actresses have also appeared in Muppets properties.
Frank Oz told Star Wars Insider that Jim Henson and George Lucas worked well together because of a shared creative spirit (via Muppet Wiki). "There was an awareness and an appreciation," Oz said. "They are both very unique individuals, and I think they both wanted to work with each other because they were very similar — very smart, very quiet, very strong people."
Lucas agrees. He told Chicago Tribune that he has a strong appreciation for puppetry, particularly in Henson's work, and he appreciates the Muppets creator's kind nature. "Puppetry is an ancient and completely wonderful skill that doesn`t get the respect it should," Lucas told the paper. "Jim`s kind of like me — very quiet, kind of simple."