The Heart-Wrenching Death Of Meat Loaf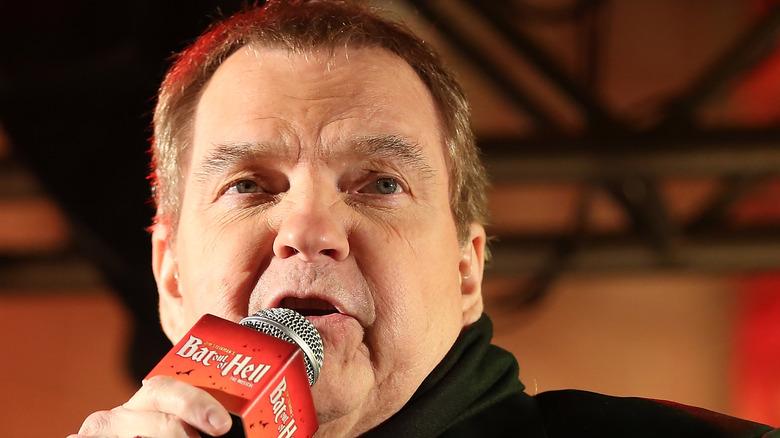 Dave J Hogan/Getty Images
Marvin Lee Aday, known all over the world as Meat Loaf, has died at the age of 74, per CNN. His death immediately sent shock waves through the world of social media, with tributes immediately pouring in on sites like Twitter. He hit meteoric success from the start with his debut album, "Bat Out of Hell" which came out in 1977, per All Music, and was one of the bestselling ones ever, with over 40 million copies sold, per Metro. The album featured hit songs like "Paradise By the Dashboard Light" and "You Took The Words Right Out Of My Mouth." He collaborated with composer and musician Jim Steinman — who would go on to be a major figure in his life — to make the album. 
Meat Loaf won people over with his bombastic singing style, but he was also a man who didn't take himself too seriously. His long hair, white frilly shirt, hulking frame, and endearingly dramatic stage presence made his shows worth watching. He also enjoyed heavy rotation on MTV when the cable channel first launched in 1981. His initial success was short-lived, but he would have second acts later on, both in music and also through appearances in movies, as well as scripted and reality TV.
A split with his musical partner caused his star to dim for a while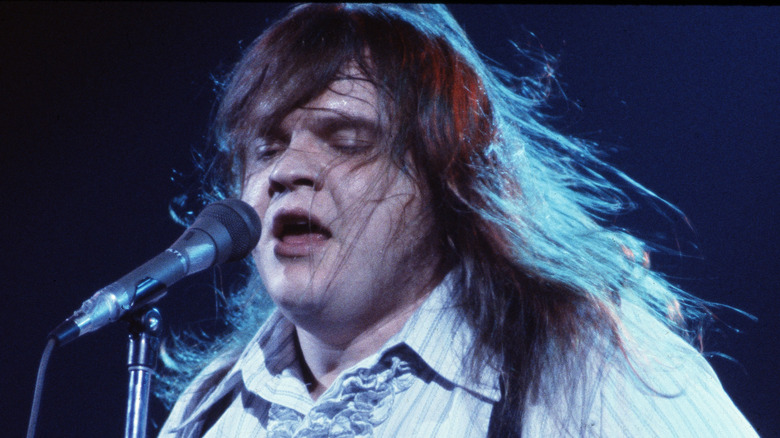 Michael Putland/Getty Images
Meat Loaf was on top of the world in the late 1970s and early 1980s. Then he and creative partner Jim Steinman parted ways. His subsequent albums, which included "Midnight at the Lost and Found," "Bad Attitude," and "Blind Before I Stop" all had little to middling success, per ChartMasters. Then he reunited with Steinman to make "Bat Out of Hell II." While some saw the album as a joke with little chance of success, he proved the naysayers wrong and shot back into the spotlight with the song "I'd Do Anything for Love (But I Won't Do That)," which won a Grammy for Best Rock Solo Performance, per NPR. It was one of the longer singles to get regular airplay, clocking in at 7:58, via Song Facts. 
This newfound attention also opened up other avenues for him. While he had appeared in "The Rocky Horror Picture Show" before his musical success, he subsequently had a part in "Fight Club" with Brad Pitt and Edward Norton, per IMDb. Meat Loaf also appeared in Broadway productions of "Rocky Horror" and "Hair," among other notable works. He and Steinman later released "Bat Out of Hell III: The Monster Is Loose."
Meat Loaf was adored around the world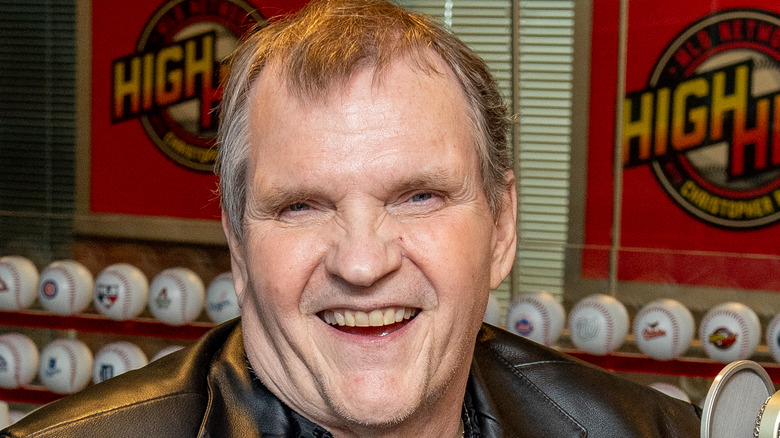 Roy Rochlin/Getty Images
A look at his IMDb page shows that the Texan carved out a solid resume, landing appearances on many shows and in several films He was a regular on many different talk shows and he had international appeal, selling over 100 million albums worldwide. While his career success was sometimes sporadic, it was nevertheless singular.
Meat Loaf's was not an easy life, either. Per Biography, he was raised by an alcoholic father, and Meat Loaf later developed a drug problem in the 1980s, which also played a part in his struggles during that decade. But he made the most of his second chances. Meat Loaf was married twice and raised two daughters. Despite all his troubles, Meat Loaf managed to reach a level of fame and success that few other artists have. Overall, he would probably say that "Rock and Roll Dreams Come Through."