Bonnie Parker Was Married, But It Wasn't To Clyde Barrow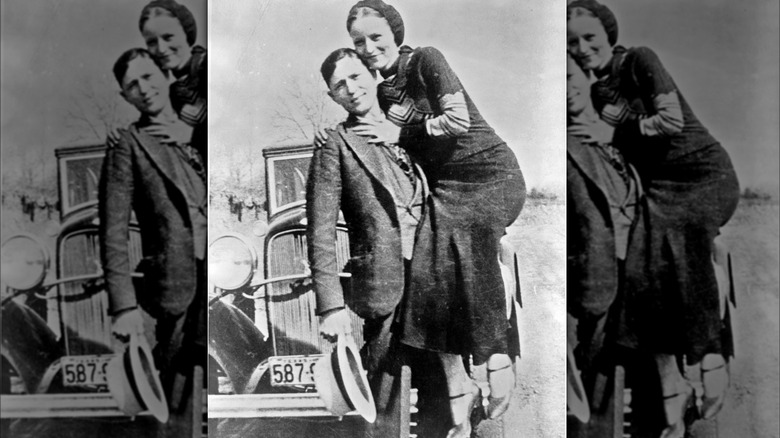 Wikipedia
In 1933, photographs of the fugitive criminals, Bonnie and Clyde, were found during a police raid in an apartment in Joplin, Missouri (per Timeline). The snaps, which showed the pair having fun and simply enjoying each others' company in silly, rebellious poses, were taken before their true infamy began. Soon though, public opinion turned against them as the death toll mounted. According to the FBI, they and their gang are thought to have killed 13 people. Dreadful as their crimes were, the part that made their doomed romance even sadder was the fact that Parker was married to another man when they met.
According to Biography, Parker started dating her future husband, Roy Thornton, in her sophomore year of high school. Parker was 15 years old when they married, but their time together proved to be short. They married in September of 1926, but just three years later Parker left Thornton and was living with her grandmother.
Per Biography, Thornton was sent to prison for theft in 1929 and, as Find A Grave reports, he was killed trying to escape on October 3, 1937. He was buried at the Hutchings-Alston-Haden Family Cemetery in Texas. Their marriage was short-lived and volatile, they never crossed paths again, and they never divorced, but Bonnie continued to wear her wedding ring for the rest of her life.
Clyde was Bonnie's true love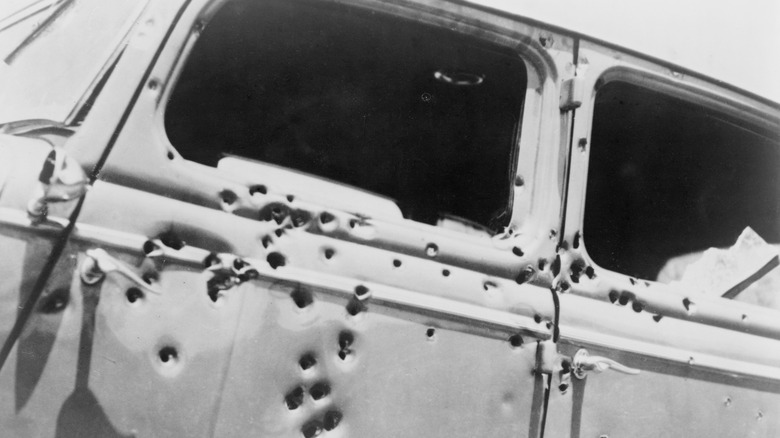 Everett Collection/Shutterstock
Everything changed for Parker the following year. ThoughtCo states that Parker met Clyde Barrow in January of 1930 at a friend's place and they hit it off immediately. Then, the tone for their relationship was set almost as fast. Later that year Barrow was arrested, and just two months into his two-year sentence he escaped with the help of a gun that Parker had secretly sent to him. Barrow was caught but paroled two years later, in 1932, and it was then the story of Bonnie and Clyde began in earnest.
At first, Parker did not take a direct part in the robberies of the Barrow Gang, but she couldn't bring herself to leave her new love behind and became swept up in it all. According to Biography, she deemed Clyde her soulmate, though her marriage to Thornton endured. The life of an outlaw is dangerous, tragic, and short, and so it was for Bonnie Parker and Clyde Barrow, as well as Roy Thornton.