The Truth About Ink Master, Jerrel Larkins
Tattoos are experiencing a worldwide renaissance. In America, many aficionados of the painful art are also fans of "Ink Master," the reality TV show that pits extraordinary tattooers against each other in a series of challenging assignments, with one competitor knocked out every round. "Ink Masters" is already 13 seasons deep, with three spinoffs.
The most recent season of "Ink Master: Turf Wars" featured a young tattoo artist and shop owner from Colorado named Jerrel Larkins. Larkins was a talented competitor but struggled with his teammates. This looked like selfishness to a number of "Ink Masters" fans, who grumbled about Larkins on social media.
In 2020, a Reddit user posted what seemed to be a police mugshot of Larkins, asking if anyone could confirm if it was really him. As Showbiz Cheat Sheet reports, Larkins responded in a Reddit post of his own, confirming that the man in the mugshot was indeed him. The post went on to explain his own background, and to offer some context for his brushes with the law.
A hard childhood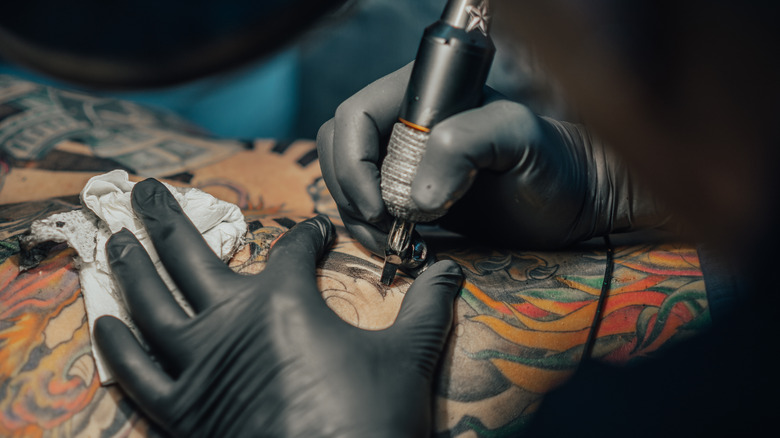 Zamrznuti tonovi/Shutterstock
Jerrel Larkins' post has since been deleted, but Showbiz Cheat Sheet outlines what he said. The story he related was a sad one. Larkins apparently grew up in a violent home, with addiction problems in his immediate family. His father was reportedly physically abusive, especially toward his mother, whom he sent to the hospital with serious injuries. Child services eventually intervened, sending Larkins and his brother to a foster home, but that wasn't much better: One of his foster parents apparently suffered from addiction himself, and left the boys to fend for themselves. Purportedly, they were forced to dig through dumpsters for food. During this period, Larkins flirted with petty crime and was arrested a few times before he turned 18.
Larkins became a father at 20 and decided to make good, commuting between Texas and Colorado to build his portfolio and a solid clientele as a tattoo artist. It was during these long drives that Larkins would get arrested, apparently more than once, for driving without a license. But by 30, his legal problems were over: Larkins had opened his own shop, Needle Juice Tattoo Studio in Greeley, Colorado. Presumably, he's also gotten a driver's license. 
If you or someone you know may be the victim of child abuse, please contact the Childhelp National Child Abuse Hotline at 1-800-4-A-Child (1-800-422-4453) or contact their live chat services.