The Surprising Way Pamela Anderson Was Discovered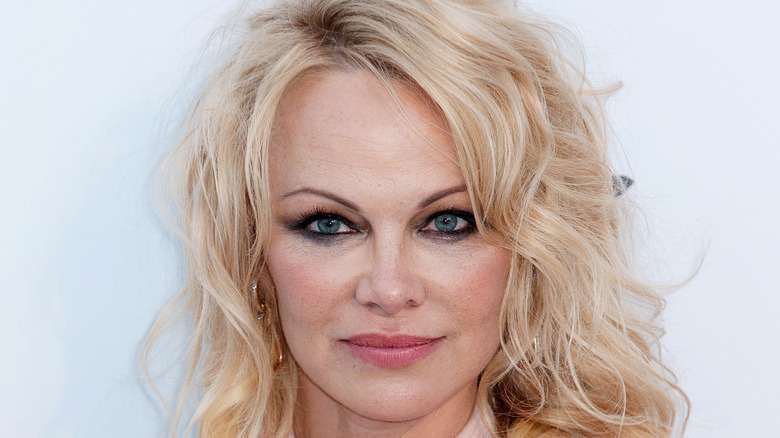 Andrea Raffin/Shutterstock
As the preeminent blonde-bombshell of the 1990s, Pamela Anderson is a cross-generational household name. Most people are at least somewhat familiar with her career trajectory. Hailing from Ladysmith, British Columbia, Anderson went from the pages of Playboy Magazine to her television first on "Home Improvement" before she was hired to replace actress Erika Elaniak on Baywatch (via Biography). Trading her tool belt for a swimsuit and one of those lifeguard flotation things turned out to be a solid career move and her role on "Baywatch" is now the one she's most remembered for. On the big screen, Anderson made a memorable cameo in 2006's "Borat" and also appeared in the 2017 reboot of "Baywatch."
Outside of her work in modeling and onscreen, Anderson is likely best known as a tabloid fixture. This dates back to the '90s when her marriage to Mötley Crüe drummer Tommy Lee was frequent fodder for tabloids, which was kicked into high gear after video footage from the couple's honeymoon — including some of them having sex — was stolen and leaked on the internet. That relationship even served as the basis for a 2022 television series, aptly titled "Pam & Tommy."
According to CBC, Anderson had forays into writing — penning a column for Elle Canada as well as a novel — and is also a vocal supporter of both human and animal rights. But what most people don't know is how Pamela Anderson was discovered. Strangely, Canadian football plays a major role.
A chance appearance on a Jumbotron kickstarted Pamela Anderson's career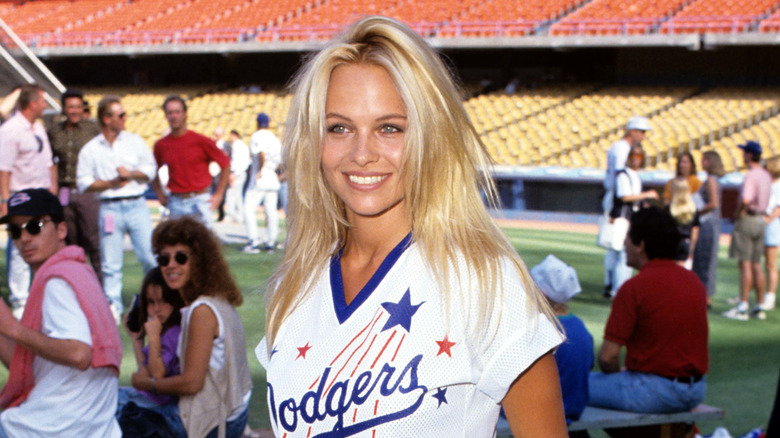 Steve.granitz/inactive/Getty Images
Canadian football may only have three downs, use twelve players per side, and goal posts that are at the front of the end zone instead of behind it (per How They Play), but other than that, it's pretty much the same as American football. These similarities extend off the field to include the in-game entertainment offerings, one of those being the Jumbotron, the massive screen that typically hangs somewhere in the stadium.
According to IMDb, a camera scanning the stands at British Columbia Lions home game, when stopped on a woman, who just so happened to be a then-unknown Pamela Anderson. Her looks garnered cheers from the crowd, so much so that she was brought down onto the field.
But it was the shirt she was wearing that set her career in motion — a tight-fitting Labatt beer T-shirt. Per Biography, after the Labatt company learned what had happened at the B.C. Lions game, they hired Anderson to appear in a commercial. That random experience launched her modeling career, which would ultimately lead to her 1989 appearance in Playboy and the beginning of her mainstream career.