The Truth About Olivia De Havilland's Relationship With Her Sister Joan Fontaine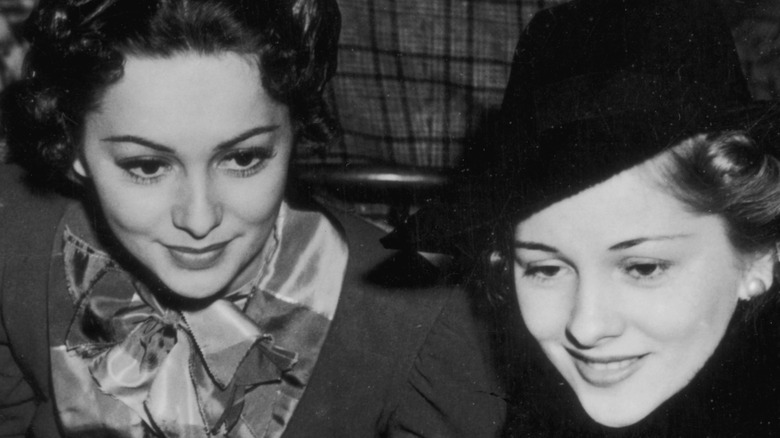 General Photographic Agency/Getty Images
It's one of the most legendary rivalries in Hollywood: two sisters, born 15 months apart, who began tormenting each other almost from the time they could talk, according to Entertainment Weekly. Olivia de Havilland and Joan Fontaine had long and illustrious careers — both won Oscars, de Havilland for "To Each His Own" and "The Heiress," Fontaine for "Suspicion" (via the Academy Awards Database) — but they would always compare themselves to each other, even after the younger sister, Joan, took the last name "Fontaine" instead of her birth name of de Havilland (per Britannica).
"I regret that I remember not one act of kindness from Olivia all through my childhood," said Fontaine to People when promoting her memoir "No Bed of Roses." The two sisters, born to an American military family living in Japan, shared a bedroom, and according to Fontaine, Olivia would spend nights reading the story of Jesus's death and crucifixion in the Bible "with mounting gusto" until Joan shrieked in terror. A Life magazine profile of the actresses (per EW) claimed that a 9-year-old Joan was so terrorized by Olivia as a child that she planned to kill her.
Fighting each other for Oscars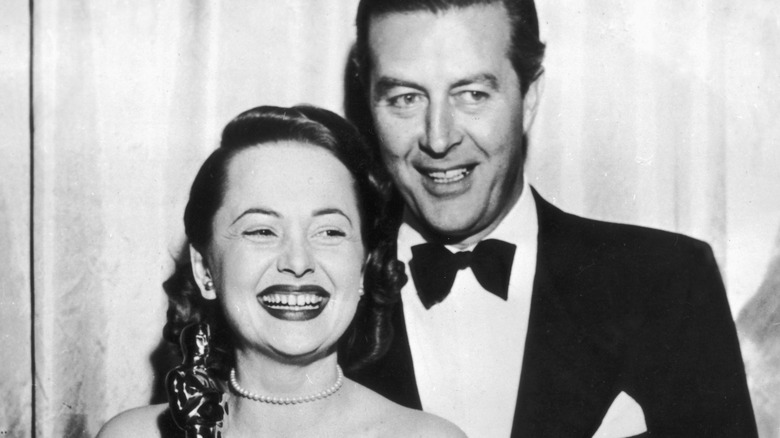 Keystone/Getty Images
As the two sisters entered the entertainment business, they soon became in-demand stars. Of the sisters, de Havilland was nominated for an Oscar first — in 1940, for "Gone with the Wind," in which she played the innocent Melanie Hamilton, Scarlett O'Hara's romantic rival (per the Oscars website). That year, producer David O. Selznick lobbied to get de Havilland as the star of his upcoming adaptation of "Rebecca," directed by Alfred Hitchcock, but the elder sister was still under contract with a different movie studio. Selznick then supposedly asked her if he could hire her sister instead. "I was losing a brilliant part, but okay," she told Vanity Fair. Fontaine won the part, and an Oscar nomination of her own.
They were both nominated for an Oscar in 1942, in the leading actress category — Fontaine for "Suspicion," another Hitchcock film, and de Havilland for "Hold Back the Dawn." Fontaine won. "I felt Olivia would spring across the table and grab me by the hair," she wrote about that moment (via Entertainment Weekly). When de Havilland won her first Oscar, for "To Each His Own," Fontaine claimed to congratulate her sister — only to be brushed off.
"Olivia has always said I was first at everything."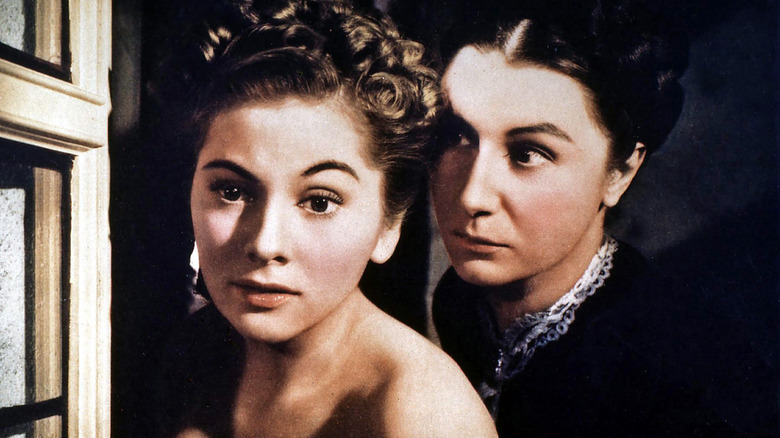 United Archives/Getty Images
Even after the careers of the actresses gradually faded, they never made up. They didn't even speak at their mother's funeral, according to Fontaine (who also claimed that no one even told her that her mother died). It was, according to Fontaine, the final straw. "I think it is so ironic that the death of this marvelous woman was responsible for our final schism," she told People.
De Havilland, meanwhile, has claimed that she never initiated any conflict with the sister she publicly calls "Dragon Lady," according to Entertainment Weekly. "A 'feud' implies continuing hostile conduct between two parties," de Havilland said. "I cannot think of a single instance wherein I initiated hostile behavior."
The sisters lived long lives — de Havilland died in 2020 at the age of 104, and Fontaine died at 96 several years earlier. As EW pointed out, this is something Fontaine predicted. "Olivia has always said I was first at everything—I got married first, got an Academy Award first, had a child first," she told People. "If I die, she'll be furious, because again I'll have got there first!"
Today, de Havilland is best remembered for her roles in "Gone with the Wind" and "The Adventures of Robin Hood," while Fontaine is famed for "Suspicion" and "Rebecca."