The Truth About Princess Diana's Relationship With Luciano Pavarotti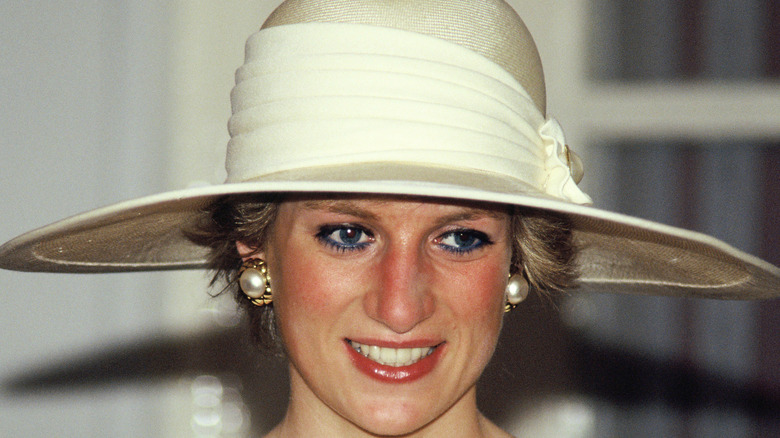 Georges De Keerle/Getty Images
Princess Diana had a warmth she extended to all. As her younger brother Charles put it at her funeral (per USA Today), "She was a symbol of selfless humanity... a standard bearer for the rights of the truly downtrodden." She worked what he called "her particular brand of magic" on everyone she met, including legendary tenor Luciano Pavarotti.
Pavarotti, of course, was a superstar in his own right. As Biography reports, he made his first operatic appearance in 1961, as Rodolfo in "La Boheme," soon becoming one of the most beloved stars in opera history. One of his high-profile fans was Charles, Prince of Wales, and it was through Charles that Diana first became enamored with Pavarotti's dulcet tones. According to Classic FM, the royal couple had been visiting Verona when Prince Charles suggested they see a performance of the tenor's ("Verdi's Requiem"). Princess Diana was immediately captivated by his talent.
The pair became friends, enjoying the same star-studded company and campaigning together, per Biography, for the cause closest to the princess's heart: the eradication of landmines around the world. Princess Diana's relationship with Pavarotti is, perhaps, best summed up by an iconic encounter in London's Hyde Park.
Princess Diana and Luciano Pavarotti shared a great friendship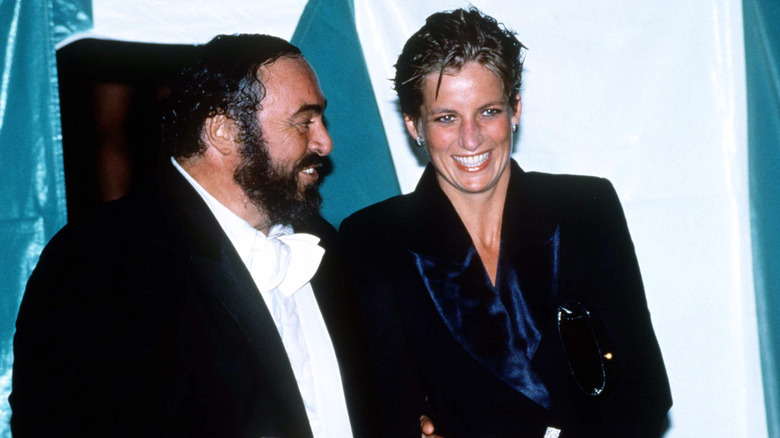 Anwar Hussein/Getty Images
In 1991, per the BBC, Pavarotti put on a wonderful show, "Pavarotti in Hyde Park," marking three decades as an operatic tenor. The British weather, sadly, didn't hold out and the rain poured down. "It didn't stop for 24 hours," Harvey Goldstein, who promoted the event, told the Express. Pavarotti was on a waterproof stage, but the 125,000 strong audience –including members of the royal family and other A-listers– cowered under umbrellas. Much of the audience couldn't see, and Goldstein was forced to ask people to put their umbrellas away.
Diana was first. "She asked the aides who were holding umbrellas over her to take them down," he remembered, "...it was like a Mexican wave, with everybody following suit and clapping and cheering." Noticing Diana in the audience at this stage, Pavarotti dedicated a song to her in thanks, solidifying their friendship.
Royal photographer Anwar Hussein, per People, accompanied the princess inside afterwards, and took a wonderful photograph of them both together. According to him, the soaked-to-the-skin Diana indicated her usually pristine locks and joked, "do you like my new hairstyle?" He went on, "She was really confident by now. They went on to have a close friendship."
Classic FM reports that there were hopes that Pavarotti would sing at Diana's funeral, but he was so devastated by her death that he couldn't do so. Instead, he was just one more heartbroken guest.