Why Janis Joplin Bought A Headstone For Bessie Smith
Michael Ochs Archives/Getty Images
Janis Joplin has had a tremendous influence on the world of music. Per Biography, she was born in January 1943 in the town of Port Arthur, Texas. As with so many of the greats, her rise to musical megastardom started modestly, with a role in the local church choir that introduced the world to her formidable voice in the most low-key fashion.
Joining the band Big Brother and the Holding Company gave her the breakthrough she needed, per Biography; the success of their 1968 album "Cheap Thrills" set her on the road to stardom. Though she has gone on to inspire countless musicians, she was influenced by some of the great talents in turn. Few had such an impact on her as Bessie Smith, remembered as the Empress of the Blues. Smith sadly died in September 1937 (per Britannica), but her incomparable, emotional blues continued to resonate with Joplin. So much so, in fact, that according to UDiscoverMusic, Joplin would claim that she believed she was Smith reincarnated.
In 1969, Joplin told the magazine Hit Parader (via UDiscover Music) that such stars as Smith inspired her to sing for the first time. "I bought Bessie Smith and Odetta records, and one night, I was at this party and I did an imitation of Odetta ... and I came out with this huge voice." 
Bessie Smith's family couldn't afford a headstone, so admirer Janis Joplin stepped in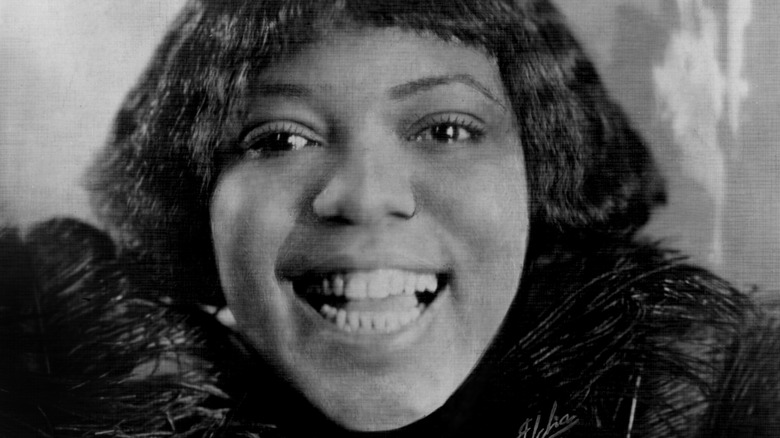 Michael Ochs Archives/Getty Images
As History reports, Smith died after sustaining terrible injuries in a road collision in Mississippi in 1937, aged around 43. Her funeral took place on October 4 that year, and around 7,000 people gathered to honor her life. She is buried in Pennsylvania, but Smith's grave lacked a headstone until 1970 when Janis Joplin ensured that it was marked in a manner that befitted the blues titan.
Joplin, along with nurse Juanita Green (per The New York Times), paid for the gravestone, which was unveiled that August. Smith's family, the newspaper reported, couldn't afford a stone at the time of her burial. John Hammon, a jazz historian who had worked with Smith, chose the wording for it: "The Greatest Blues Singer in the World Will Never Stop Singing." A fitting tribute and a wonderful way to draw further attention to Smith's music, ensuring that she will indeed never stop singing.
Just months after the stone was installed, UDiscoverMusic states, singer-songwriter Dory Previn's "Mythical Kings and Iguanas" album was released, featuring the song "Stone for Bessie Smith." It spoke of this act and the tragic death of Joplin herself, who was just 27 when she died that October.