The Truth About Gene Simmons' Relationship With Ace Frehley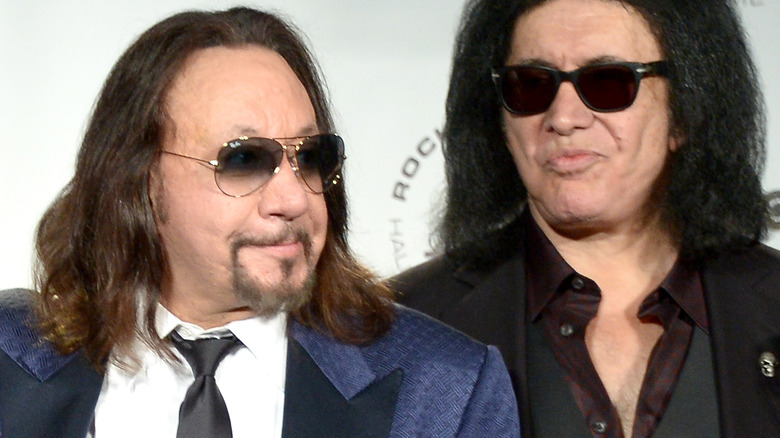 Michael Loccisano/Getty Images
The Demon, the Starchild, the Spaceman, and the Catman. They make up one of the most instantly recognizable bands in rock history, Kiss. The band that sold millions of records and even more merchandise is also notorious for the complicated and at times frosty relationship between the band and past members.
Ace Frehley, the original Spaceman and lead guitarist, has been outspoken over the years over the ways that he feels he was wronged by the only original members still in Kiss: bassist Gene Simmons and lead vocalist Paul Stanley.
According to Biography, Kiss formed in 1973, and the original lineup remained intact until drummer Peter Criss left the band in 1980, with Frehley following suit in 1982. Kiss continued with musicians like Eric Carr as the Foxman replacing Criss and Vinnie Vincent as the Ankh Warrior replacing Frehley. Kiss would go through a handful of additional lineup changes through the years. Meanwhile, Frehley continued performing, both as a solo act and with his eponymous band, Frehley's Comet.
The departures — and not just how they happened, there's even discrepancies in how many there were — have been a point of contention. Simmons said in an interview with Guitar World that "Ace and Peter have gotten three chances. They were in and out of the band — fired — three times." Frehley disputed this, saying that he wasn't fired, he quit the band, and it only happened twice (via Rolling Stone).
The reunion goes south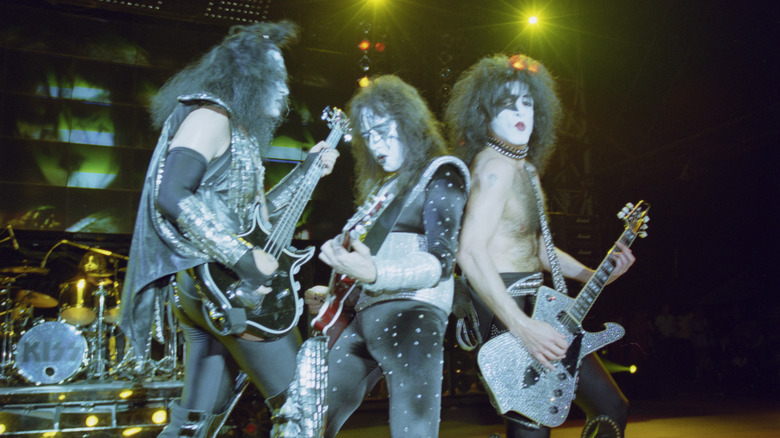 Brian Rasic/Getty Images
The original Kiss lineup was reunited in 1996. All four founding members donned their original makeup and traveled around the world on a wildly successful series of tours. However, Frehley once again left the band, this time in 2002, and was replaced by current Kiss guitarist Tommy Thayer.
Thayer was at one point Kiss' tour manager and had performed in a Kiss tribute band. After Frehley's exit, he would continue to don the Spaceman costume and makeup, something which hasn't sat well with Frehley over the years. "I could sense he always wanted to be me. He used to be in a Kiss cover band," Frehley said In an interview with the Village Voice. "He was hired by Paul and Gene to put on my makeup and costume and play my guitar solos — a business deal."
Following the reunion, barbs and jabs have been exchanged from both sides of Kiss DMZ. In his autobiography "No Regrets," Frehley told some less than flattering stories about Simmons' behavior over the years. Meanwhile, Simmons has been critical of Frehley countless times, even saying in an interview with Guitar World that there was no chance of another full-on reunion. "Would we welcome Ace or Peter to jump up on stage for a song or two? Of course," Simmons said before continuing. "Could we depend on either Ace or Peter to do a full set night after night? Not on your f****** life."
The state of the Frehley-Simmons relationship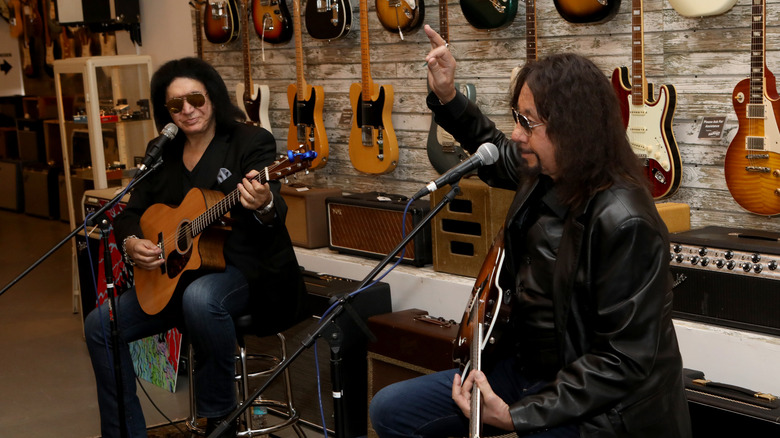 Mark Weiss/Getty Images
The relationship between Ace Frehley and Gene Simmons is a complex one. There have been instances of the two seemingly burying the hatchet — or perhaps more accurately, in this case, the battle ax-shaped bass guitar — on numerous occasions.
In 2018, the pair played an acoustic set at a guitar store in Miami (via Guitar World), and Frehley joined the band for an acoustic set aboard the Kiss Kruise (via Loudwire). Frehley would later say in an interview with Loudwire that despite the perceived warm welcome on the ship, he didn't appreciate the way he was treated. "Would I ever do another Kiss Kruise? No. I just didn't like the way I was treated. I did that first set with the guys, and then I never heard from them again," he said.
Only a few months after the Kiss Kruise mini-reunion, Simmons would make his comments to Guitar World that in turn riled up Frehley, who proclaimed that "the gloves were off" in a post on social media.
There are obviously ebbs and flows in their relationship, and in a 2021 interview on SiriusXM's with Eddie Trunk, Frehley discussed being on good terms with both Simmons and Stanley. Regarding a Kiss reunion, he said, "Anything's possible — I've always said that. That's the first question so many people have asked me over the years: 'Would you ever consider doing a KISS reunion?' I said, 'I never closed the door on anything.' If the money's right and it's presented to me in the right way, anything can happen."