The Best Covers Of Leonard Cohen's Hallelujah Ranked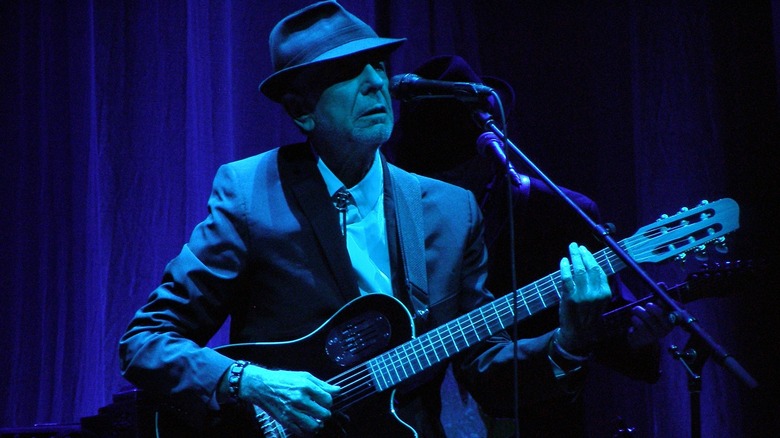 Route66/Shutterstock
People have been arguing about the meaning of Leonard Cohen's "Hallelujah" since it was first released in 1984. As noted in Rolling Stone, with it's slow melody and a prayer-like structure, the song somehow brilliantly mixes Bible references and religious imagery, sexual innuendo, and a literal description of its own chord structure. The song morphs in real-time as you listen to it. One moment it's a spiritual exploration, the next it's a song about tragically lost love, and then it suddenly becomes a sharp, sarcastic takedown of faith.
Written and released when Cohen's career was at a low ebb (his previous two albums had not been successful, and his record label considered not even releasing the album "Various Positions"), "Hallelujah" didn't make much of a splash upon release. In fact, it took four years for the song to get some attention. Unsurprisingly, it was another brilliant songwriter who rescued "Hallelujah" from obscurity — Bob Dylan began covering the song on his 1988 tour. Eventually other musicians took a swing at this modern classic, and in 1994 the late, great Jeff Buckley released a version that has become definitive — in part because it has served as the template for countless reality singing show performances ever since.
All those cover versions made "Hallelujah" into the pop culture fixture it is today. There are literally hundreds of cover versions of the song out today — but some are clearly better than others. Here are the best covers of Leonard Cohen's "Hallelujah," ranked.
12. Susan Boyle
Ever since her viral audition for "Britain's Got Talent" in 2009, Susan Boyle has been a staple of the music world. Although no one would describe Boyle as a trendsetter or an innovator, her clear, beautiful singing voice and complete lack of affectation have shaped her into an artist who is always worth listening to.
In fact, that lack of innovation is what makes her cover of "Hallelujah" so special. Recorded for her 2010 album "The Gift," the song is given a lush, orchestral arrangement that stands in sharp contrast to most other versions. Instead of the spare arrangements with just a guitar or piano for accompaniment, Boyle layers in strings, a choir, and plenty of studio magic. The Seattle Post-Intelligencer called her version of the song "searching and low-key," which perfectly describes the power of her approach to the song.
While the arrangement makes this version stand out, what really makes the song special is Boyle's voice. As noted by See It Live, Boyle's "soft and heavenly" voice is a perfect match for Cohen's stirring, emotional lyrics. Her clear, unaffected singing combined with the massive musical production may not be everyone's cup of tea, but it stands out as one of the best and most distinctive of "Hallelujah" versions as a result.
11. Ed Sheeran
Ed Sheeran has never recorded a studio version of "Hallelujah," but that just makes his performance of the song at the Reeperbahn Festival in Hamburg in 2011 more remarkable. It appears to be a song he performs simply because he loves it, and because it fit the mood of the performance. As noted by The Detroit Free Press, there's a lot of serendipity in this performance, including a mic echo that enhances Sheeran's cracking, emotional vocal. And Consequence reports that the venue was a lot more intimate than Ed Sheeran is used to these days: There were fewer than 1,000 people in the crowd when he took the stage, making this an ideal moment for a touching, emotional moment.
Sheeran's arrangement is slow and simple, with just a guitar for accompaniment. The tone is sad and emotional. But what makes this performance one of the best covers of "Hallelujah" is Sheeran himself— he's such a charming and unaffected singer that he disappears into the emotion of the song, lost for those four minutes in Leonard Cohen's brilliance. According to The Wrap, this has become one of Sheeran's most popular cover songs, and it's easy to see why people have embraced the performance so passionately.
10. Jake Shimabukuro
It's easy to focus on the lyrics of a song like "Hallelujah." In part, this is because Leonard Cohen is best known for his lyrics, and it's also because the lyrics of "Hallelujah" are complex and brilliantly subtle — each line offers multiple interpretations and allusions.
But the music is also brilliant. As noted by Newsweek, "any great song should be able to pass the ukulele test," meaning that any great song should be recognizable when it's boiled down to its most basic elements — the chords and melody line. That's what makes the ukulele version performed by the legendary Jake Shimabukuro so special. As The Forward notes, the song grabs your attention immediately because it's in such a high register, but once you lean into what Shimabukuro is doing with the track, the power of this cover becomes clear. The emotion is conveyed through the melody alone, no words needed.
And that's no accident: Shimabukuro put a lot of thought into his cover version, and he even presented a MasterClass about it, detailing every decision he put into his approach and performance. The scientific approach he takes to breaking down the song and rebuilding it for his instrument is what makes this cover version of "Hallelujah" one of the best ever produced.
9. Neil Diamond
On the surface, Neil Diamond doesn't do anything special with his cover of "Hallelujah." The arrangement is fairly traditional, and he doesn't put any obvious twists or innovations into his vocal. Sure, Diamond is a legend and any vocal performance is going to be great, but there's no trick here. He just lays down a faithful cover version.
But as The Forward notes, Diamond has always been a bit of a showy singer, and his restraint on this cover is what makes it so intense. Newsweek gets to the core of what makes this cover version so powerful despite its lack of innovation: Diamond's age. Leonard Cohen was 50 years old when he wrote "Hallelujah," and the song is infused with a world-weary sense of loss that only someone with some years under their belt can really convey. Diamond was 69 when he released this song, and his vocal is gravel-filled and weighed down by years, making it a perfect match for Cohen's smart, mature lyrics. We've gotten used to hearing fresh-faced kids on reality shows sing this banger, but Diamond's willingness to let his voice sound his age on this version gives it a lot more power.
8. Willie Nelson
Willie Nelson is a country legend, but he's got the singing chops to interpret just about any song. His cover of "Hallelujah" can be polarizing — The Forward calls it "wonderful," but Newsweek calls it "an awkward stylistic match."
But that perceived awkwardness is why Nelson's version works so well. Bringing elements of country music (including a marvelous slide guitar performance) and gospel music, Nelson totally gets the sacred nature of the song. But he also gets the torment of those lyrics. This is not a song about a man at peace with the world. This is a song about a man mourning loss and being kind of angry about it. Nelson's persona as a grass-smoking grandpa makes some people miss the amount of work and artistry he puts into every song. But Pitchfork notes that he "sings as though he deliberately wants to reinterpret the song." His decision to let his voice trail off at the end of each chorus line underscores the emotional quality of the lyrics — and Nelson's brilliance as a vocalist.
Far Out Magazine puts it succinctly: "Nelson makes it feel original and bold." That's quite an accomplishment when it comes to a song that's been interpreted so many times by so many different artists.
7. Jason Castro
These days, seeing a contestant on a singing competition perform "Hallelujah" is nothing new — in fact, it's pretty much a cliché at this point. But back in 2008 when Jason Castro performed the song on "American Idol" it wasn't yet the most obvious of moves. In fact, as noted by Sputnik Music, Castro's performance pushed Jeff Buckley's all-time classic cover version of the song to the top of the iTunes charts — a huge deal at the time, and clear evidence of both "Idol's" power and the subdued greatness of Castro's version. According to USA Today, Castro's performance pushed sales of Buckley's version from 2,500 copies the week before to 178,000 copies.
In fact, Castro made such an impression with the song the phenomenon of reality contestants performing the song can basically be traced to his simple, stripped-down cover. As noted by International Business Times, the success of Castro's performance led an "Idol" judge to encourage contestants on all his music-related shows to choose the song.
It's easy to see why this performance had so much impact. Not only was "American Idol" still a powerhouse back in those days, but according to EW, Castro's cover is "heartfelt" and "gorgeous." What really made it stand out was the contrast to the usual reality show performance, which tended to be loud and dramatic. Castro's decision to be quiet and thoughtful was a risk at the time — and it paid off.
6. Bob Dylan
Leonard Cohen may have written "Hallelujah," but it was Bob Dylan who put the song on the path to being a modern standard. As reported by Far Out Magazine, in 1988, Dylan added "Hallelujah" to his set list on his "Never Ending Tour." Dylan was the first artist to cover the song — it had vanished from the collective consciousness in the four years since its release, so this was a true reintroduction — and the crowds loved it. It's fair to say that the song wouldn't be as popular as it is right now if Dylan hadn't seen its genius and put the weight of his own celebrity and genius behind it.
Dylan's interpretation of the song is unusual — it's more aggressive and louder than most modern versions (The Forward calls it "fiery," which is not wrong). But that's what makes this cover great in spite of its historical significance as the first. Newsweek describes the song as "an uptempo blues-rock shuffle" and Dylan's vocals as "gravelly" and "impatient." In other words, it's totally and completely different from the slow, spiritual versions we're all used to today, which makes listening to it an eye-opening experience. Music is all about artistic interpretation, and Dylan's cover reminds you that even a song like "Hallelujah" can be rendered in many different ways.
5. Rufus Wainwright
Rufus Wainwright's original performance of "Hallelujah" is a conscious and deliberate attempt to mimic John Cale's influential version of the song. As reported by Spinditty, Cale's version of the song was used in the film "Shrek" in 2001, but contractual difficulties prevented that version from appearing on the film's soundtrack recording. Producers asked Wainwright to record a very similar version to fill the gap, and he agreed. The Forward notes that this wasn't a totally successful gambit: Many fans of the film purchased the soundtrack looking for Cale's version and were outraged to find Wainwright's instead.
Wainwright's version on the "Shrek" soundtrack is fine — but as noted by NME it's the version he performed with Choir! Choir! Choir! in 2016 that is truly remarkable. Performing a stripped-down acoustic version of the song and backed by 1,500 singers — yes, 1,500 — this version is uniquely powerful and undeniably epic. There is simply no other cover version that comes close to its sound and power. 
Newsweek notes the impact of Wainwright's version goes beyond the artistic — its inclusion on a soundtrack aimed at younger audiences introduced the song to them just as singing reality show contestants began to adopt it as their own, creating a feedback loop that transformed the song that crossed across generations.
4. Regina Spektor
According to Newsweek, Regina Spektor once described "Hallelujah" as "pretty much indestructible." And she's right — no matter how untalented a singer you are or how wrongheaded your arrangement ideas, it's impossible to make the song less than merely great. In 2005, while performing at the concert for the Jewish Heritage Festival, Spektor also proved that talent could elevate the song to truly incredible heights.
Spektor's version is beyond spare — it's just her, a piano, and a few strings. Her voice crackles with emotion as she sings the melody over this minimalist arrangement, and where other versions of the song tend to swell to a big climax, Spektor chooses to almost trail off at the end, as if exhausted by her emotional outpouring. This is actually a near-perfect way to end the song.
As noted by The Atlantic, Spektor's arrangement and approach to the song weren't accidental — she purposefully leaned into the song's biblical references and spiritual tone for a religious setting. Spektor noted that you don't have to understand the Bible references to enjoy the song, but her performance clearly has those connections in mind. Today, many artists choose to focus on the song's religious imagery, but Spektor was once of the first to cover it with this intention in mind.
3. k.d. lang
k.d. lang recorded "Hallelujah" for her 2004 album "Hymns of the 49th Parallel," and it's a beautiful rendition of the song. As Happy Mag notes, lang leans into the swaying rhythms of the song more than any other singer has. The result is a powerful emotional effect. Where most covers of the song are muted and tragic, lang sings it like someone finally letting all their emotions after years of keeping them bottled up, which is a terrific way to interpret Cohen's lyrics. As Newsweek notes, lang's version of the song owes a lot to John Cale's arrangement — but the vocal performance that "is smooth and fluid as it slides up and down the scales, but never soulless" is what makes it so incredible.
But as great as lang's studio version is, it's the rendition she gave at Cohen's induction into the Canadian Songwriters Hall of Fame that truly stands out. The Forward reports that lang's passionate performance wowed Leonard Cohen himself, as well as his partner and musical collaborator Anjani Thomas. Thomas was quoted as saying "We looked at each other and said ... 'it's been done to its ultimate blissful state of perfection.'" When Leonard Cohen himself thinks you've perfected his song, the cover cannot be ignored.
2. John Cale
Simply put, John Cale's performance and arrangement of "Hallelujah" on his 1991 album "I'm Your Fan" is why we're talking about the song right now. Cale, a former member of The Velvet Underground, arranged the song brilliantly for piano, and Newsweek reports that he convinced Cohen to fax him pages of alternate lyrics — Spinditty notes Cohen sent him 80 verses. Cale not only arranged the song into the doleful, emotionally resonant version we're familiar with today; he also selected the verses that have come to be regarded as the definitive version of the song. According to Happy Mag, Cale claimed he selected the "cheeky" verses to use!
As noted by USA Today, Cale's version of the song is why we have Jeff Buckley's version of the song, which in turn is why the song has become an ever-present aspect of reality singing shows and pop culture. Cale's version is very different from both Cohen's original recording and Bob Dylan's later-1980s performances of the song, and likely ranks as one of the most influential covers ever recorded. In fact, the cover is so influential, The Forward notes that Cohen himself began performing Cale's version in his concerts.
1. Jeff Buckley
Jeff Buckley's 1994 cover of "Hallelujah" is an all-time classic. It's not just a gorgeous rendition of a terrific song; it's also one of the rare covers that re-introduced a song to the public. Before Buckley's version, the song was beloved by a small population of fans. After Buckley's version, the song became the pop standard that everyone knows.
Buckley owes a debt to John Cale's version, which Cale recorded for his 1991 album "I'm Your Fan." As noted by USA Today, Cale's album didn't sell particularly well, but a copy was purchased by a woman living in Brooklyn — who hired an unknown Jeff Buckley to house-sit for her, exposing him to Cale's version, which inspired his own classic take. Cale had already stripped the song down to its passionate core, giving Buckley the room to transform it into the aching, staggered dirge on his album.
Newsweek gets to the core of what makes this cover so amazing. Buckley "deconstructs" the song, crafting an arrangement that's sparse even compared to other sparse arrangements. It takes the song almost a minute to firm up and coalesce as his guitar swirls about in the beginning, and his vocal trembles with emotion. It's an unforgettable performance that builds on the covers that came before to finally bring the song to near perfection.