Dark Details About Marilyn Monroe And Joe DiMaggio's Relationship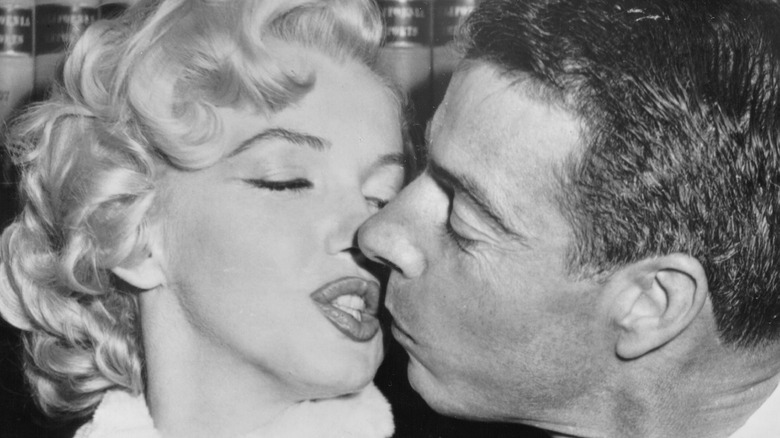 Michael Ochs Archives/Getty Images
Joe DiMaggio was a baseball legend. He hit in 56 straight games, per History, a preposterous feat that is unlikely to ever be broken. He personified grace on the field, his every move spoke elegance, including one time when he kicked the dirt after being robbed of a hit. He was the next superstar in the Yankee galaxy after Babe Ruth and Lou Gehrig. The outfielder was rewarded for his stellar play with his induction in the Baseball Hall of Fame in 1955. His influence spanned far beyond the baseball diamond; he was feted in song: "Joltin' Joe DiMaggio" and "Mrs. Robinson." 
Marilyn Monroe was ready to take over the entertainment world. The woman who was born Norma Jean Mortenson (which was later changed to Baker, per Biography) had been modeling since 1946 and it seemed that dominance on the big screen was in the cards for her. She met DiMaggio and they were married in 1954, according to another article posted on Biography. It seemed like a match made in heaven: American's most famous baseball player and most popular actress. But as it would turn out, their short-lived marriage was anything but heaven-sent. There were a lot of events going on behind closed doors, and it continued well beyond Monroe's death. 
Joe DiMaggio never recovered from Marilyn Monroe's death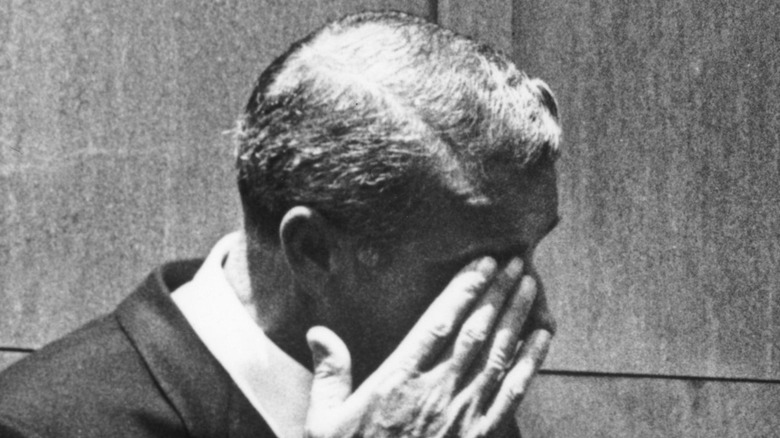 Keystone/Getty Images
Theirs was a marriage that was marked with jealousy and domestic violence. The former baseball star was revealed to be an indifferent dad to his son from a former marriage and he was prone to violence toward Monroe. There was a time that he allegedly dragged her back into their home by her hair. He wanted her to be a demure housewife and he channeled his anger at her when she wasn't, according to the Daily Mail. He even threatened other males around her, per the New York Post. 
They stayed in contact even after their divorce, though, and Monroe seemed to regard him as a close confidant. He was also still obsessed with her, constantly trying to win her back. She remarried, to playwright Arthur Miller, but that, too, ended in divorce. DiMaggio dated women who resembled the stunning actress. There would be no reunion, however, and DiMaggio was devastated when she mysteriously died. The Yankee legend would never marry again. He sent roses to her grave three times a week for 20 years, reports Biography.
While some may see his actions as that of a lovelorn man, he also was a vain man who viewed her as an object to be won. Perhaps he did realize the error of his ways and carried that to the grave. ABC News reports that, according to his attorney, DiMaggio's last words were, "I'll finally get to see Marilyn."