The True Story About How Pamela Anderson Met Tommy Lee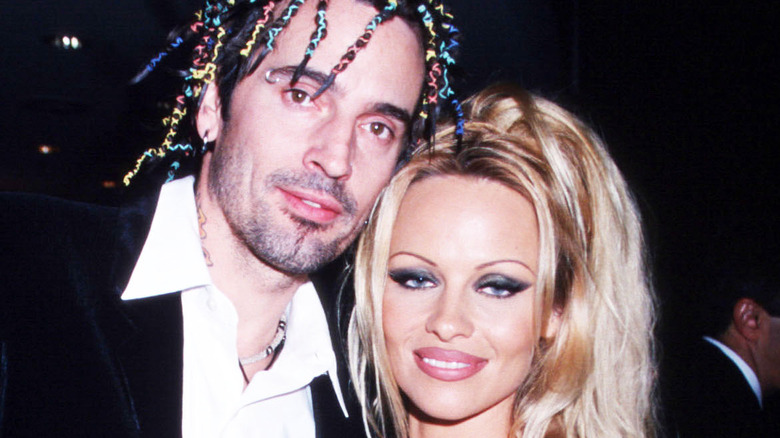 Barry King/Getty Images
Pamela Anderson was already quite famous when she met Mötley Crüe drummer Tommy Lee on New Year's Eve 1994. After her start modeling in Labatt beer ads, Anderson landed her first Playboy Magazine cover in 1989. By 1991, she was a semi-regular in Tim Allen's highly popular "Home Improvement" TV show. But it wasn't until her role as C.J. Parker in "Baywatch" (starting in 1992) that she became a household name (via Life and Style Magazine). 
Despite the fame the Canadian star had already achieved by 1994, her love life had stayed out of the spotlight until she met Lee. Tommy Lee, on the other hand, had already been married twice by then. First to model and dancer Elaine Starchuk, then to actress Heather Locklear for seven years (per Married Biography).
According to the New York Post, Anderson and Lee met at a Sunset Strip club called Sanctuary. Lee was highly intoxicated when he approached Anderson, who was celebrating with some friends. She would later describe their meeting as simply "He came up, grabbed me and licked my face" without saying a word. After a full night of dancing and celebrating, Anderson explained, "I thought he was a cool, friendly, nice guy. I gave him my number." 
What followed were non-stop phone calls from Lee. Anderson would later tell magazines that she was put off by his insistence. Lee, on the other hand, wasn't ready to give up. 
'We were madly in love'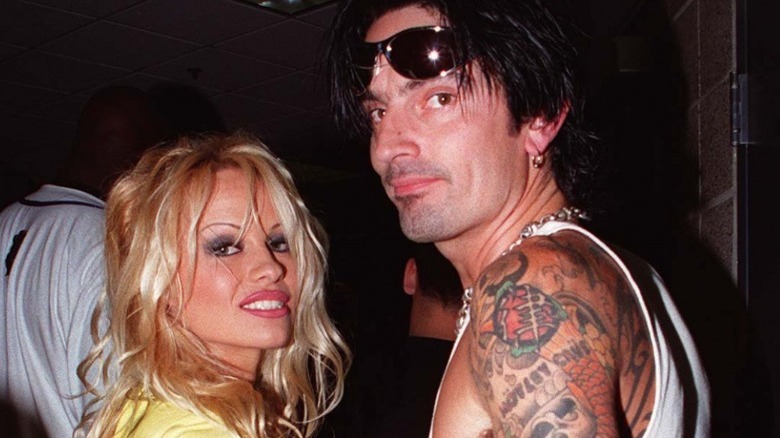 Ron Wolfson/Getty Images
It was Lee's persistence that finally got the pair to connect again less than six weeks later, in February 1995. He called her on the phone as she was getting ready to leave for Cancún, Mexico. Anderson told him about the trip, then insisted that he shouldn't follow her there as she realized he seemed ready to do just that.
Lee followed her, tracking her to her Ritz-Carlton hotel in Cancún. This was their second in-person meetup. They ended up partying all night, which ended up with a marriage proposal and Lee spending the night in Anderson's room, according to The New York Post. Four days later, the couple married on the beach, wearing "tattoos of each other's names on their ring fingers" instead of traditional wedding bands (via Biography). He wore shorts and nothing else, Anderson wore a white bikini (per Esquire).  
The New York Post reported Lee was "known for bingeing on groupies, drugging heroically and swallowing small lightbulbs for kicks," so his spontaneous marriage took even the media by surprise. Anderson's mother was also caught by surprise, later confessing she found out about the union via People magazine. When asked about eloping on the beach a few years later, Anderson would say, "We were madly in love. It wasn't like drugs or alcohol or anything like that. We were both just really passionate about life" (via Esquire). 
Getting to know each other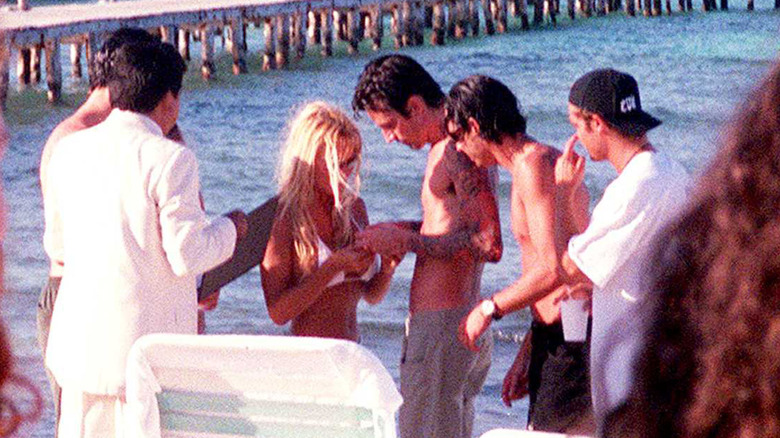 James Aylott/Getty Images
Anderson and Lee's marriage was an intense roller-coaster ride, though it was mostly a love story. Talking to Interview magazine in 1998, Anderson confirmed this by saying that "Tommy and I started out having a very intense, fun, crazy relationship because we were two kids." And while we don't know exactly the behind-the-scenes story, we do know Anderson and Lee didn't know much about each other after they got married since they had only been together for less than a week. So their first few months together were likely spent learning about the real people behind the famous names.
It was during these first few weeks together that Anderson and Lee filmed what would become the world's first celebrity sex tape. According to Esquire, Anderson and Lee filmed most of the video on a five-day houseboat trip on Lake Mead. "As usual, I brought along my video camera," Lee would say later. "We weren't trying to make a porno, just to document our vacation. We watched it once when we returned home, then put it in our safe, a 500-pound monstrosity, hidden underneath a carpet in my studio control room in the garage" (as reported via Esquire). When a disgruntled employee stole the safe months later, that's where he found the tape.
Anderson and Lee divorced in 1998 but got back together in 2008, with Lee telling Rolling Stone, "We've only given it a try 800 times — 801, here we go." The couple called it quits for good two years later.