The Oldest Living Land Animal Is Almost 200 Years Old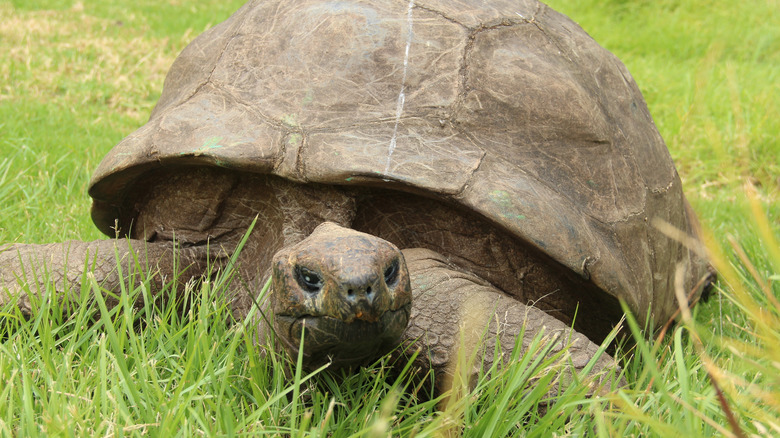 Snapper Nick/Shutterstock
The oldest known living animal is reaching yet another landmark birthday this year. Jonathan the tortoise, the current Guinness World Record holder for oldest living land animal, is now certified as the oldest documented tortoise.
Scientists estimate Jonathan was born around 1832, according to Live Science. While it's impossible to know his exact birthdate, Guinness confirms he was fully mature in the early 1880s when he was first brought to St. Helena, the island where he currently lives. That means he was about 50 years old at the time. Now he's living happily at the age of 190, according to the St. Helena Island website.
While there may be marine animals out there who might be older, Jonathan has held the title of oldest land animal for a few years. Now Jonathan has officially surpassed the previous record for oldest turtle or tortoise, according to Guinness World Records, which was held by a tortoise named Tu'i Malila. Tu'i Malila lived to be at least 188.
What is Jonathan's life like now?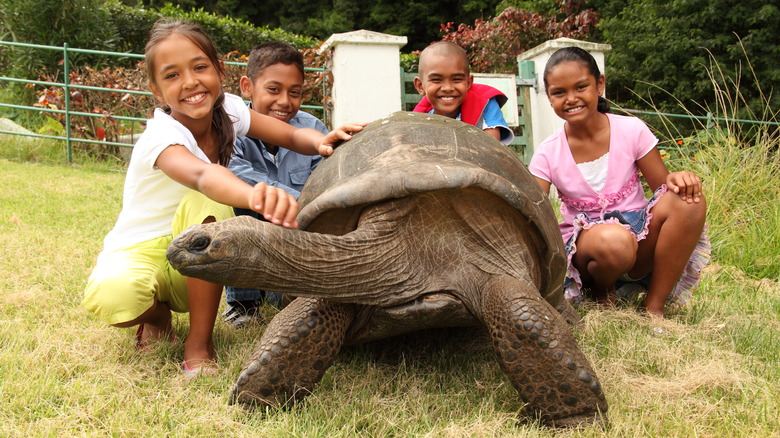 Darrin Henry/Shutterstock
Jonathan the tortoise is in good health for his age, according to the St. Helena Island website. His doctor says he is blind in both eyes due to cataracts and has completely lost his sense of smell, but he's still happy roaming around St. Helena with other tortoises.
He's believed to be a Seychelles giant tortoise, the website reports, which is a species believed to have gone extinct in the wild. Many animals have been lost to extinction in the last century, which makes Jonathan — and the other tortoises of his species rumored to be in captivity — particularly special. But the island says there have been conflicting reports on his actual ancestry, and it's difficult to say for sure which one is correct. Jonathan the tortoise has never fathered any children of his own, according to St. Helena Island, but he continues to mate with other tortoises.