This Is How The Rock & Roll Hall Of Fame Nominees And Inductees Are Chosen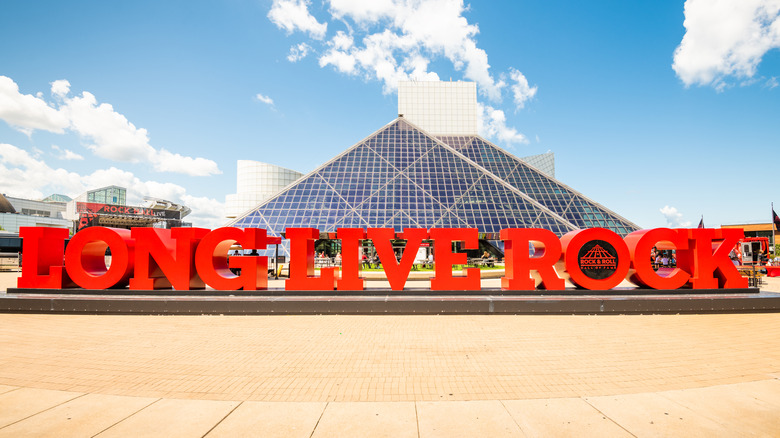 Sean Pavone/Shutterstock
The Rock & Roll Hall of Fame, as its name implies, is supposed to represent a veritable who's who of the musical genre; to be a celebration of grizzled, hotel-room-destroying, uncompromising rock stars. Inspired legions of head-banging, lighter-waving fans should be a prerequisite. But that's not how it works. The actual rules for selecting nominees and inductees are rather different.
A structured, clear-cut set of requirements might seem contrary to the defiant and anti-establishment spirit of rock 'n' roll, but there it is. There's a due process and numerous boxes that must be ticked for an act to be inducted into the prestigious group. The Rock & Roll Hall of Fame breaks down some of the requirements in a statement (per Loudwire): "an artist's musical influence on other artists, length and depth of career and the body of work, innovation, and superiority in style and technique" are all reportedly traits that artists worthy of the Hall of Fame must possess. Or, rather, they are "taken into account" when each year's list is compiled.
Over 350 bands and artists have been inducted to date (per The Rock & Roll Hall of Fame), including legendary names from ABBA and Alice Cooper to Frank Zappa and ZZ Top. While all of these possess the aforementioned qualities, there's a very specific requirement that has prevented some huge names from appearing among their number.
The Rock & Roll Hall of Fame's induction process is a complex one
Jason Sponseller/Shutterstock
As Yahoo News explains, nominated bands or artists must have released their first commercial album at least 25 years before the year of their first nomination. This means, for instance, that rap titan Eminem was nominated for the first time in 2022 (yes, "Infinite" turned a quarter of a century old in 2021). The idea is to honor long and prestigious careers, after all.
The official website states that there are four categories to the Hall of Fame: Performers, Musical Excellence, Early Influences, and Ahmet Ertegun Award (the latter for industry experts who aren't musicians but have advanced rock 'n' roll's cause in other ways). As the Hall of Fame reports (via Future Rock Legends in 2012), "the Foundation's nominating committee selects nominees each year in the Performer category. Ballots are then sent to an international voting body of more than 600 artists, historians, and members of the music industry."
The tricky part is that only those nominees who receive 50% of the votes AND the most votes are given the honor of induction, but as Future Rock Legends points out, sometimes that 50% rule is moot. In addition, per Loudwire, fans can vote for inductions (at the official website or Cleveland, Ohio's Rock & Roll Hall of Fame museum), with their five top picks being sent along to the voting committee.