How A Disgruntled Contractor Made Pamela Anderson And Tommy Lee Infamous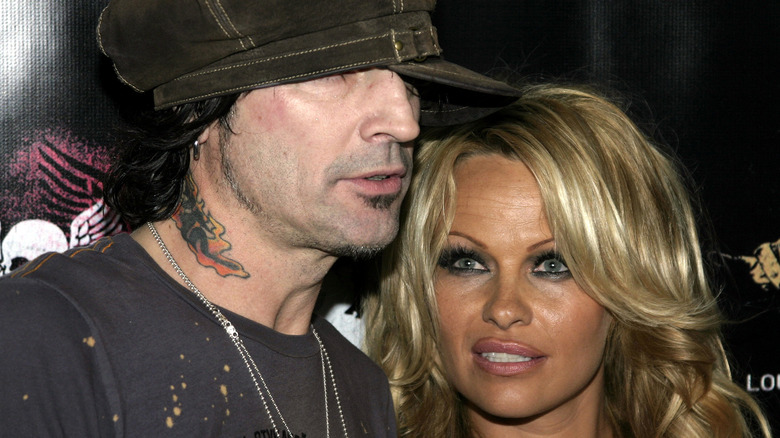 Tinseltown/Shutterstock
Pamela Anderson and Tommy Lee were a newly married couple when a disgruntled electrician stole what came to be the world's first celebrity sex tape, according to ScreenRant. It was 1995 and the internet was just becoming "a thing." In fact, by December 1995, only 0.4% of the world population had access to it. Compare that to 65.6% of the world in 2021 (via Internet World Stats). In fact, Hulu's new "Pam & Tommy" limited series even shows the couple finding out their tape is being sold online and having to go to the library to find a computer to access the internet. 
Pam and Tommy got married in Mexico after knowing each other for just a few weeks (and 96 hours into their first vacation together in Mexico), as reported via People. The couple then went on to honeymoon at Lake Mead near Las Vegas. It was here that the infamous sex tape was recorded — except that the recording was never meant to be that. In fact, much of what's in the tape is just Anderson and Lee laughing and running around in their hotel, being essentially a happily married newlywed couple. The X-rated part of the video is an eight-minute section as the couple goes out on their boat. Until the tape was stolen nobody outside of the couple had ever seen it; it was always meant to be just for them (per The Sun).
An unlucky find
Lee had begun a huge home renovation on his Malibu property when he'd left for Mexico. When he returned, he announced to the contractors that the plans had changed and the place now needed to be transformed from its bachelor pad beginnings (according to "Pam & Tommy").
But as it unfolded in "Pam & Tommy," things didn't get much easier, as Lee continued to request constant changes. This caused great unhappiness among the contractors, who had allegedly not received payment for their work as it had been promised and were, at the time, already owed over $20,000. After a confrontation where Lee fired him without paying him, electrician Rand Gauthier returned to the home to retrieve his tools and was confronted by Lee with a shotgun (via ScreenRant and The Sun). 
That's when Gauthier — who'd installed the home's security system and knew how to disarm it, according to "Pam & Tommy" — decided to get even by stealing the safe he'd seen in the garage. He knew Lee kept jewelry and guns there and hoped those would make up for what he was owed. What he didn't know was that the couple's intimate camcorder tape was also there. `
This would start a you-can't-make-this-up odyssey where Gauthier ended up mixed with the mob and one of the biggest celebrity scandals ever. Not to mention that Gauthier, according to the Ultimate Classic Rock, was a former porn actor with all the "right" connections (per The Sun).
How the tape got out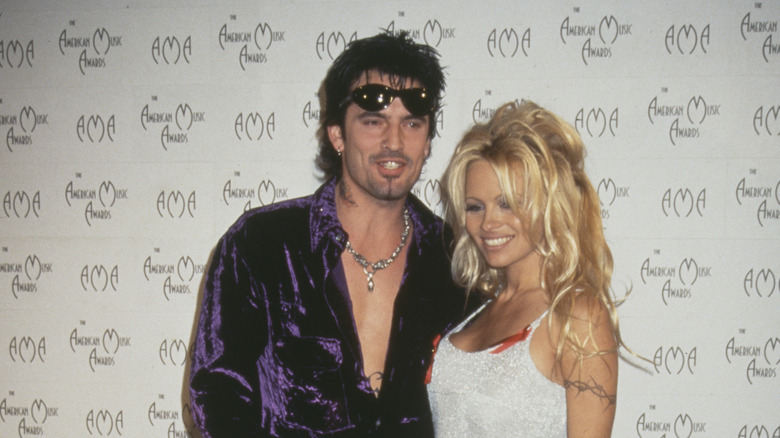 Michael Ochs Archives/Getty Images
Once Gauthier discovered the tape, he reached out to his contacts in the porn industry to make copies of it. According to "Pam & Tommy," no company wanted to have their names associated with it for fear of being sued, so he enlisted the help of porn producer and director Milton Ingley (a personal friend) to make copies of it.
Together, they borrowed money from mob boss Louis "Butchie" Peraino for production and to set up a website through which people could buy the tape at a very expensive (for the time) $60 a copy (per Film School Rejects). While Gauthier was expecting to make a lot of money selling the tape, he soon discovered people were reproducing it and selling their own copies and he couldn't return the $50,000 he had borrowed from Peraino.
Anderson and Lee sued a lot of people, including Ingley, to try to stop the tape from being sold, but it was a lost cause. By late 1997, a lot more people and a lot more businesses where online — so it wasn't much of a surprise when the tape was eventually broadcast for the entire world wide web to see (per Biography). 
According to Ultimate Classic Rock, Anderson and Lee ended up signing away the rights to the tape to web entrepreneur Seth Warshavsky after realizing it was impossible to stop its distribution. According to "Pam & Tommy," Gauthier was never charged for the theft of the safe.