What Happened To Cannibal Armin Meiwes?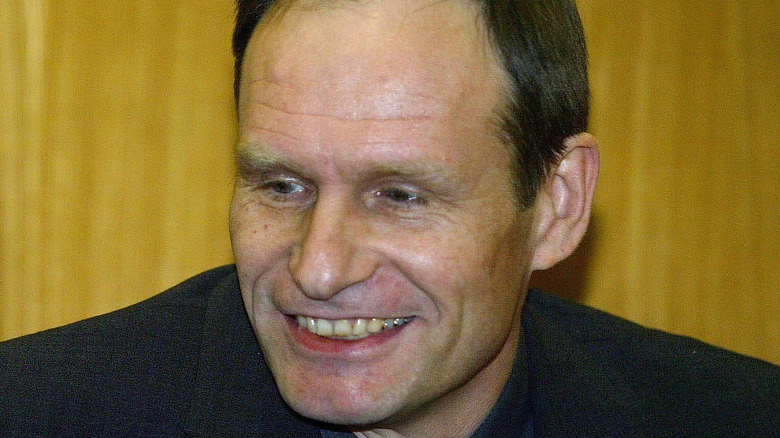 Pool/Getty Images
In December 2002, German citizen Armin Meiwes posted an ad on the internet, a common enough occurrence in this day and age. What made Meiwes' post notable, though, is what he was seeking, and where his ad was posted. According to Daily Mail, Meiwes was looking for: "a well-built 18 to 30-year-old male," to be "slaughtered," and "consumed." The website the ad was posted on The Cannibal Cafe, which catered to just this kind of fetish, known as vorarephilia, or the desire to be killed and eaten or to kill and eat another person in a sexual context, per Psychology Today. Usually it's just a fantasy, and the website has a disclaimer stating that's its purpose.
Nevertheless, Meiwes' most recent ad was reported to the authorities, and when Meiwes was arrested, German police searched his home. What they found were dismembered body parts, and a videotaped killing, so horrific that anyone who saw it is said to have required psychological help (it is not available for viewing.) 
The ad was, in fact, Meiwes' second attempt to find a willing victim for his cannibalistic fantasies. His first ad was successful. In 2001, Bernd Jürgen Armando Brandes agreed to be killed, dismembered, and eaten by Meiwes, as Murderpedia reports. In truth, Brandes was the second potential victim of Meiwes. The first person to respond was rejected for a lack of sexual chemistry and the means by which the first person sought to be killed, via Daily Mail, which was too "weird" even for Meiwes.
Manslaughter or murder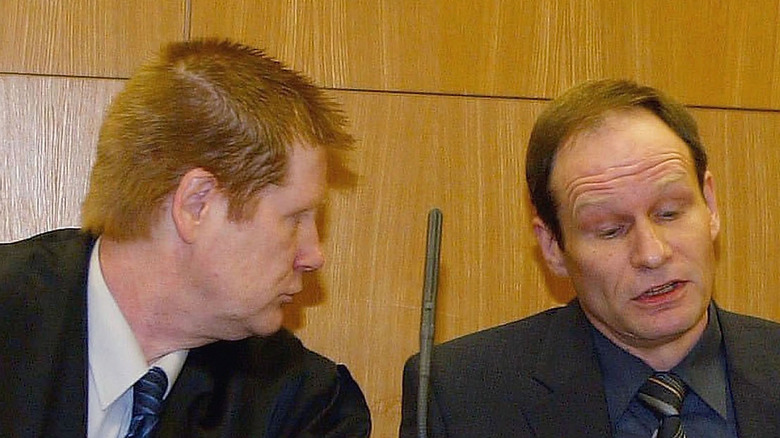 Pool/Getty Images
Complicating the trial of Armin Meiwes is whether or not his cannibalism could be considered murder, since Brandes had agreed to be killed and eaten. Prior to the killing, Brandes was given large quantities of alcohol and painkillers, raising questions about his ability to consent. Also brought into consideration was the mental state of anyone who'd be willing to agree to such a thing in the first place. According to Daily Mail, Meiwes' own sanity was evaluated and he was deemed to be sane, though deeply disturbed. Nevertheless, he was sentenced first to only eight years in prison for manslaughter.
By 2005, his sentence was appealed and he was put back on trial: this time for murder. At that time a psychologist ruled Meiwes — described later as "friendly, outgoing, and polite," according to Daily Mail — was a risk to re-offend, and sentenced to life in prison. According to a 2020 9 News report, based on good behavior, Meiwes is now allowed to take occasional walks outside the prison through nearby German towns while in disguise and accompanied by police officers. He's also now a vegetarian, as 9 News reports.