What Willie Nelson Did Before Becoming A Country Star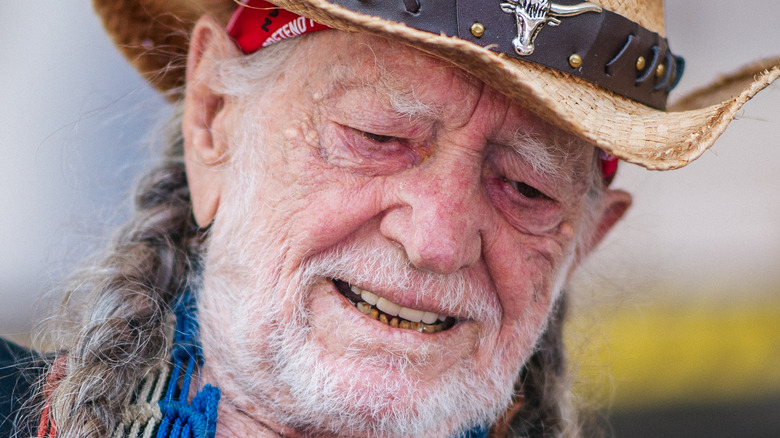 Brandon Bell/Getty Images
For more than half a century, Willie Nelson has been a fixture in country music. Nelson has written some of the most beloved songs in the genre, such as "On the Road Again" and "Crazy," as well as helped spawn the subgenre in country music, known as "Outlaw Country" (via Biography). In the traditionally conservative world of country music, Nelson has supported progressive projects such as cannabis legalization, alternative energy resources, and the famous Farm Aid concert series.
Nelson has collaborated with both country and non-country artists. As detailed by Wide Open Country, Nelson has worked with hip hop superstar Snoop Dogg, jazz trumpeter Wynton Marsalis, soul icon Ray Charles, and was part of "The Highwaymen," a country music supergroup that featured Nelson, Johnny Cash, Waylon Jennings, and Kris Kristofferson.
In 1960, Nelson was only 27 years old when he moved to Nashville, Tennessee and became a songwriter in the city's massive country music scene. In 2019, Nelson released his 68th studio album, "Ride Me Back Home," which won the Grammy for Best Solo Country Performance.
To say that Willie Nelson has been a fixture in the music world longer than the average person has lived is not hyperbole. Still, 27 is a relatively old age to break into the music industry. Before becoming a country superstar, Nelson worked a fair number of jobs while honing his craft.
Willie Nelson was in the Air Force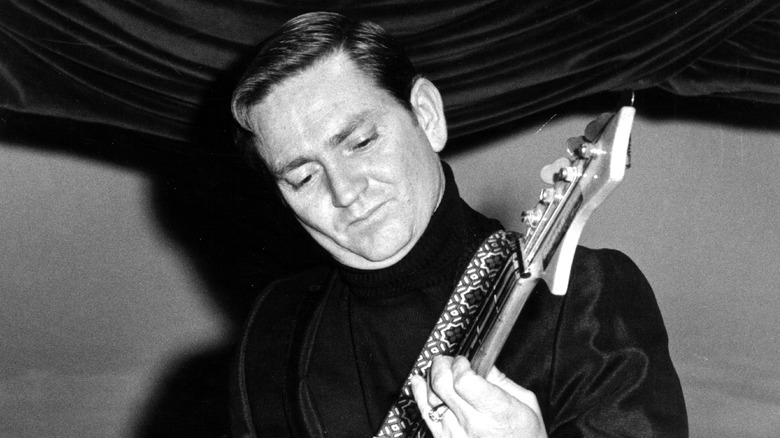 Michael Ochs Archives/Getty Images
Willie Nelson received his first guitar when he was just 6 years old (via Biography). Early in his childhood, he used his guitar to find work, first joining a polka band and then joining a gospel group, Bud Fletcher and the Texans, when he was a teenager. The band mostly stayed local, although during this time, Nelson made his first radio appearance. Bud would eventually marry Willie's older sister, Bobbie.
After graduating from high school in 1950, the young Nelson joined the United States military. With the Korean War raging, Nelson became a member of the Air Force and was stationed in San Antonio, Texas for nine months before a back injury led to a medical discharge from the service. Returning home, Nelson maintained his love for music, though he was forced to work many jobs to keep a roof over his head. These jobs included selling encyclopedias door-to-door, as well as working as a disc jockey for local radio stations. He also enrolled at Baylor University and entered the college's farming program for a brief time.
Willie Nelson worked as a tree trimmer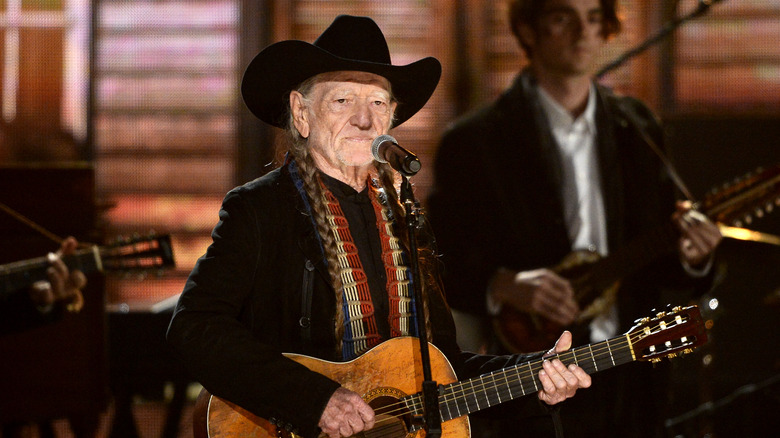 Kevork Djansezian/Getty Images
One of the odd jobs that the pre-fame Willie Nelson worked was as a tree trimmer. He spoke about the experience in his 2012 memoir "Roll Me Up and Smoke Me When I Die" (via Cheat Sheet). While he described his job's responsibilities as mostly putting wood thrown down at him into a wood chipper, he did occasionally have to leave the ground to go up to the trees. One day, Nelson went up into a tree and almost did not live to make it down.
As he remembered it, instead of simply using the tree to climb down, he attempted to use the rope that was hoisting him up. While climbing down, his left hand got caught and tangled in the rope, nearly ripping his fingers off. Seeing that he was badly tangled and unable to climb up or down the tree, the young Nelson decided to take a leap of fate. Up around 20 feet in the air, Nelson told his co-worker to cut the rope holding him, allowing him to drop to the earth. However, it was not just the drop that could have ended his life, but the fact he was falling between two power lines. Nelson's fall missed the power lines and the shaken country singer was able to walk away relatively unharmed. As he recalled, that was the last straw for his life as a tree trimmer. "I hit the ground, jumped up, and walked away from that job, never to return."