How Many People Listen To Joe Rogan's Podcast?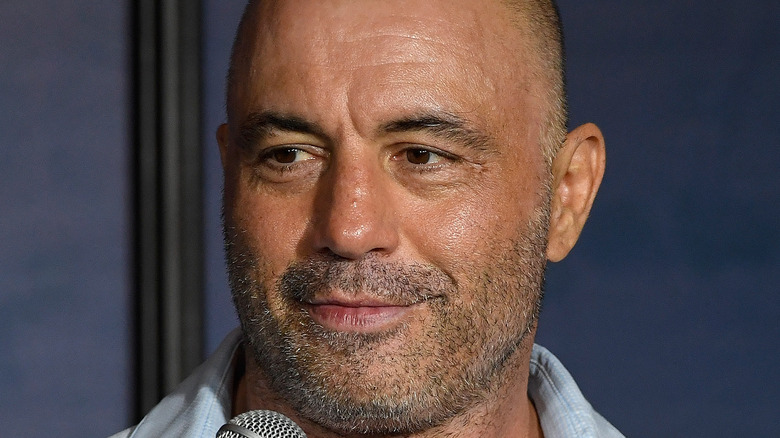 Michael S. Schwartz/Getty Images
"The Joe Rogan Experience" was a controversial podcast even before it was given an exclusive contract from Spotify for $100 million, as Variety reports. Hosted by stand-up comedian, actor, and TV personality Joe Rogan, the theme of the show is to engage purported experts on wide-ranging topics that, in Rogan's view, are often neglected by the media mainstream — if not actively suppressed. Throughout the COVID-19 pandemic, Rogan and his guests have taken many marginal positions on the severity of the virus, as well as the efficacy and necessity of vaccines. As a result, a media firestorm has ensued around both the podcast and the Spotify streaming service (per The Guardian).
In early 2022, musicians such as Neil Young and Joni Mitchell removed their music from Spotify in protest of the statements and claims about the pandemic made by a recent Joe Rogan guest, which the artists in question — as well as scientific and medical professionals — deemed irresponsible and untrue. The sheer number of people who listen to Joe Rogan's podcast reveals why a growing list of musicians find it urgent to balance out the content on the show with what's generally accepted by the scientific and medical mainstream (via Rolling Stone).
Rogan has about 11 million viewers per episode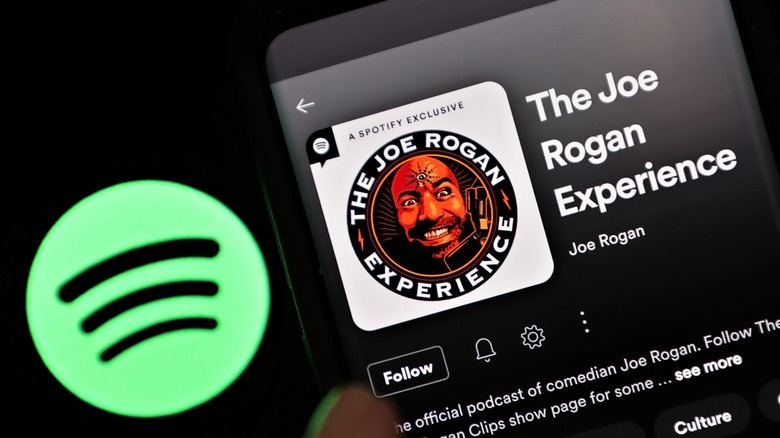 Cindy Ord/Getty Images
As Newsweek reports, the Joe Rogan podcast was an instant success when the show was made exclusively available from the Spotify streaming service (even then, some of Rogan's older episodes that Spotify deemed too controversial failed to make the transition). Nevertheless, news that the show could now only be heard via Spotify attracted millions of new users to the service, and in the company's words, the podcast "performed above expectations" (via Newsweek). Rogan's $100 million contract, it seems, was money well spent.
A study by Edison Research of 8,000 podcast listeners found that the "Joe Rogan Experience" landed at the top of the most popular podcast list throughout Q3 2020 and Q2 2021, as Digital Music News reports. What does that translate to as far as per-episode listenership? About 11 million people, per Newsweek. According to Spotify, Rogan has "stimulated new user additions, activated first-time podcast listeners, and [has] driven favorable engagement trends, including vodcast consumption." Rogan has pledged to balance out his future shows on subjects related to the COVID-19 pandemic, among other topics (per CNN).