Tommy Lee's First Tattoo Explained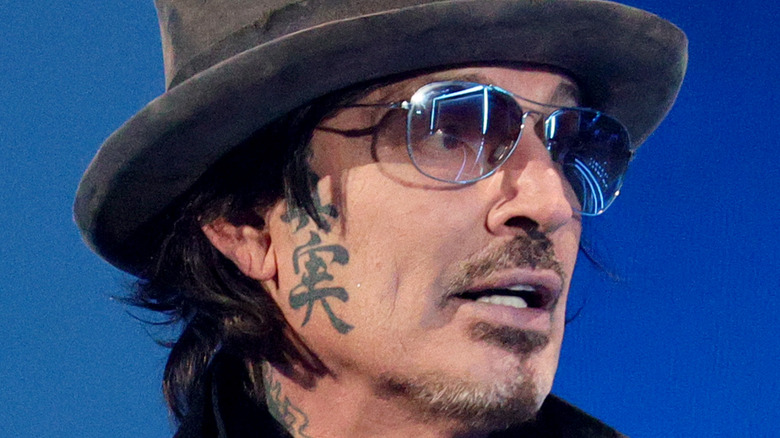 Theo Wargo/Getty Images
Tommy Lee is a tough guy to miss. While his bandmates in legendary rock band Mötley Crüe — lead singer Vince Neil, bass player Nikki Sixx, and guitarist Mick Mars — prowl the front of the stage, Lee sits behind his drums toward the back. But make no mistake, Lee will grab your attention and keep it.
Lee — who was born Thomas Lee Bass in Athens, Greece — is the man behind the beat that drives the band's hits like "Kickstart My Heart" and "Dr. Feelgood." His arms wave above his head as he thunders away, and his flashy style almost makes it look like they took an inflatable arm-waving tube man from a car dealership and stuck it behind the kit. 
Known for their notorious antics which have been chronicled in their 2001 book "The Dirt" and the 2019 movie of the same name, the band originally announced intentions to call it quits in 2014, according to BBC News, and played what was intended to be their final show back in 2016. However, despite bass player Nikki Sixx saying "Legally we can't play again" after the band announced their farewell tour, they reformed and announced their return in 2019.
Everything Tommy Lee does is done to the highest, most extreme degree, whether that's playing a drum solo while on a custom-made roller coaster or getting wild tattoos. The musician is covered in them, and there's a story behind each and every one. 
Tommy Lee is a walking art museum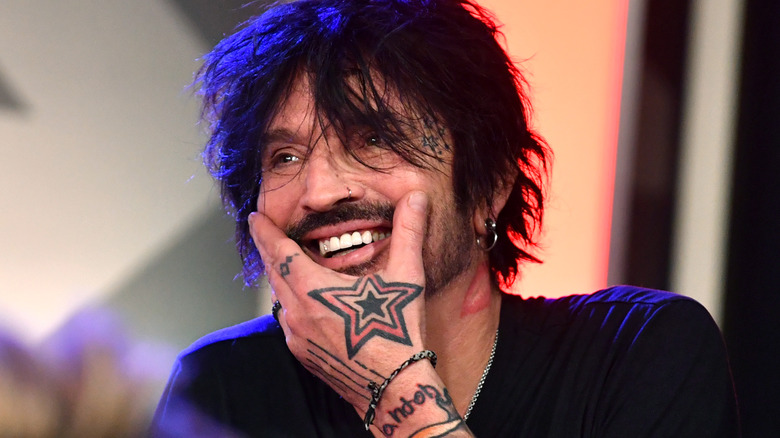 Emma Mcintyre/Getty Images
Tommy Lee has a collection of tattoos that would make Ray Bradbury's Illustrated Man jealous. According to Express, Lee has his sons' names tattooed on his wrists, pieces that carry obvious sentimental significance. He also has the word Mayhem across his upper stomach, which is in all likelihood a nod to — and a not so subtle bit of promotion for — his side project, the rap-metal band Methods of Mayhem which the drummer started in 1999 during a hiatus from Mötley Crüe, per Discogs.
The drummer's left arm features a Mötley Crüe tattoo as well as images including a Chinese symbol, flowers, and a lightning bolt. His right arm features a cheetah pattern, a jungle scene, and on his forearm is a blue-tongued, top hat-wearing skeleton. Lee's back is covered in a tribal pattern that is meant to look like a stylized set of wings. On his chest are a pair of lions which Body Art Guru says are often seen as symbols of "strength, victory, and masculinity."
Lee's most obvious tattoos are one that he first unveiled in 2020. According to Ultimate Classic Rock, Lee revealed a set of newly acquired facial tattoos which drew a mixed reaction from fans. On one side of his face is a pair of Japanese characters, while on the other side of his face there's a collection of stars and a series of fading dots above his eyebrow. But it all started with a simple tat of a cartoon character. 
Lee's first tattoo is Mighty Mouse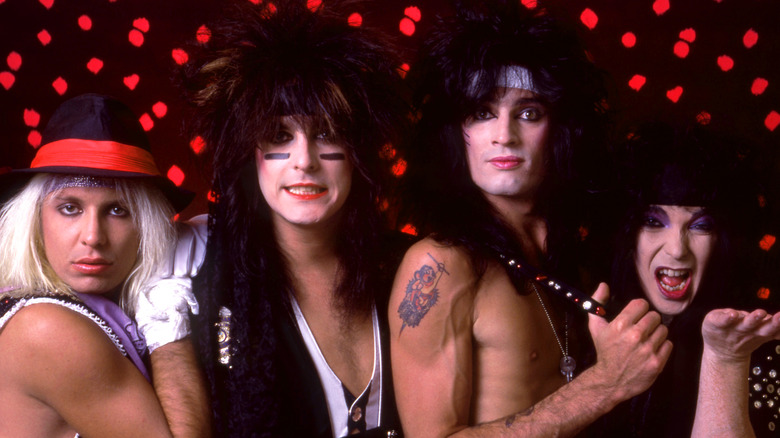 Icon And Image/Getty Images
The subject of Tommy Lee's first tattoo is Mighty Mouse. According to Yahoo! News, he wrote in his 2005 autobiography "Tommyland" that he was still in his teens when he got his first bit of ink. "At 17, I got my first tattoo: Mighty Mouse flying through a bass drum, at the top of my right shoulder, where it still is today," he wrote.
It may be a surprise that of all things the drummer for a legendarily debaucherous band could choose for his first tattoo, he went with Mighty Mouse, the cartoon superhero who debuted in theatrical animated shorts in 1942 but would become more popular in the coming decades after appearing on television (via The Saturday Evening Post). Nonetheless, Lee had some pretty good reasons for it. "I got him right when I started Mötley because Mighty Mouse was my childhood hero," he wrote. "He always saved the day, he was a good guy, he was a role model who did the right thing, and at the end of every episode, he always got the chick" (via Yahoo! News).
Lee also credited bandmate Nikki Sixx for getting him into tattoos and even said the bassist was responsible for popularizing them in rock music in general. "Nikki Sixx was definitely the guy that kicked off tattoos in Mötley," he wrote. "I didn't know anybody with tattoos other than him. Younger readers, check this out — back then, most rock bands didn't have tattoos."