The Ghost Encounter Dale Earnhardt Jr. Says Saved His Life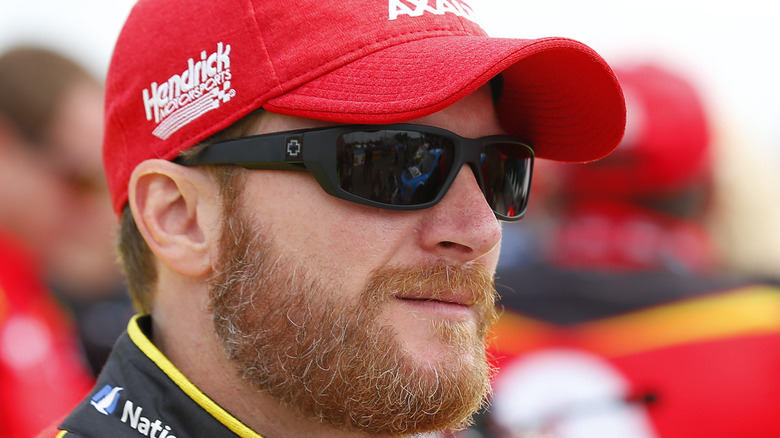 Grindstone Media Group/Shutterstock
Most of the time when people think of the times and places where one could potentially have a run-in with a ghost, they think of foggy, moonlit nights in places like old Victorian houses, Civil War battlefields, or abandoned amusement parks. They probably won't think of Sonoma Raceway in broad daylight in the middle of a NASCAR race, but according to Dale Earnhardt Jr., he may have had an experience with the supernatural at the track in 2004 — and it may have saved his life.
Dale Earnhardt Jr. is, of course, the son of legendary NASCAR driver Dale Earnhardt and had a successful career in the NASCAR Cup Series in his own right with 26 victories to his name, including two trips to Victory Lane at the Daytona 500. He was also a massive fan favorite, winning the Most Popular Driver Award 15 times from 2003 until he retired from full-time competition in 2017, per Motor Racing Network. In 2022, he was inducted into the NASCAR Hall of Fame.
Since his retirement, Earnhardt still makes the occasional race starts, typically in the NASCAR Xfinity series, but has spent most of his time working in media. He can be seen on television calling races for NBC Sports as a color commentator for NASCAR Cup Series races and the Rolex 24 Hours of Daytona. In addition, he also runs his own company, Dirty Mo Media. It was on his podcast — The Dale Jr. Download — that he told the story of his possible brush with the spirit world.
Did a ghost pull Dale Earnhardt Jr. out of a burning Corvette?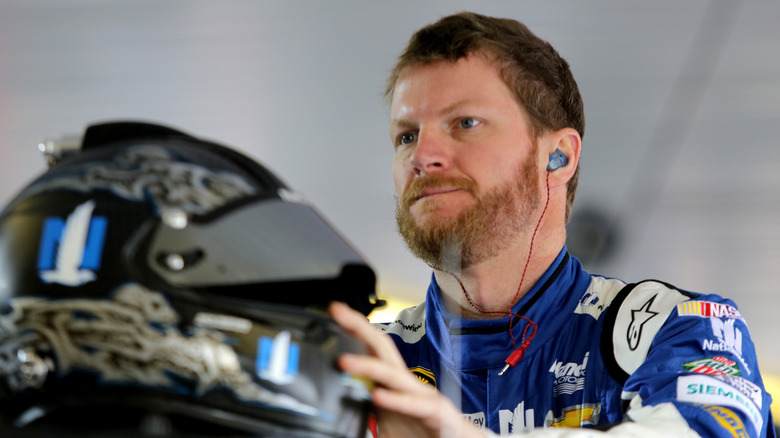 Jerry Markland/Getty Images
A discussion about the paranormal prompted Dale Earnhardt Jr. to tell the story of a crash he had at Sonoma Raceway in 2004. The track — then known as Infineon Raceway — was playing host to a round of the American Le Mans Series.
Earnhardt was behind the wheel of a ​​Chevrolet Corvette C5-R when he crashed during the morning warm-up. Shortly after the car came to rest in the middle of the circuit it burst into flames.
"When I wrecked in the Corvette in 2004 at Sonoma and it caught fire, somebody pulled me out of that car. And I thought that it was a corner worker because I felt somebody put their hands under my armpits and pull me out of the car," he recalled to co-host Mike Davis. "I didn't get out. I don't have any memory of myself climbing out of the car. 
Earnhardt Jr. went on to say that he wanted to thank the track worker that pulled him out of the flaming car but was told no one had done that.
"And I fell to the ground, and there's pictures of me laying on the ground next to the car. I know that when I got to the hospital, I was like, 'Who pulled me out of the car? I gotta say thanks to this person,' because it was a hand! It was physical hands grabbing me! I felt it. And there was nobody there."
Did such a harrowing story turn Dale Earnhardt Jr. into a believer in the paranormal?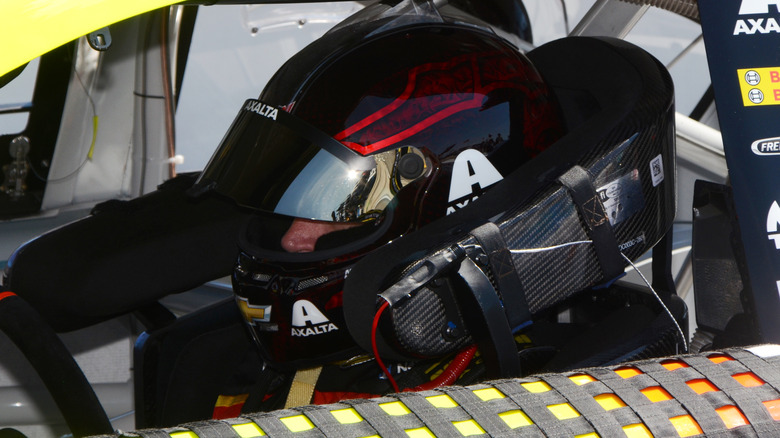 Bruce Alan Bennett/Shutterstock
Before telling the story about his wreck at Sonoma Raceway, Dale Earnhardt Jr. gave his thoughts on the paranormal. According to USA Today, he said, "So haunted places? Sure. I believe that there's quite possibly some haunted places in this (world). But I don't think that I've ever encountered a spirit or seen a ghost with my own eyes." As the conversation progressed, Earnhardt remembered the story, and after telling it, he remarked that what he experienced on track that day "would be probably the closest thing" he had ever had to a run-in with the paranormal, before tacking on the qualifying statement "if it's real."
According to People, In that same episode, Earnhardt also discussed his feelings on another paranormal favorite: Sasquatch. While it seems that he doesn't necessarily believe in the existence of a 7-foot-tall bipedal primate lurking in the woods across North America, he still enjoys watching television shows about it. 
"I think that it's fun to daydream or have TV shows and all those things. It's fun to imagine. It's fun to let the imagination go, and sometimes I'm as guilty as everybody of watching TV shows that are looking for Sasquatch. I don't know what that means, but I don't think he's out there, but I'll watch the shows."
Skeptic or not, there's no doubt that whatever Dale Earnhardt Jr. experienced that day at Sonoma Raceway makes for a compelling story.