The Olympic Ski Jump Uniform Controversy Explained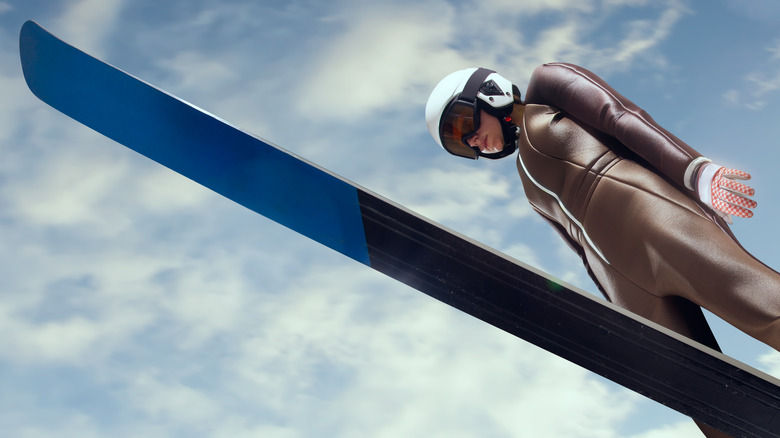 Artur Didyk/Shutterstock
Similar to the 2020 Summer Olympics beach volleyball uniform controversy (via Bloomberg), athletic achievement was upstaged by what female athletes were wearing in the Olympics debut of the mixed team ski jumping event at the 2022 Winter Games in Beijing, as Insider reports. Five female ski jumpers were disqualified because their uniforms fit too loosely, which violates the rules of the sport, per NPR News. Prior to the announcement of the disqualifications, each athlete practiced in those very same uniforms without any issues, which left ski jumping coaches and the athletes in question upset and confused by the outcome.
The five female athletes disqualified were from Japan, Austria, Germany, and Norway. In response to the decision, the coach of the German ski jumping team said, "It is just strange that they have been using the same suits yesterday and there was no problem." The Norwegian coach called it among the darkest days for the sport. Stefan Horngacher, German coach, said, "It is annoying that this happens at the Winter Olympic Games. This should all be cleared before," he said (via Insider).
An unfair advantage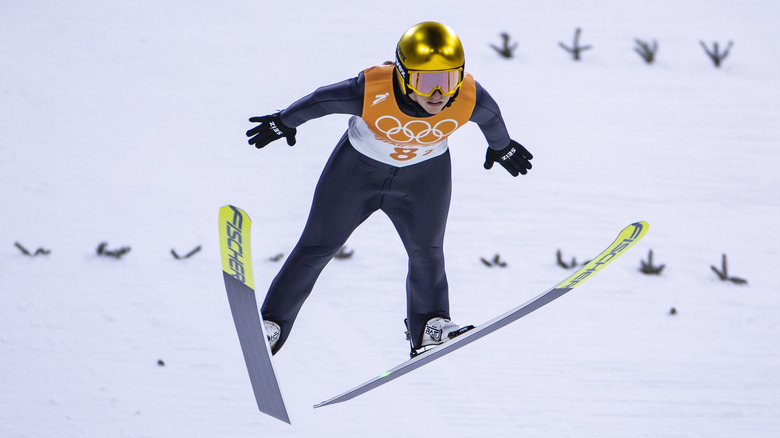 Defodi Images/Getty Images
According to Fox News, the tightness of ski jumping uniforms is mandated to be within two centimeters from any point on the ski jumper's body. Any additional bagginess in the ski jumping uniform could create lift, providing an unfair advantage for the competitor. Per NPR, The International Ski Federation sets these rules, allowing for additional hip panels to be sewn into the uniforms of female ski jumpers to better conform to their bodies, but critics of the policy say those panels primarily accentuate curves. Disqualification is a well-known consequence for wearing a uniform that does not comply with these guidelines.
Adding to the controversy, one of the disqualified female Olympians, Anna Odine Strøm, claims the standard uniform measuring process was different at the 2022 Games from what she had experienced in the past, and attributed any possible discrepancy in fit to the time she spent living in quarantine after arriving in China, according to Insider. Austrian ski jumper Katharina Althaus (pictured above) said, "I have been checked so many times in 11 years of ski jumping, and I have never been disqualified once. I know my suit was compliant ... The [International Ski Federation] destroyed everything with this operation. I think they have destroyed women's ski jumping" (per Insider).