Inside Snoop Dogg's Friendship With Dr. Dre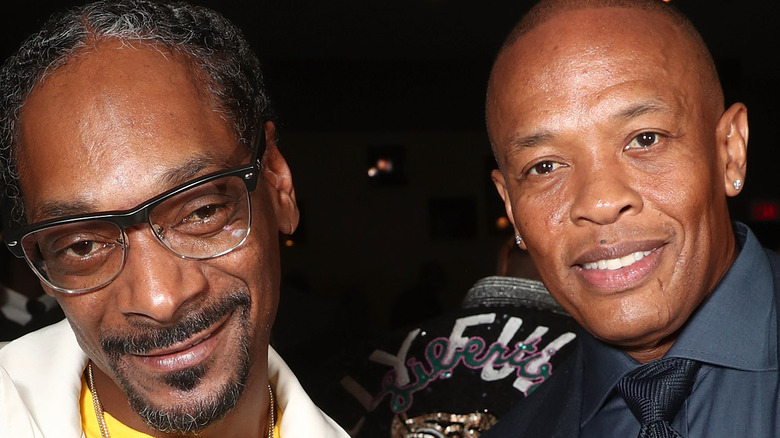 Todd Williamson/Getty Images
Acclaimed hip-hop producer and alumnus of groundbreaking hip-hop group NWA, Dr. Dre has worked with or supported the careers of dozens of artists including Eminem, Eazy E, Mary J. Blige, 50 Cent, and most notably Snoop Dogg who is also a very close friend of the rap music innovator and entrepreneur. The relationship between the two musicians was examined in 2017 through a four-part HBO documentary series "The Defiant Ones," per NME.
According to Capital XTra, Dre met Snoop Dogg through another legendary rapper, Warren G, when Warren G's dad married Dre's mom, making Dre and Warren stepbrothers. Warren G was friends with rapper Nate Dogg, Snoop's cousin, as Daily Rap Facts reports, and so it was through Warren that Dre met Snoop and eventually signed him to Death Row Records, Dre's label. 
The two would also collaborate on Dre's debut solo release from 1992 called "The Chronic," among other projects, (per Billboard.) But funny enough, Snoop thought the first call he received from Dre was a prank and hung up, according to Esquire (Dre would call back.) None of that reluctance was shown by Snoop in 2021 when his longtime friend Dre suffered a medical emergency, per TMZ.
Snoop Dogg says Dr. Dre is a father figure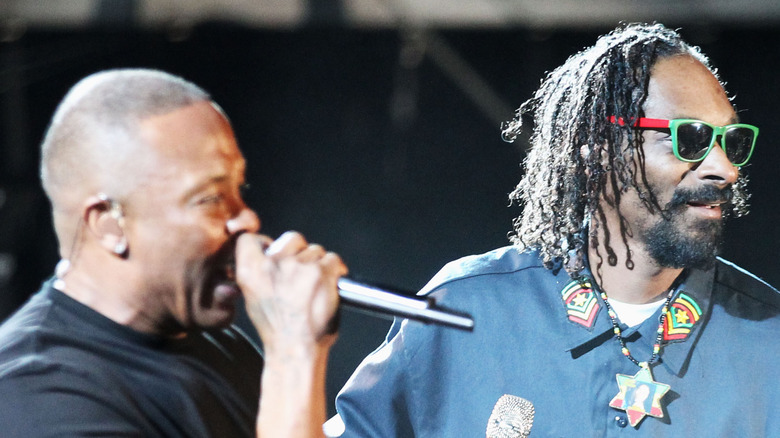 Christopher Polk/Getty Images
In a 2020 "Club Shay Shay" podcast, now on YouTube, Snoop Dogg revealed more about his close friendship with Dre, saying Dre brings out the best in everyone with whom he collaborates, adding Dre, "showed me how to find me so that way when I stepped away from him I was able to grow and continue to be me ... we always got that open, close relationship where there's never an argument between me and him," Snoop said. 
Later on "Windy City LIVE," also on YouTube, Snoop called Dre a "perfect father figure, role model, mentor, and producer ..." He said he respects that Dre was willing to teach him before he was the star he would one day become.
All this explains why Snoop rushed to support his friend and mentor in 2021 when Dre was hospitalized with a brain aneurysm, per TMZ. At that time, Snoop wrote on his Instagram feed, "GET WELL DR DRE WE NEED U CUZ" along with a video clip of the two stars performing together. 
For Dre's part, the feeling is mutual. At the unveiling of Snoop's Hollywood Walk of Fame star, Dre said, "Snoop is always there for me, ready to work, and constantly motivating and pushing me and making me believe I could do it. I mean, I could always hear his voice in my head ... I cannot imagine where I'd be in my life if I had not collaborated with Snoop ... " (Via YouTube).