This Louisiana Courthouse Is Said To Be One Of The Most Haunted Places In America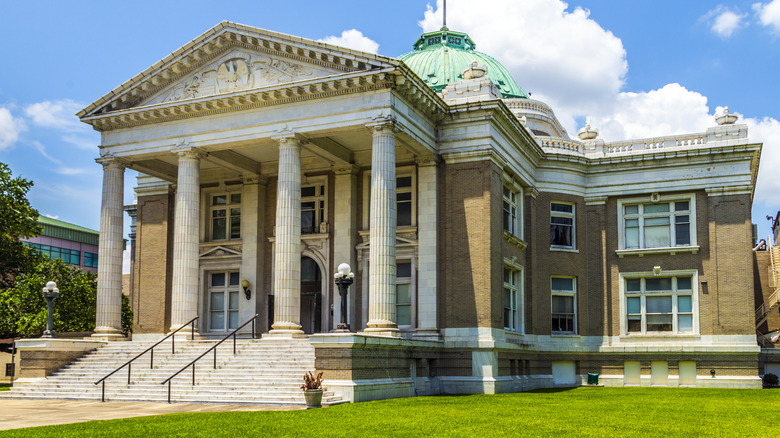 travelview/Shutterstock
Calcasieu Parish is located in southwestern Louisiana, right along the Texas-Louisiana border. It's home to rivers, streams, and lakes that offer plenty for visitors looking to go fishing or swimming, but for many, one of the parish's biggest points of interest is the Calcasieu Parish Courthouse. No, it's not because it's a great place to learn about the finer points of municipal government (though that's a possibility). It's thanks to an alleged permanent resident who haunts the building.
According to the Calcasieu Parish Clerk of Courts, the main part of the courthouse building was built in 1912 and is on the National Register of Historic Places, while an addition was tacked on in the mid-'90s. Many believe that the courthouse is haunted and that the individual whose ghost is doing that haunting is a convicted murderer by the name of Toni Jo Henry. Henry was the only woman (so far) to be executed in the electric chair in Louisiana history, and it just so happens that the flip of the switch that led to her death happened at the Calcasieu Parish Courthouse.
The rough life of Toni Jo Henry
Toni Jo Henry (above) didn't have an easy start in life. According to Capital Punishment U.K., she was born Annie Beatrice McQuiston near Shreveport, Louisiana, and was the middle of five children. Henry's mother died when she was young, prompting her father to remarry. Henry was not a fan of the new living arrangement and wanted to go live with an aunt. Sadly, she was beaten by her father, prompting her to leave home in her early teens.
Henry fell into a world of crime, drugs, and sex work. She was working at a brothel when she met a man named Claude "Cowboy" Henry. According to the Texarkana Gazette, Henry was a former boxer who after leaving the ring found himself living a life of crime. The two fell in love and Cowboy Henry seems to have treated Toni Jo well. She was in the clutches of drug addiction when they met, but upon marrying, the couple moved to California, a move intended to help Toni Jo kick her addiction.
However, almost immediately upon returning to Texas from their west coast sojourn, Cowboy was arrested for a murder he had committed before the couple had married. He received a 50-year sentence for his crime. Toni Jo was still madly in love with Cowboy Henry and began hatching a plan to break him out of jail.
If you or anyone you know is struggling with addiction issues, help is available. Visit the Substance Abuse and Mental Health Services Administration website or contact SAMHSA's National Helpline at 1-800-662-HELP (4357).
The life of Toni Jo Henry ended badly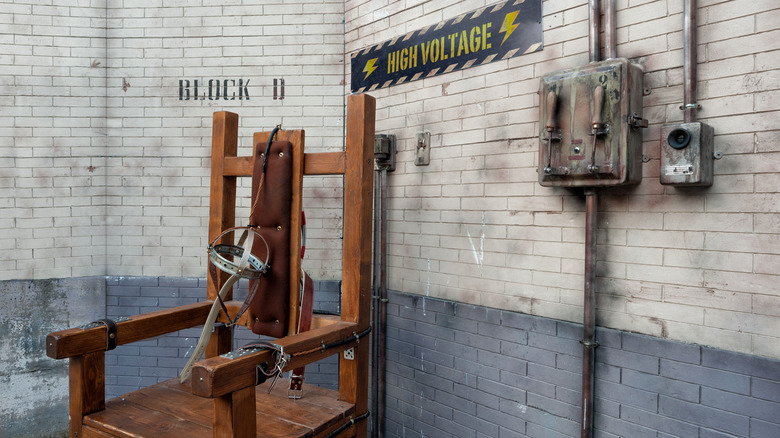 Federico Magonio/Shutterstock
Toni Jo found herself an accomplice for her plot to break her husband out of jail, a man named Harold Burks, who went by Arkie, per Capital Punishment U.K. Burks had served time in the same prison that Cowboy was incarcerated in, and Toni Jo planned to use that knowledge to her advantage.
The first step in Toni Jo's plan was to rob a bank. She and Burks encountered a man named Joseph P. Calloway, who was delivering a car and offered the two a ride. According to the Texarkana Gazette, they decided they'd hijack the car and use it as a getaway vehicle, but they wound up murdering Calloway.
After her arrest, the heinous nature of her crimes, coupled with her good looks and the fact that the death penalty was on the table, made Toni Jo Henry's murder trial a media sensation. She was found guilty and sentenced to death, which was upheld after several appeals. She was executed in the electric chair at Calcasieu Parish Courthouse on November 28, 1942.
It is said that it's the ghost of Toni Jo Henry who haunts the courthouse. According to Mysterious Trip, there have been reports of unexplainable screams, electrical mishaps, and the smell of cheap perfume. But there's another odor sometimes reported at the courthouse that is far more disturbing and fitting to the story and death of Toni Jo Henry: the unexplainable smell of burning hair.