The Quirky Item George H.W. Bush Was Reportedly Wearing When He Was Buried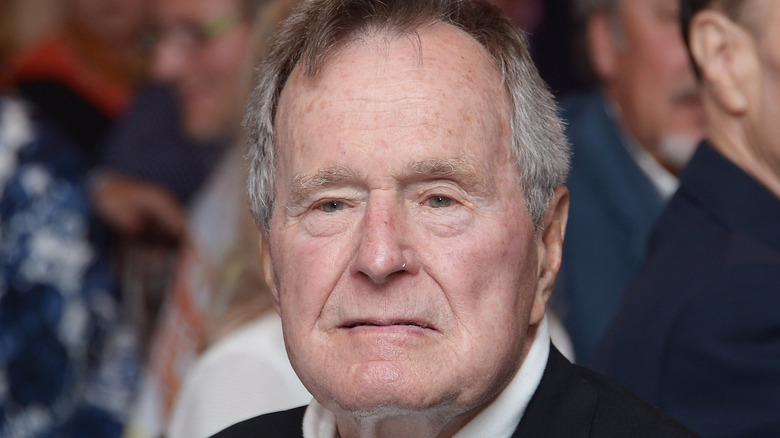 Michael Loccisano/Getty Images
When you think of George H.W. Bush, what springs to mind? The end of the Cold War? His humanitarian work abroad? How about socks?
The late U.S. President, who died in 2018 at 94 years old, was something of a sock aficionado, according to People. After becoming a wheelchair user following a 2007 Parkinson's diagnosis, Bush turned to socks as a way to affirm his self-expression and positivity (via NBC News). In her book, "My Father, The President," his daughter, Doro Bush Koch, wrote, "Brandishing colorful socks is simply his way of making the best of his situation and still finding the joy in life."
Bush said it more simply: "I like a colorful sock. I'm a sock man."
He regularly showed off his socks on social media, sharing a pair of Hamilton socks he wore to a performance of the musical, as well as a pair of socks featuring Bill Clinton that he donned for a visit with the 42nd President in mid-2018. He even made sure to mark the occasion of his wife's funeral with a respectful pair of socks. They featured a bookish design: First Lady Barbara Bush was a serious literary activist, who raised millions of dollars over her lifetime for literacy initiatives.
The special socks Bush was buried in
U.s. Navy/Getty Images
When the time came for Bush's funeral in December of 2018, it's no wonder that his family chose to dress him in a pair of memorable socks for the occasion. The chosen design: a pattern of airplanes shooting through the sky (via Insider).
The socks were intended as a nod to Bush's veteran status. Bush served in the Navy during WWII, having enlisted at only 18 years old. By 19, he was serving in active combat zones as a carrier-based bomber pilot, according to People, and came to be the youngest pilot in the Navy. At the end of his service, he had flown almost 60 combat missions and had crashed multiple times. Bush won plenty of recognition for his service. He has been awarded many military awards, including the Distinguished Flying Cross, and in 2002, the naval carrier USS George H.W. Bush was named in his honor.