The Two Times Arthur Miller Reportedly Referenced Marilyn Monroe In His Plays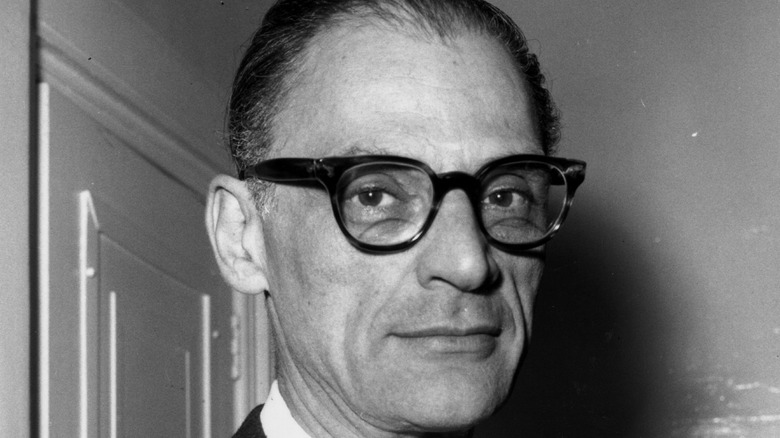 Central Press/Getty Images
The world was shocked when Marilyn Monroe, the iconic blond actor and symbol of 1950s beauty and femininity, married Arthur Miller, a bespectacled playwright a decade her senior. When the pair met in 1951, Miller had been married to his first wife, Mary Slattery, for 11 years. Miller and Monroe had a brief affair the year they met, and he left Slattery for Monroe five years later, as noted by The Guardian. The pair married in 1956, shortly after Monroe turned 30. She converted to Judaism and began playing the role of the devoted housewife. But by 1960, the marriage was on the rocks and Monroe had turned to drugs to deal with it. The couple divorced in 1961, after five years of marriage, and Monroe died the following year.
Monroe's death was treated first as fodder for tabloids, and later as a creative inspiration by Miller. Who knows whether this was a matter of taking advantage of tragedy, or a mere respectful homage to a woman he once loved. In any case, Miller reportedly referenced Monroe in two of his plays: "After the Fall" and "Finishing the Picture."
Marilyn Monroe inspired two Arthur Miller plays, 40 years apart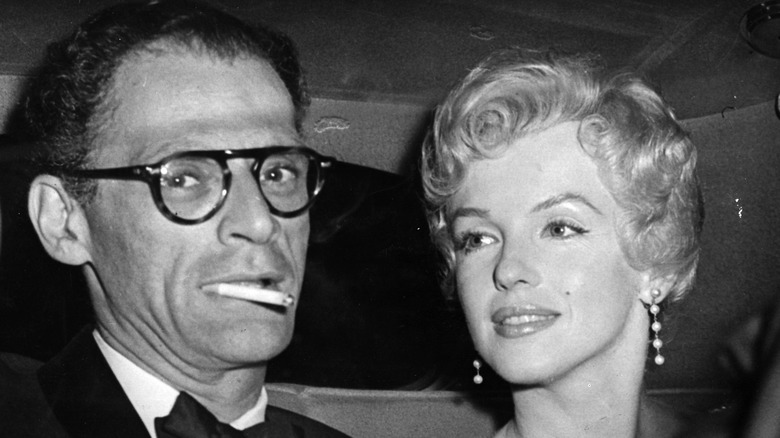 Keystone/Getty Images
In 1964 — two years after Marilyn Monroe's death — Arthur Miller's play "After the Fall" opened in New York City, as noted by The New York Times. The play focused on a lawyer named Quentin, played by Jason Robards, who reflects upon the women he has loved in order to have a successful relationship with a new woman named Holga, who was inspired by Miller's real-life third wife, Inge Morath, per Playbill. Quentin's second wife, Maggie, is a switchboard operator who is, according to The New York Times, "childlike, barren of self-esteem, and pathologically self-destructive," and who "ultimately disintegrates amid pills and alcohol." Maggie is widely believed to have been based on Monroe, which was met with major disapproval by critics when the play opened. As noted by the London Review of Books, the writer James Baldwin stormed out of the theater on opening night due to Miller's insensitivity.
Miller's final play, "Finishing the Picture," opened 40 years later, in 2004. The play was reportedly based upon the production of the 1961 movie "Misfits," per Playbill. Miller had written the screenplay for the movie, and Monroe starred, which ultimately led to the disintegration of their marriage. Monroe was reportedly abusing drugs throughout production, and it turned out to be her final film role.