Graham Crackers Were Actually Invented For This Weird Reason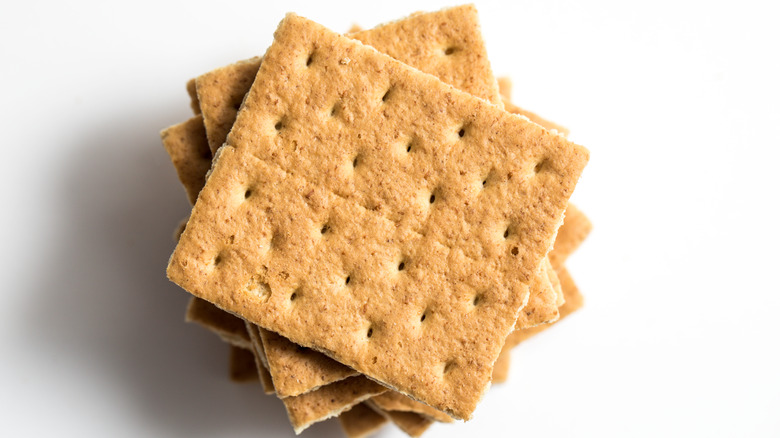 Duntrune Studios/Shutterstock
Chances are you've enjoyed a graham cracker on more than one occasion, either as a comforting snack or in a sweet treat like in the classic s'mores recipe. Have you ever wondered, though, who invented the graham cracker or why they are even a thing? Even though graham crackers might have you moaning with pleasure (especially in those aforementioned s'mores, pictured below) the origin story of these popular snacks was motivated by something far different.
What's important to note is that the original graham crackers were nothing like the appetizing nibble we know today. According to Food Republic, they were really quite unappealing; made with unrefined flour, and without any of the flavor graham cracker fans know and love. So, why would anyone invent a baked snack that didn't taste very good? The answer to that question has everything to do with the socially conservative beliefs of the inventor and the unusual dietary guidelines he believed we should follow.
Graham crackers were supposed to suppress this natural biological function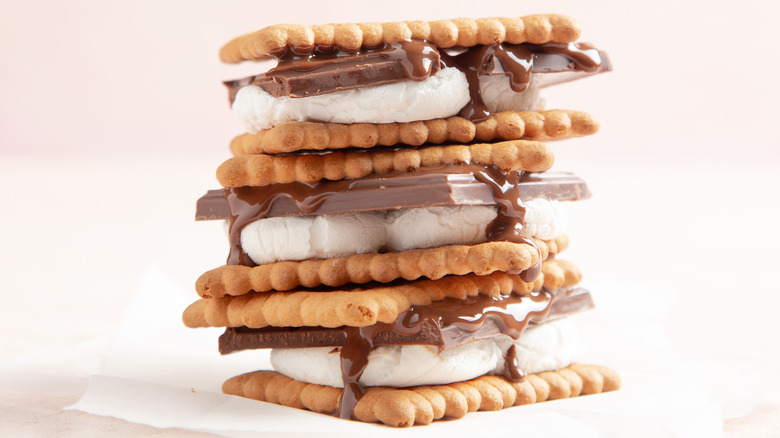 Marielen Cestari Baldino/Shutterstock
Per Food Republic, the graham cracker was invented by an evangelical minister named Sylvester Graham in 1829. Graham had many strong beliefs about what we should all be eating. These days, some seem reasonable (he was a vegetarian, for example) while others are a little bit out there. Nonetheless, what Graham espoused was popular enough to garner a following of people called Grahamites, making Graham something of a lifestyle influencer in his day. One notable Grahamite was none other than John Harvey Kellogg, one of the inventors of corn flakes (via The Scotsman).
Included in what Graham advised for a healthy lifestyle was limited alcohol intake and consuming few animal products, which all seem very sensible. However, according to Business Insider, Graham invented his uninspiring cracker in an attempt to suppress human sexual desire. Graham's thinking went that the more flavorful the food, the more amorous we feel. Thankfully Nabisco bought the graham cracker recipe in 1925 and sweetened it with honey, and we are all very lucky they did (per Food Republic).