How Many Times Has Tommy Lee Been Arrested?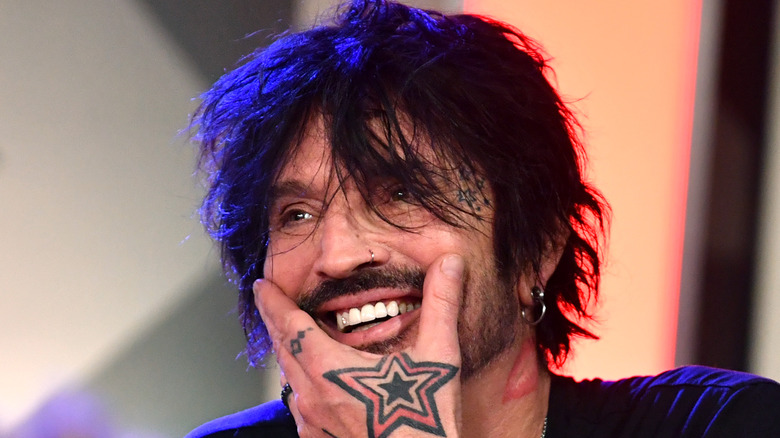 Emma Mcintyre/Getty Images
Since the 1980s, Motley Crue has been notorious for wild parties, near-fatal drug use, and multiple arrests. Band members Vince Neil, Nikki Sixx, Mick Mars, and Tommy Lee were the epitome of sex, drugs, and rock and roll. Their insane lives have stayed at the forefront of pop culture thanks to Netflix's 2019 film "The Dirt," which is based on the band's bestselling autobiography of the same name. "The Dirt" chronicles their journey from its beginnings in Hollywood to international fame (via IMDB).
This month, another story about Motley Crue has hit streaming services, this time focusing on the band's drummer Tommy Lee. USA Today details that Hulu's new series, "Pam and Tommy," is based on Lee's relationship with Baywatch star Pamela Anderson in the 1990s. The two had made a sex tape, which was stolen by an electrician working for Lee and released to the masses. Aside from this scandal, Lee has dealt with other image-tainting problems, specifically with the law.
Tommy Lee had an altercation with Pamela Anderson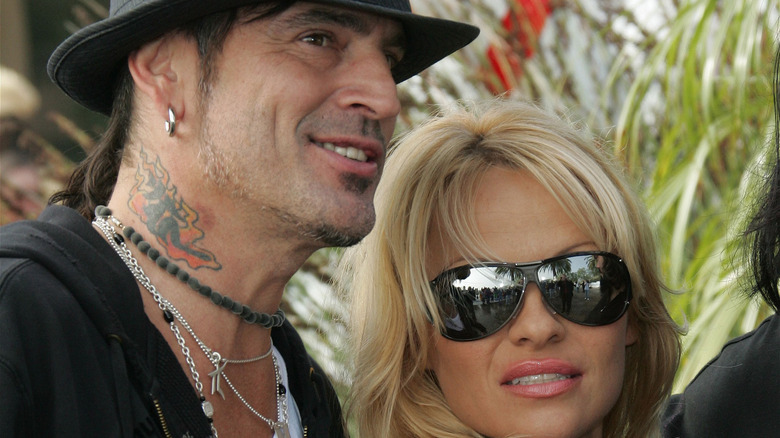 David Livingston/Getty Images
Over the course of his life, Tommy Lee has been arrested three times. In December of 1997, both Lee and Nikki Sixx were arrested for beating up a security guard after the guard attempted to stop them from bringing fans onstage. Lee himself was sentenced to 30 days in prison, according to Page Six. Just three months later, a bruised Pamela Anderson called the police, stating that Lee had a physical altercation with her. At the time, MTV explained that the judge sentenced Lee to 180 days in jail and a $5,000 fine.
In 1999 Tommy Lee was arrested for a third time. This time, however, Lee turned himself in for a previous incident that once again involved Sixx. Greensboro News and Record reported that at a Greensboro concert in 1997, Lee and Sixx encouraged the crowd to attack a security guard and yelled obscenities at him. Lee and Sixx both faced misdemeanor charges and were sentenced to jail time and probation.
Since the 1990s, Lee has managed to avoid run-ins with the law. Now at 59 years old, Cosmopolitan revealed that Lee is sober and considers himself lucky to have finally realized that his reckless lifestyle was "too much."