The Truth About Tupac Shakur's Friendship With Biggie Smalls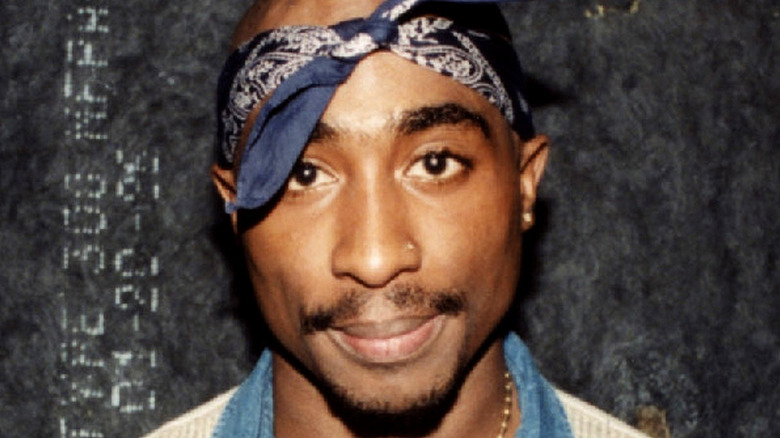 Raymond Boyd/Getty Images
The feud between hip-hop superstars Tupac Shakur and Christopher Wallace, known by the stage name, Biggie Smalls, has become a watershed moment in pop culture. In the early and mid-1990s, the burgeoning genre of hip-hop, only about a decade from its first taste of mainstream success, had exploded in popularity when the two young men stepped on the scene. Almost immediately, they took the world of music by storm and established hip-hop as a lasting musical genre. At the same time, the two men represented gangsta rap's bitter West Coast/East Coast rivalry which climaxed with their murders less than seven months apart.
The tragic story of the two rap icons becomes even more tragic knowing that they were close friends early in their careers. The story of the two New York-born rappers plays out like a classic Shakespearian tragedy straight out of Elizabethan England: the two young, talented men who wish to see each other succeed are torn apart by misunderstandings, egos, and toxic people until both are killed by the fire they started. 
According to Vibe, the relationship began in 1993 when Tupac was already a superstar in the world of music and film, two albums into his career, and in the middle of acting in the film, "Poetic Justice." While on set, a young Biggie Smalls met Tupac, who was playing Biggie's first single, "Party & Bull****" on repeat — to Biggie's delight.
Tupac and Biggie Smalls Hung out at Each Other's Houses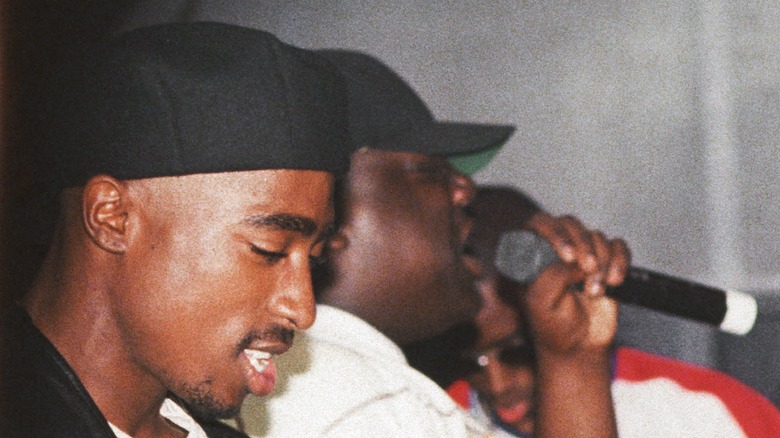 Al Pereira/Getty Images
Ben Westhoff's book, "Original Gangstas: The Untold Story of Dr. Dre, Eazy-E, Ice Cube, Tupac Shakur, and the Birth of West Coast Rap," talked about Tupac Shakur and Biggie Small's spending time together while in Los Angeles in 1993 (via Vice). The duo and their mutual friends spent the day at Tupac's house. He pulled out a bag filled with unloaded guns, which Biggie and his entourage took to the backyard and played with as Tupac cooked up some steaks and french fries for the group. Tupac also gifted the up-and-coming rapper a bottle of Hennessy. One of the members of Biggie's entourage, Dan Smalls, said this day was the start of the pair's friendship.
Tupac's friend, rapper EDI Mean recalled the pair spending time at each other's homes anytime they traveled to their respective coasts. When Biggie would travel to Los Angeles, he would sleep on Tupac's couch and when Tupac would travel to New York, he would spend time in Biggie's neighborhood, shooting dice with the locals. On one trip, he picked up Biggie in a white limousine. Tupac would also be instrumental in the New York-based rapper's career. Hip-hop producer, D-Dot described their relationship as similar to that between a teacher and a student, via VLAD TV. 
Tupac was Vital in Biggie Smalls' Career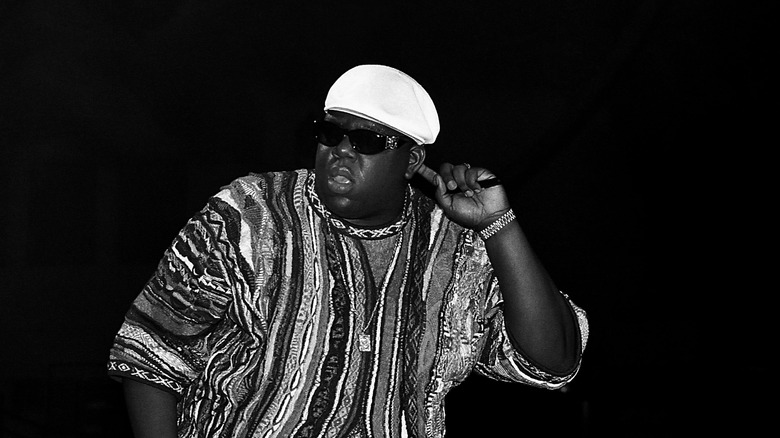 Raymond Boyd/Getty Images
With one of the biggest rappers in the world as a friend, Biggie Smalls was in an amazing position to launch his music career. Despite his first single catching Tupac and the hip-hop community's ear, Biggie was primarily known as a Brooklyn emcee, according to the excerpt from "Original Gangstas: The Untold Story of Dr. Dre, Eazy-E, Ice Cube, Tupac Shakur, and the Birth of West Coast Rap," published by Vice. Still, Tupac was doing whatever he could to help his friend to become as big as he was. In 1993, he invited the emcee to rap at a concert called Budweiser Superfest at Madison Square Garden 1993.
Biggie would turn to Tupac for advice about the rap industry. He became so reliant on Tupac that he even asked him to become his manager (per Biography). Tupac told his friend to stay with his current team led by producer and Bad Boy Records founder, Puff Daddy. 
Tupac's advice paid off and after the release of Biggie's first album in September 1994, "Ready to Die," he became a superstar in the music world. Unfortunately, it would not be long before the pair's relationship soured. 
Tupac began spending time with a man known as "Haitian Jack," despite Biggie's advice not to associate with him. Jack and Tupac had their own falling out and on November 30, 1994, Tupac was shot and robbed by three men at Quad Studios in Brooklyn while on his way to see Biggie. Officers believe the men were associates of Jack (via Vice), but Tupac believed rumors Biggie and Puff Daddy set up the shooting, effectively ending their friendship.