The Inspiration Behind Stevie Nicks' Distinct Style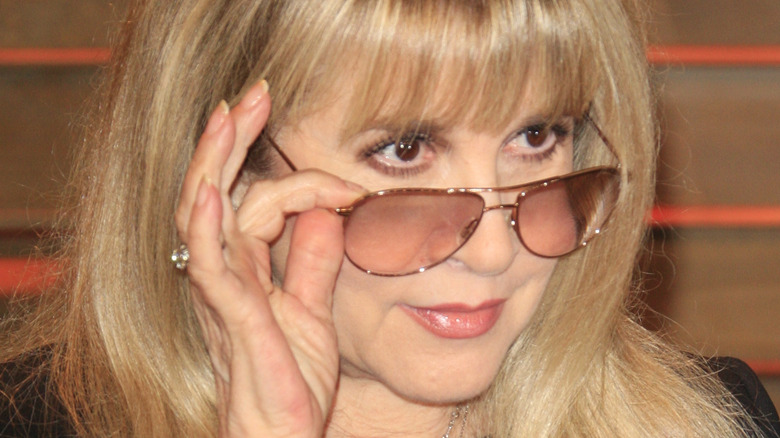 Kathy Hutchins/Shutterstock
Stevie Nicks put shawls on the freakin' map. The Fleetwood Mac rock goddess' style — lacy shawls, leather gloves, piled-high hairstyles — seems to be all her own. In fact, however, the look was inspired by a random woman she saw in Santa Monica, she once told the Pocono Record.
She saw the woman in 1970, when she and Lindsey Buckingham were still a performing duo instead of members of Fleetwood Mac. Before their show at the Santa Monica Civic Auditorium, Nicks saw a woman walking by in Edwardian-inspired garb — a riding jacket, platform boots, and a layered jacket, topped with a Gibson Girl hairstyle. "This girl obviously had some money, because this was not a cheap outfit. It was beautiful, and I went, 'Oh, that's exactly how I want to look,'" Nicks told the newspaper.
It would be a year before Nicks began wearing the costume she imagined on stage. But she had help to bring it to life.
Black dresses and a shawl vault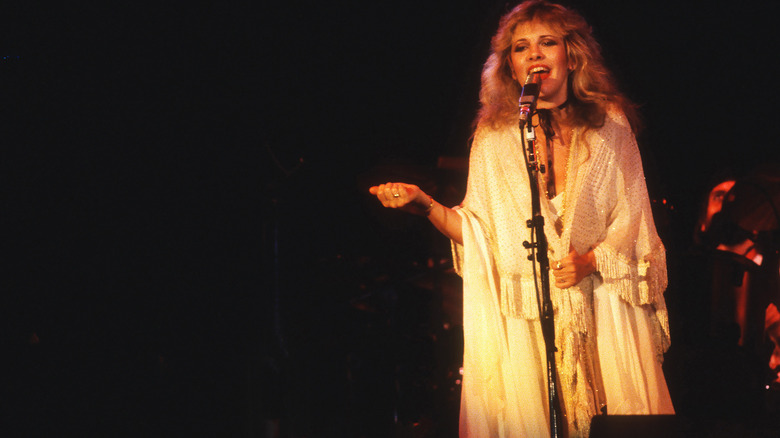 Larry Hulst/Getty Images
A friend of Nicks introduced her to a costumer that helped outfit her for performances. She showed the designer what she wanted by sketching out a stick figure with bell sleeves and a top hat, according to the Pocono Record. She now has worn this outfit countless times in the years since. Her thousands of shawls are particularly delicate, and kept in a temperature-controlled vault (per Rolling Stone).
Her clothes are usually black, though she stopped wearing them for a while because she was tired of being called a witch, according to Showbiz Cheatsheet. "I don't like it all and I wish people would stop thinking about that because I spent thousands of dollars on beautiful black clothes and had to stop wearing them for a long time because a lot of people scared me."
"I stopped wearing black for like a year," she told the Los Angeles Times. "Then I was just like, 'OK, just bring it, freaks. I'm not going to wear apricot. You think whatever you want because I'm going to wear my beautiful, long black dress. Get out of my face.' I got mad. I went back to black."