The Only 2 Families To Have 3 Generations Of Oscar Winners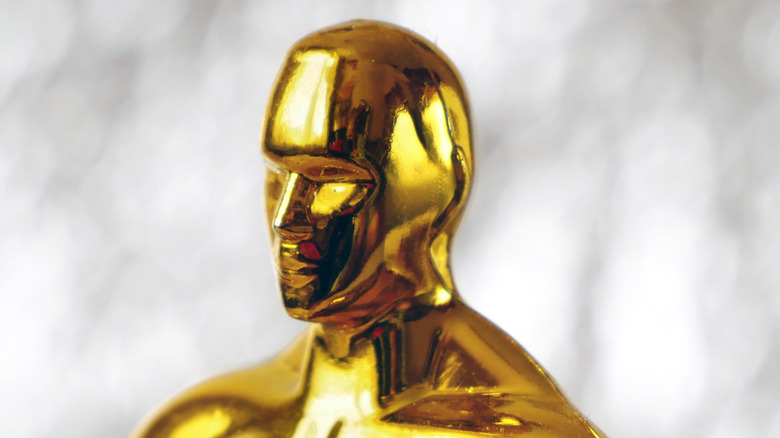 LanKS/Shutterstock
Winning an Oscar is a prestigious sign of success in Hollywood. Walt Disney holds the distinction of most Oscars won (26) as well as the most nominations (59). Actress Katharine Hepburn tops the list of most Oscars ever won for acting, with four, as the Radio Times reports.
These are notable examples of accomplishments from throughout Oscar history. In addition, a family has won an Academy Award across three generations, and incredibly enough, that feat's been accomplished not once, but twice.
Per The Hollywood Reporter, two members from the same family winning an Oscar is a common enough occurrence. Examples of that happening in Oscar history include Angelina Jolie and her father, Jon Voight, as well as Vincente Manelli and his daughter, Liza, among others. Two generations of family members winning an Oscar is certainly rare, if not unheard of. But only two families have managed to make it a three-peat, and the story of the first family ever to do so stretches back to the Golden Age of Hollywood.
The Huston Family
Independent News And Media/Getty Images
The first family in Hollywood history to win an Academy Award across three generations is the Hustons, as The Telegraph reports. Even more unusual? Two of those Oscars were earned for the very same film. The first member of the Huston family, Walter Huston, born in 1883, won the best supporting actor Oscar in 1948 for his role in "The Treasure of the Sierra Madre," in which he appeared alongside Humphrey Bogart. That movie was written and directed by Walter Huston's son, John, who also won for "Sierra Madre," though he picked up two: one for direction, and a second for screenplay, making Walter and John (pictured above) the only father and son duo to ever win Academy Awards for the same film.
The third member of the Huston family to be honored with an Academy Award is John Huston's daughter Angelica, who won an Oscar for her part in "Prizzi's Honor" in 1985 (per The Telegraph). Angelica's brothers Danny and Tony are also in the movie business, but have yet to win an Academy Award. Angelica's nephew, Jack Huston (Tony's son), is also an actor, but has yet to take home an Oscar. What this means, though, is that there's still some time for the Huston family to have an Oscar from four different generations.
The Coppola Family
Pascal Le Segretain/Getty Images
The second family to ever win three Academy Awards from three different generations are the Coppolas. (In total, the Coppola family boasts eight Oscars from 24 nominations so far, says The Hollywood Reporter). The first member of the family was, perhaps unsurprisingly, Francis Ford Coppola, who won his first Academy Award not for "The Godfather" trilogy, as some might expect, but with the original screenplay for "Patton," which Coppola co-wrote (per Achievement).
Carmine Coppola, Francis Ford's father, took home an Oscar for the score for his son's Godfather sequel, "The Godfather: Part II" (per IMDb). That's while Carmine's granddaughter, Francis Ford's daughter Sophia (above), won best original screenplay for "Lost in Translation," a film which she also directed, per The Hollywood Reporter. Also according to The Hollywood Reporter, Sophia's brother, Roman, was nominated for best original screenplay, along with Wes Anderson, for "Moonrise Kingdom," but neither of them would go on to win. For his part, movies produced through Francis Ford Coppola's American Zoetrope company have so far garnered 63 Academy Award nominations and won 15 times (per the Oscars website).