Aerosmith's Biggest Fans Have A Specific Name For Themselves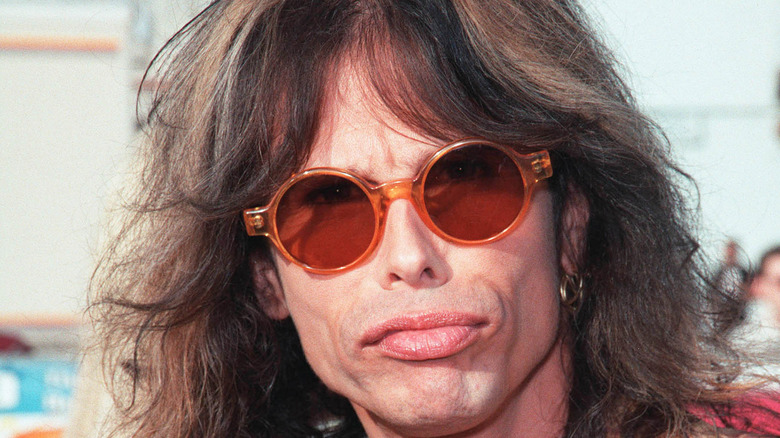 Featureflash Photo Agency/Shutterstock
Every music artist and band has different "tiers" of fans. There are those casual fans who like a few particular songs. There are more serious fans who have attended a gig or two and own several albums. Then there are the truly committed: These are Lady Gaga's Little Monsters or Justin Bieber's Beliebers (via PlanetRadio). Legendary rockers Aerosmith have their own elite group of faithful fans, and they have their own name for themselves, too.
Needless to say, if you've only ever heard Aerosmith in "Armageddon," blasting out "I Don't Want to Miss a Thing" as that rocket departs, you don't qualify. If you've been a follower of the band since their eponymous debut album release, in 1973, then you just might be committed enough to join the ranks of the Blue Army.
Aerosmith have been in the business for a long, long time, and they're certainly hard workers. As bass player Tom Hamilton told The Santa Barbara Sentinel (via Megan Waldrep), "we're a band that has been playing for four decades and ... we really work hard to play our songs in a way to make people really feel like they've heard it done right." 
The origins of Aerosmith's Blue Army
Mike Coppola/Getty Images
Aerosmith guitarist, Joe Perry, reportedly explained, per The Santa Barbara Sentinel (via Megan Waldrep), that the name "Blue Army" came about because the fanbase wore predominantly blue denim in the 1970s. In these early years of the band, he said, their fans "looked like a sea of blue, thus the Blue Army."
The band and the fans alike embraced the name, which has endured through years of successful album releases, lineup tweaks, and general rock misbehavior. Though the band's website acknowledges that their official fan club's name is the brilliant "Aero Force One," Aerosmith aficionados are proud to call themselves the Blue Army, too.
According to Classic Rock 99.5, Aerosmith staged a big U.S. tour in 2015, which took them from Glendale, Arizona on June 13 to Michigan's Grand Rapids on August 4. They named this the Blue Army Tour, and according to Billboard, it was a rocking success.