Inside Michael Landon's Relationship With Co-Star Karen Grassle
"Little House on the Prairie" is arguably one of the most beloved shows in television history. Based on the series of books by Laura Ingalls Wilder, the show was overflowing with wholesome values as it told the story of the Ingalls family making a home on the American Frontier. According to the Little House on the Prairie website, the show premiered in 1974 with a two-hour movie which served as the series' pilot episode. From then on the show was a big hit, drawing millions of viewers over its 9-year run on television.
The show starred Michael Landon, who was known for his previous 14-year stint on the iconic series "Bonanza," playing Charles Ingalls — Pa. He was exceptionally busy on this project; besides starring, he wrote and directed numerous episodes and served as the series' executive producer (per IMDb). Karen Grassle played Caroline Ingalls — Ma. Rounding out the rest of the Ingalls family were Melissa Gilbert as Laura, Melissa Sue Anderson as Mary, and Lindsay and Sidney Greenbush as Carrie. While there were positive storylines on the screen, there was behind-the-scenes drama between the show's two adult leads. In an interview with People, Grassle said that her relationship with Landon — who died of pancreatic cancer in 1991 — started fine. "When I came on the pilot, he was extremely kind and sensitive and a good director and really gave me a chance to find my legs because [TV] was a new medium for me," Grassle said. "So I have to say it started out really, really great. It didn't stay great."
The complicated relationship between Michael Landon and Karen Grassle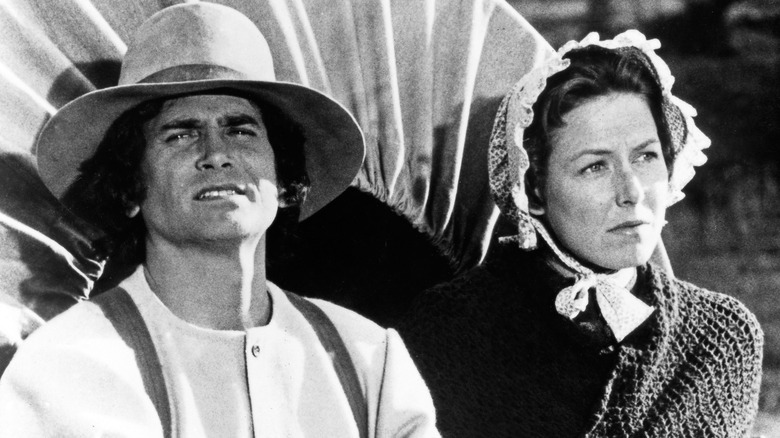 United Archives/Getty Images
What happened between the two actors came down to money. During the second season Grassle attempted to negotiate a pay raise. To do this she needed to convince the network as well as Landon, her co-star who also directed the series pilot. According to Grassle, Landon made a concerted effort to convince that she didn't deserve the raise.
"Mike began to have private conversations with me to get me to give in," Grassle said. "He would say things like, 'The network has done some testing and Ma is not the favorite character so they don't want to give you more money.'" She also said he would make her uncomfortable during their scenes when their characters were chatting together in bed, discussing the events of the episode. "(H)e began to tell filthy jokes while we were sitting there in that bed, and I had nowhere to go," she told People. "I was trapped in that little bed in that little room, with men standing all around and there was light just on us. It was so humiliating."
Grassle would ultimately get the raise she had been seeking, but it put a strain on her relationship with Landon. However, they reconciled before Landon's death. "Mike and I ended on a positive note and I was so, so glad for that," Grassle said.