The Truth About Rotterdam's Historic Bridge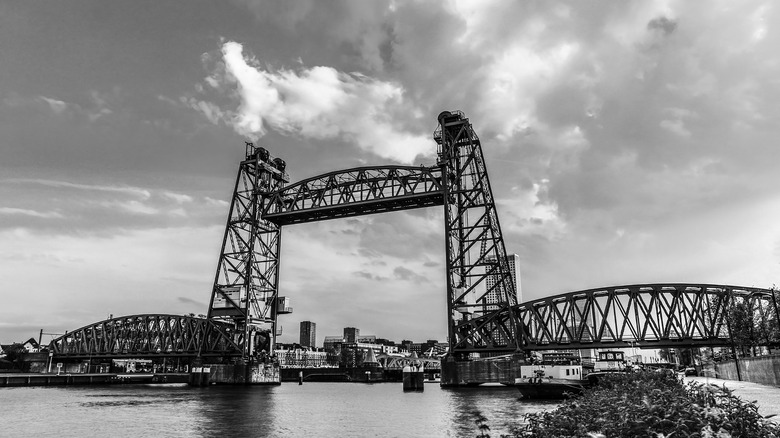 Unique Vision/Shutterstock
Rotterdam's Koningshavenbrug ("Koningshaven Bridge") has come into the news lately because of none other than Amazon founder and one of the world's richest people, Jeff Bezos. Depending on sources, Bezos either has (Time), hasn't (the Guardian), or might (The New York Times) request and/or have requested to have part of the Koningshaven Bridge dismantled to make headroom for his new, $500 million superyacht to float down the Nieuwe Maas River. The 417-foot-long yacht, code-named "Y721," is currently being built in Alblasserdam, in the Netherlands, and comes complete with a helipad, attaché boat, and three massive masts.
If true, then there's reason for Rotterdam locals to get miffed about the whole thing. Koningshavenbrug, aka "De Hef" ("The Lift"), is a historical landmark and soul of the city, similar to how people regard the Statue of Liberty and New York City, or the Eiffel Tower and Paris. New York natives might not think about their city's symbol too often (ok, ever), but if a billionaire from another country came along and wanted to decapitate Lady Liberty to make room for a $500 million low-flying jet, folks would probably sit up, take notice, and blurt, "Get outta here!" In fact, a Facebook group has popped up in Rotterdam (beginning as a gag) discussing egging Bezos' yacht when it finally coasts through, via USA Today.
The history of De Hef goes back much further than today's news, however. There's a reason why the unique bridge and its tragic history resonates so strongly with residents.
The first bridge of its kind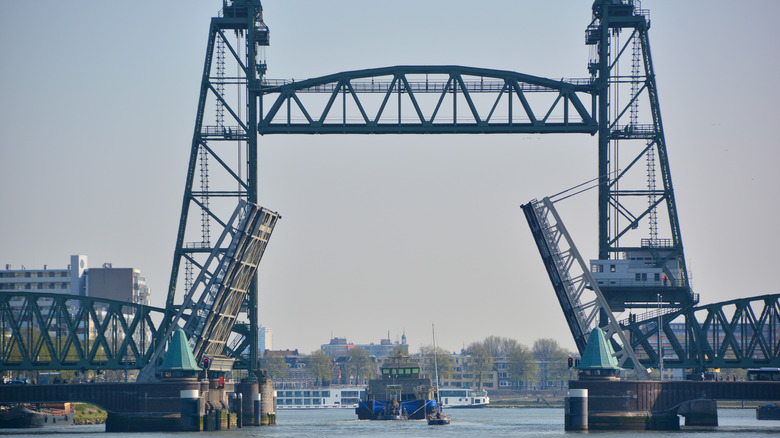 365 Focus Photography/Shutterstock
It's easy to ignore things that are always there, same as it's easy to assume that they've always been the same. Not so with Koningshavenbrug, which began its life on October 31, 1927, as Rotterdam Style explains, and underwent complete destruction and reconstruction by the end of World War II. 
The product of Dutch engineer Pieter Joosting, De Hef was the first bridge of its kind. The middle bit (pictured above in its elevated state) is actually an elevator, i.e., a "lift," from which the De Hef gets its nickname. It wasn't a bridge for personal automobiles or travelers on foot, but for train tracks. This was especially important for Rotterdam, a major port city interlaced with tons of waterways and built on a history of trade going back to its founding in 1340 (via Rotterdamuas). And yes, in case you're wondering, the "dam" in Rotterdam (just like Amster-"dam") refers to a literal dam. Rotterdam began as a fishing village following the building of a dam on the Rotte river. To this day, it remains the largest port in Europe.
De Hef is the oldest of four major bridges in Rotterdam. Van Brienenoordbrug is a motorway with twin arches, one built in 1965, the other in 1990. Willemsbrug is a walkway and motorway finished in 1981, and the newish Erasmusbrug (dubbed "The Swan") was a €165-million project finished in 1996, named after Dutch humanist Desiderius Erasmus Roterodamus (1466-1536).
Redesigned, destroyed, and rebuilt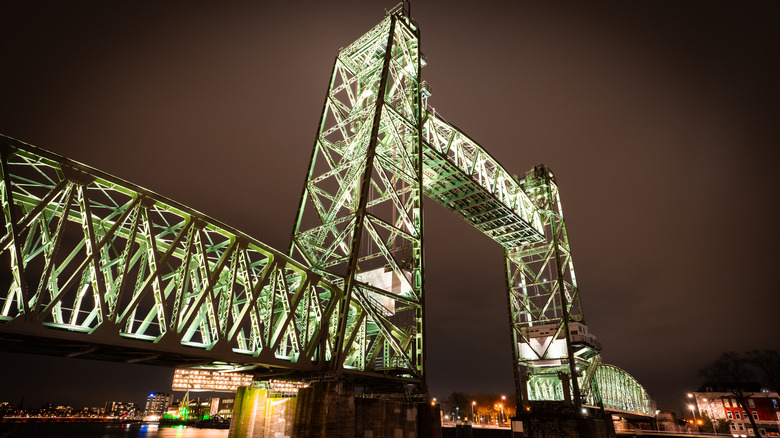 Jeroen Mikkers/Shutterstock
Koningshavenbrug didn't always have its current design. It was a swing bridge from 1877-1927, as Rotterdam Pages tells us, with halves that rotated on pillars the same way that double doors open. However, ships kept colliding with its columns on the way through its comparatively narrow passageway. So, the whole thing was redesigned into the elevator-like De Hef.
Much of Rotterdam's emotional connection to De Hef comes from World War II, as mentioned earlier. As Rotterdam Style explains, the whole bridge, along with the entire city center, was practically obliterated by Nazi Germany. (Bear in mind that the Netherlands is directly adjacent to Germany's western border.) The bridge, and its surrounding area, were rebuilt rather quickly, and stand as an enduring testament to the spirit of the city. At present, De Hef has been decommissioned, and trains instead travel through nearby underground tunnels.
Given such a history, it's easy to understand why many folks are up in arms at the idea of dismantling De Hef, especially for a purpose as symbolically loaded as allowing passage for a billionaire's private superyacht. Dutch author Siebe Thissen, who wrote "The Boy Who Jumped From the Bridge" about a working-class man who jumped from De Hef in 1933, explains on World Nation News, "It's a working-class town, and they all know that Jeff Bezos, of course, he exploits his workers, so people say, 'Why should this guy be able to demolish the bridge for his boat?'"