How Machine Gun Kelly Really Became Famous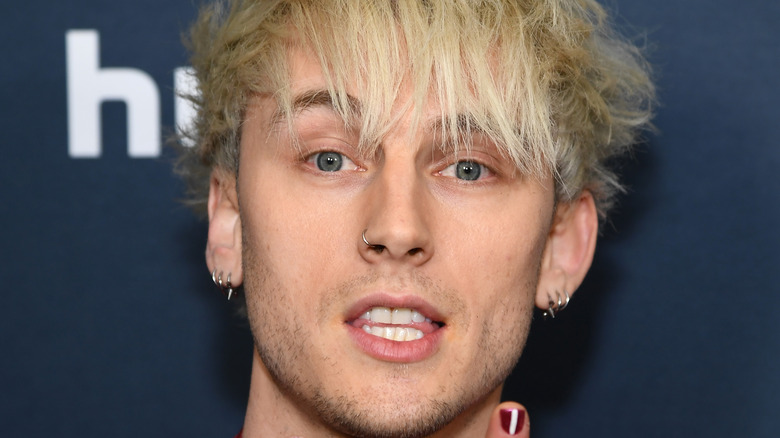 Dimitrios Kambouris/Getty Images
Rapper, singer, musician, actor, and entrepreneur Machine Gun Kelly has had a meteoric rise to the top of multiple industries. Over the past few years, he has scored the top spot on the Billboard album charts, won awards at the Billboard Music Awards and the American Music Awards, has appeared in multiple films, and even launched his own nail polish line. Despite this recent success, Machine Gun Kelly's fame did not happen overnight.
Born Colson Baker, Machine Gun Kelly spent his teenage years in Cleveland, Ohio, raised by a single father. He worked at an airbrush T-shirt shop at the mall, but emceed and released mixtapes as often and to as many people as possible. On the verge of eviction from his apartment, he earned back-to-back victories at the Apollo Theater's Amateur Night (via Rolling Stone). After these wins and gaining a local following in Cleveland, Sean Combs signed him to Bad Boy Records in 2011 (via The New York Times). The hard work to promote his talent did not stop there. It took nearly 10 more years for Machine Gun Kelly to top the charts and bring his energetic persona to wider audiences.
Machine Gun Kelly Signed with Bad Boy Records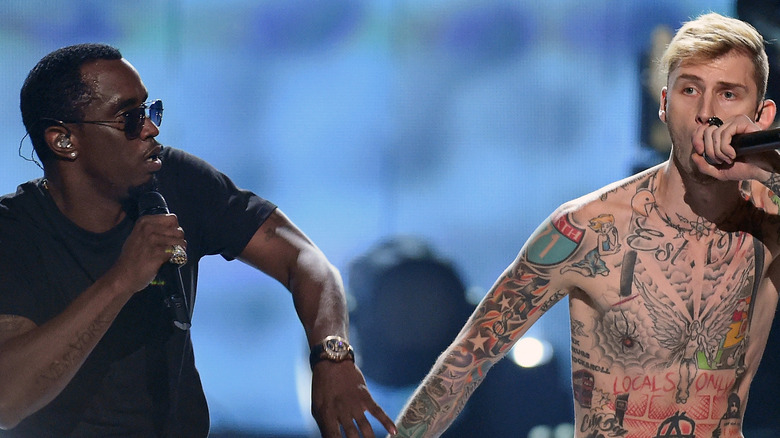 Ethan Miller/Getty Images
After signing with Bad Boy Records, Machine Gun Kelly collaborated with the likes of Wiz Khalifa and French Montana for another mixtape. More collaborations followed, including the single "Bad Things" with Camila Cabello in 2016, which was his first song to crack the Top Ten on Billboard (via All Music). Finally, in 2020, Machine Gun Kelly's album "Tickets to My Downfall" became his first No.1 on the Billboard 200. This album also marked a genre change from hip-hop and rap to pop-punk and led to his award for favorite rock artist at the American Music Awards.
Apart from collaborations in his music, feuds with others in the music industry boosted Machine Gun Kelly's fame as well. After referring to Eminem's daughter as hot, Kelly has been in a public feud with the rapper. The song "Rap Devil" is essentially a diss track directed at Eminem. In 2018, Metro cited Machine Gun Kelly and Eminem's contempt for each other as "the most talked about feud in music."
The beef with Eminem and a string of high profile romances have made Machine Gun Kelly famous for more than just his music, films, and products. Nevertheless, Machine Gun Kelly does not forget his fans or his roots. When speaking of his success after the release of "Tickets to My Downfall," he thanked the fans who "made it happen the way we talked about 10 years ago" (via NME).