The Biggest Pamela Werner Theories: Who Really Killed Her?
We may receive a commission on purchases made from links.
Pamela Werner, who lived in Peking in 1937 (now Beijing), was only 19 years old when she was killed and mutilated –- and to make matters worse, her killer was never brought to justice. Decades after the case went cold, detectives and historians have still tried to discover who might have ended the young woman's life.
Werner was walking home from an afternoon of ice skating that January, but she never made it. Her body was found merely 750 feet from her house, according to the Australian Broadcasting Corporation (ABC). Edward Werner, Pamela's father, discovered her mutilated body the next morning and spent years imploring officials to investigate the case further. He even created his own list of suspects –- but charges were never brought against anyone.
Werner's murder was gruesome. She had been raped and was then bludgeoned to death, according to ABC. The most shocking discovery was that her killer ripped open her chest cavity and removed her heart after killing her.
There were many suspects
At the time, Edward Werner's long list of suspects included a rickshaw driver who was reportedly covered in blood at the time of the murder and one of Pamela's grammar school teachers who had made sexual advances towards her (via That's Mag).
According to ABC, Paul French, the author of the 2013 book "Midnight in Peking," believed there were numerous possible suspects for the crime. As That's Mag reported, Edward Werner discovered shocking files referencing an "undercover sex cult, heroin addicts and disappearing brothels," which French also uncovered decades later as he researched the murder.
After reading "Midnight in Peking," author Graeme Sheppard wanted to investigate further. Sheppard added Werner's father to the list of suspects, citing his controlling behavior and violent outbursts. Per ABC, Sheppard notes that Werner's father disliked when his daughter brought home boyfriends, and once broke the nose of Pamela's boyfriend, Han Shou-ch'ing. However, Sheppard doesn't believe that her father was the murderer.
Different investigators, different theories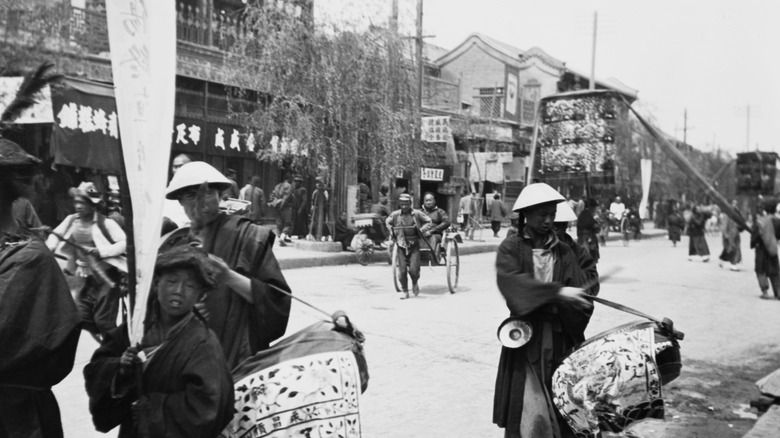 Hulton Archive/Getty Images
Sheppard penned his own book in 2018, "A Death in Peking: Who Killed Pamela Werner?" which clashes with some of Edward Werner's and Paul French's research. One theory is that it was Werner's boyfriend, Han Shou-ch'ing,  who killed and mutilated her. Police who first investigated Pamela Werner's death also pointed to Shou-ch'ing as a primary suspect, believing that ripping out her heart could signify revenge.
Sheppard has another theory: it's possible that Werner was killed for political reasons. Her father was a former British consul and a "long-time member of the China consular service," according to "A Death in Peking." When Sheppard dug into old files in the British National Archives, he found secret communications between the British Embassy and one of Werner's colleagues that led to some suspicion. But there was not enough evidence to prove concretely that there was any plot to kill Werner's daughter.
As ABC reports, Werner was buried in a local British graveyard, but the site was destroyed by Chinese soldiers during the war between Japan and China, so her remains can't be examined. Authors and historians continue to comb through old evidence in the cold case even 85 years later -– but to this day, no one knows who killed the teen.