Bruce Springsteen Used To Listen To This Rock Legend Before His Shows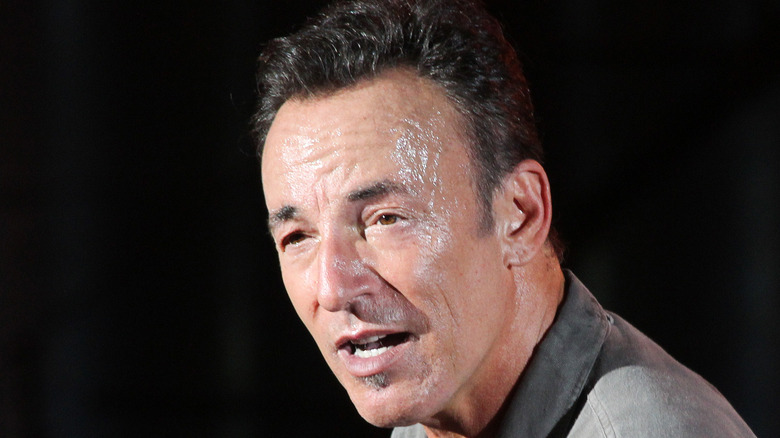 Andre Luiz Moreira/Shutterstock
Pre-show rituals are part of rock and roll's peculiar allure, particularly the strange acts — or demands — of artists just about to hit the stage to create magic. Famously, Eddie Van Halen demanded a bowl full of M&Ms before each show (with all the brown ones removed, per Insider), while for The Rolling Stones' Keith Richards no show could go ahead unless he had a specially made shepherd's pie.
Whether such rituals are necessary parts of the creative process or simply the diva-ish whims of pampered rockstars comes down to personal opinion, but there are plenty of artists in rock music whose pre-show preparations actually make sense. For example, the Red Hot Chili Peppers — known around the globe for their raucous shows and tireless physicality onstage — warm up with exercises and stretches, with Anthony Keidis telling Rolling Stone in 2016 that he and bassist Flea often wrestle each other to "get [the] blood flowing."
And way back in 1978, E Street Band leader Bruce Springsteen — then at the height of his fame thanks to the release of the 1975 classic "Born To Run — told the same publication that he had a ritual of his own, claiming, "I play Buddy Holly every night before I go on, that keeps me honest."
The influence of Buddy Holly on Bruce Springsteen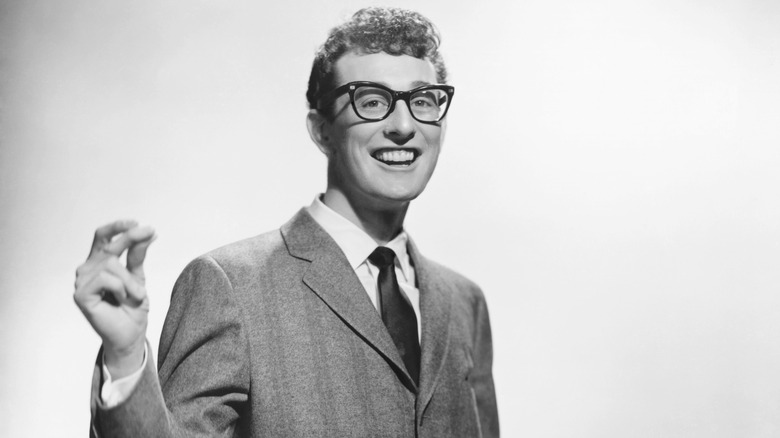 Michael Ochs Archives/Getty Images
Though Bruce Springsteen doesn't explain exactly how the music of Buddy Holly and the Crickets keeps him "honest," it is fair to assume that The Boss sees Holly as a direct influence, and his music a reminder of the beautiful simplicity of rock 'n' roll at its most foundational and pure.
By 1978, the year in which the Rolling Stone profile of Springsteen was published, Holly had already been dead for two decades, having tragically lost his life in a plane crash in 1959, aged just 22. In the profile, journalist Lynn Goldsmith attends a Springsteen show that takes place the evening after Springsteen saw "The Buddy Holly Story," a biopic of the singer starring Gary Busey. "It's funny because I could never really picture Buddy Holly moving. To me, he was always just that guy with the bow tie on the album cover. I liked the picture because it made him a lot more real for me," Springsteen said at the time.
But Springsteen also played an instrumental part in keep Holly's spirit alive for audiences, by covering Holly classics such as "Rave On," (written by Sonny West) and "Not Fade Away," the latter of which Springsteen has discussed purchasing as a youngster in a recent interview (via Videopress). The Boss has also frequently covered "I Fought the Law," the 1959 classic by Holly's backing band, The Crickets.