The Truth About Lauren Bacall And Frank Sinatra's Relationship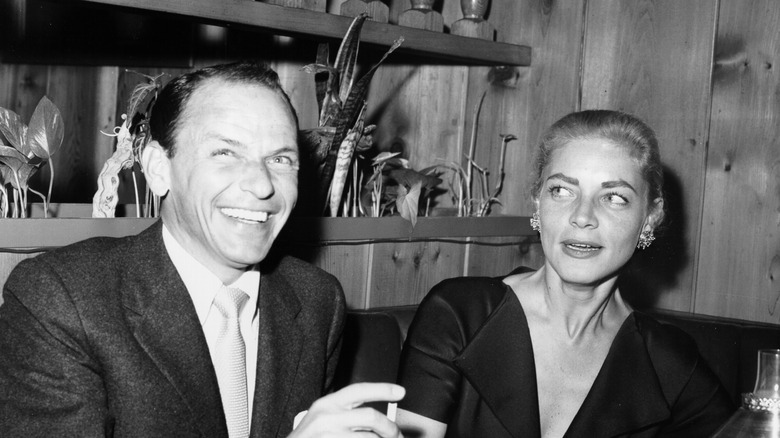 Michael Ochs Archives/Getty Images
The marriage between movie icons Humphrey Bogart and Lauren Bacall was and remains the stuff of Hollywood legend: a rollercoaster romance that became one of the strongest and  most tragic unions in cinema history.
Having met on the set of 1944's "To Have and Have Not," Bacall's big-screen debut, the pair overcame a two-decade age gap — and Bogart's preexisting marriage — to marry within a year of the movie's release, per Biography, and the pair remained together until Bogart's death in 1957 at the age of 57.
Bacall was just 32 and the mother of two children at the time of Bogart's death, and the loss of her husband was, of course, heartbreaking. "I hated feeling that my life was over at 32. Up to that time there had been either my mother or Bogie to lean on. Now there was no one," she told Vanity Fair in 2011. But another relationship in Bacall's life was about to dominate the headlines. Her stormy affair with the Rat Pack legend Frank Sinatra.
Lauren & Frank: A friendship and affair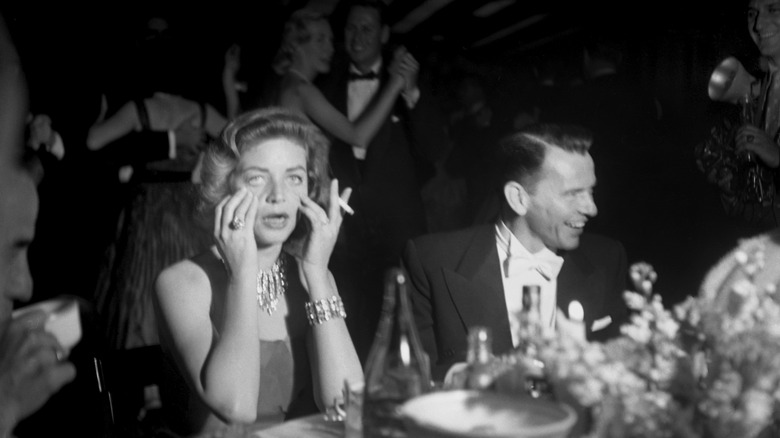 Michael Ochs Archives/Getty Images
There can't be many Humphrey Bogart fans who would enjoy hearing the story of how Lauren Bacall's affair with Frank Sinatra began. According to journalist Kitty Kelley in the book "His Way: The Unauthorized Biography of Frank Sinatra, the pair first began their affair while Bogart was still alive, while he was dying from throat cancer. It is a surprising development, especially considering Sinatra's apparent idolization of Bogart, and the close friendship the three had enjoyed together in the public eye up to that point.
It is true, however, that Bacall was in a difficult place, and found Bogart's illness and subsequent death highly traumatic. "And there was the weekly nightmare ... that would literally have me waking up screaming," she told Vanity Fair. In the days following Bogart's death, Sinatra apparently moved quickly, wining and dining Bacall with the wide circle of friends they had shared with Bogart was alive. The year after Bogart's death, Sinatra proposed.
However, according to Vanity Fair, news of the engagement was leaked to the press by Bogart's close friend, Swifty Lazar, incensing Sinatra, who subsequently broke off the engagement over the phone, and thereafter blankly ignored Bacall — even when in the same room at public events — for the rest of his life.
Bacall remarried in 1961. Per Vanity Fair, it was only at the insistence of her editor when writing her autobiography that Bacall finally made her feelings about the affair known: "Well, I said he behaved like a s***, which he did."