How John Dillinger Was Caught For The Last Time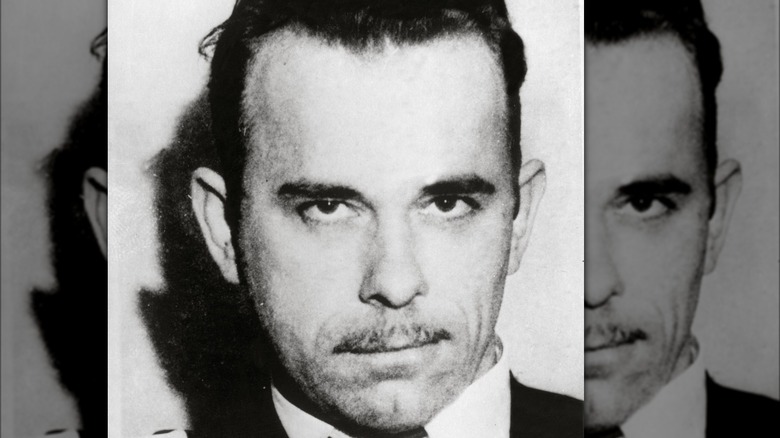 Imagno/Getty Images
John Dillinger was given the dubious honor of being named Public Enemy #1 with the United States Department of Justice offering a large reward for his capture. The notorious bank robber had become widely known for his brazen crimes and prison escapes.
According to Britannica, Dillinger had been in the United States Navy before deserting after only a few months and turning to a life of crime. He would return to his home state of Indiana. After a failed attempt to hold up a grocery store in Mooresville, Indiana, Dillinger was arrested and sent away to Indiana State Prison for a decade.
While in prison, he learned the ins and outs of bank robbery, and upon his release, he'd become one of the most notorious bank robbers in United States history. Dillinger's crimes would take him around the country. He would find himself arrested again in 1933, this time in Ohio, but some old prison buddies would help him out of jail and they would head down south, first to Florida, before heading out west.
A hotel fire puts authorities on Dillinger's tail
PICTOR PICTURE COMPANY/Shutterstock
In January 1934, Dillinger and several members of his gang found themselves in Tucson, Arizona (per the Tucson website). They had made their way across the country robbing banks and even stealing weapons from a pair of police armories, per the FBI. They figured that Tucson would make for the perfect place to hide from police and also avoid the frigid northern winter.
What appears to be a complete coincidence ultimately led to the gangsters' capture. Two members of Dillinger's gang, Charles Makley and Russell Clark, checked into Tucson's Hotel Congress under assumed names. During their stay, on January 23, a fire broke out in the hotel's basement. The two criminals asked a pair of firefighters to retrieve their bags from their third-floor rooms. The firefighters obliged, although they noted that the bags were particularly heavy, according to the Pima County Public Library.
The men tipped the firefighters $12 for their troubles, which was exceptionally generous for the time. That act of generosity would ultimately be Makley and Clark's undoing, as the firefighters remembered their faces, and even recalled having seen them in the pages of True Detective Mysteries magazine. They alerted the police.
Dillinger is captured -- but not for good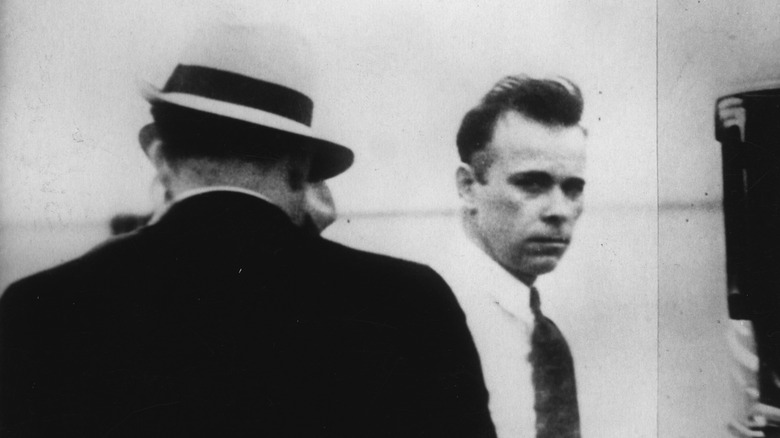 Imagno/Getty Images
Authorities arrested each member of Dillinger's gang separately, a decision that even Dillinger himself would admit to police was a smart move (via Tucson). Dillinger had been living in a rented home in Tucson under the alias Frank Sullivan from Green Bay, Wisconsin, with fake documents to back up this identity.
If there was any doubt that police had their men, a search of Dillinger's car would have put those doubts to rest. According to the FBI, police found Dillinger's car loaded with a veritable arsenal, consisting of three Thompson submachine guns, a pair of Winchester rifles mounted to the car, and five bullet-proof vests, along with $25,000 in cash.
Dillinger was imprisoned at the county jail in Crown Point, Indiana on charges of killing an East Chicago police officer during his gang's robbery of the First National Bank in East Chicago, Indiana. However, Dillinger would escape from prison and flee across state lines in a stolen car — a federal offense.
Dillinger's crime spree continued, but with additional heat from authorities and several close calls in which he was nearly apprehended. Dillinger would finally be stopped on July 22, 1934, when he was shot and killed by FBI agents while leaving Chicago's Biograph Theater. Ironically, the movie Dillinger had just finished seeing was Clark Gable's film "Manhattan Melodrama," a gangster movie.