How Many Pets Does Vladimir Putin Have?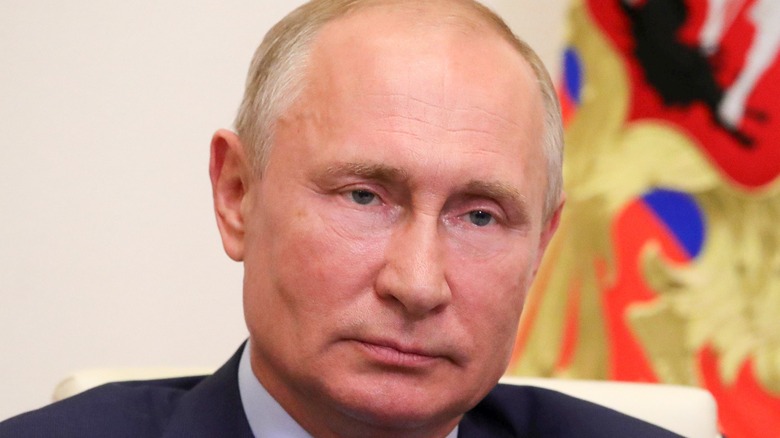 Photographer RM/Shutterstock
It is common for American presidents to have pets. In fact, every single president bar Donald Trump has had a dog at the White House going back 130 years, according to The Independent. But is the same true in Russia?
Putin is often happy to have his furry friends in the room when meeting other world leaders. This was notoriously the case in 2007 when the Russian leader met the then-German Chancellor Angela Merkel. Per CNN, Merkel had made her genuine phobia of dogs known publicly, having been attacked by a dog in 1995. Images from the meeting show Merkel staring nervously at the dog Putin let into the room and were circulated widely, though Putin later denied that he had any intention of scaring his German counterpart.
Russian President Vladimir Putin has been in continuous power in one form or another for more than 20 years, and in that time, he has been the owner of many dogs. He currently has four: Buffy, a male Bulgarian Shepherd he received in 2010; Yume, a female Akita he was gifted in 2012; Verny, an alabai from Turkmenistan that Putin was gifted in 2017; and Pasha, a Sarplaninac puppy he received in 2019.
Putin the animal lover
Handout/Getty Images
Vladimir Putin's love of animals is well documented. As well as dogs, the Russian leader is a horse enthusiast and has been photographed riding in the wild Russian country on many occasions throughout his political career (The Independent claims that such shoots are intended to display Putin's macho attributes). Per U.S. News & World Report, though Putin is known to be a skilled rider, in 2021, he recounted the story of how he fell off a horse and somersaulted through the air — an incident that was apparently caught on film.
According to Fortune, Putin also has a love of big cats — particularly leopards and tigers, as he admires their power. Per CGTN, in 2014, Putin was photographed handling a Persian leopard kitten in a national park in Sochi. But his animal encounters didn't stop there: He has also been snapped feeding reindeer in Tuva, feeding newly-released wild horses at a nature reserve in Russia's Orenburg Region, and handling a koala on a trip to Australia.